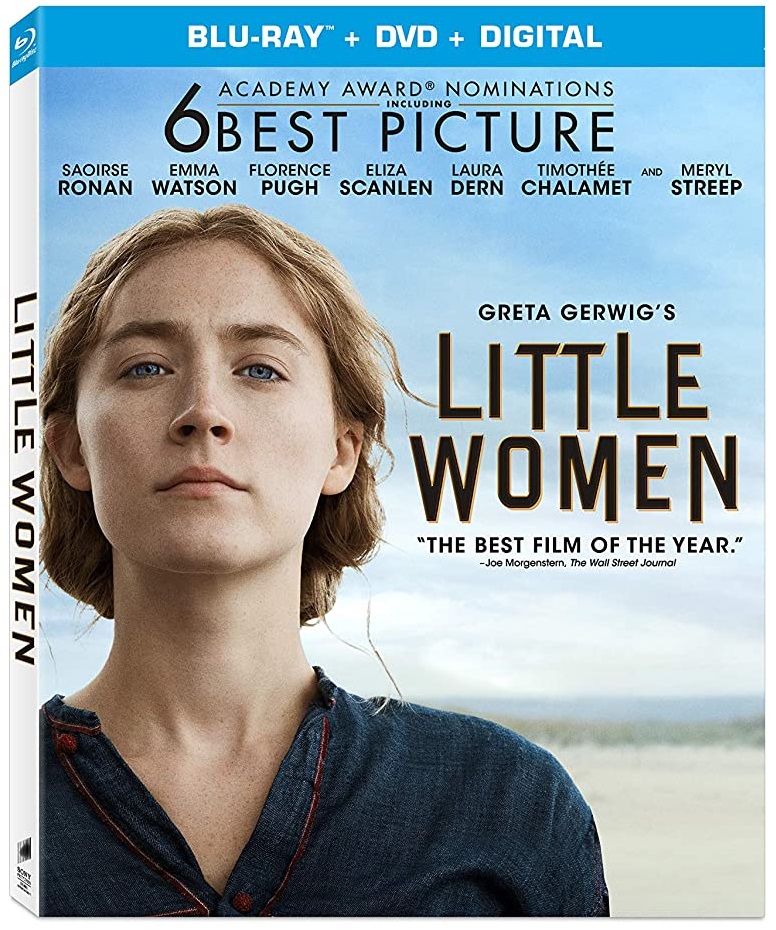 After making the masterpiece that was Lady Bird, Greta Gerwig followed that up with an adaptation of Little Women and initially, its announcement was a little befuddling. Not because it wouldn't be good but it was uncertain as to how Gerwig would make her version different from the previous adaptations of the classic Louisa May Alcott novel. As it turns out, I knew well to trust in Gerwig since she indeed offers a fresh spin by infusing her humanistic directorial voice while remaining loyal to the timeless story.
The film is told in a nonlinear fashion with the main storyline taking place after the American Civil War. The March sisters are on separate life tracks with Jo (Saoirse Ronan) living in New York as a struggling writer, Meg (Emma Watson) being a wife and mother, Beth (Eliza Scanlen) staying home as she battles scarlet fever, and Amy (Florence Pugh) residing in Paris trying to make it as a painter. The picture continuously cuts back and forth between the present storyline and their younger years when they lived at home with their supportive mother Marmee (Laura Dern).
Once again, Jo remains the center of the story and Saoirse Ronan perfectly showcases her resilient nature. Additionally, her and Timothee Chalamet, who's similarly well-cast as the dashing Laurie, recapture the turbulent chemistry they had in Lady Bird. Meanwhile, Laura Dern does a 180 from her abrasive lawyer character in Marriage Story to play the cordial Marmee while Meryl Streep offers comic relief in her small role as the aristocratic Aunt March.
With all that being said about the cast, the MVP is easily Florence Pugh. She is tasked with playing Amy, the youngest March sister and frankly easiest one to hate, and plays her with flawless three-dimensionality. Unlike in the 1994 version, Amy has a more expansive arc as she initially seeks to become an amazing painter for artistic expression. But as she gets older, she wants to become a great artist in order to avoid being solely defined by her potential life as a wife and mother.
Her disillusioned wisdom over her potential fate is perfectly captured during a monologue she gives in a scene between her and Laurie. Given how it would be her Oscar clip if she gets nominated, Pugh could've easily leaned towards explosive "Oscar clip" histrionics to express Amy's turmoil. Instead, she dominates the scene with her flustered eyes that contradict her deadpan delivery. It's a marvelous, magnetic performance that serves as the cherry on top of a banner year for the young actress.
By expanding Amy's role, Gerwig is able to further explore the dynamic between her and Jo. Both women aspire to be artists yet despite their similarities, don't always see eye-to-eye. Even though they're siblings who are supposed to love each other, there's always something that causes them to muster up the willpower to not create any further friction. In a way, Gerwig makes this a slight companion piece to Lady Bird since it emphasizes the strengths of siblinghood while Lady Bird shows the complex nature of parent-child bonds.
As the film cuts back and forth from the past to the present, the editing from Nick Huoy and the cinematography by Yorick Le Saux always indicate where the story is in time. The bleakness of the present is able to contradict the sunny appearance of the past. Although the past the sisters had wasn't perfect, Le Saux still makes it look picturesque to capture how their life together felt like a cherished yet distant memory.
Little Women itself feels like a prized memory. Thanks to its incredible acting, seamless blend of humor and heart, and how it stresses the importance of siblinghood, it is a marvelous adaptation of its source material that is hard to forget.