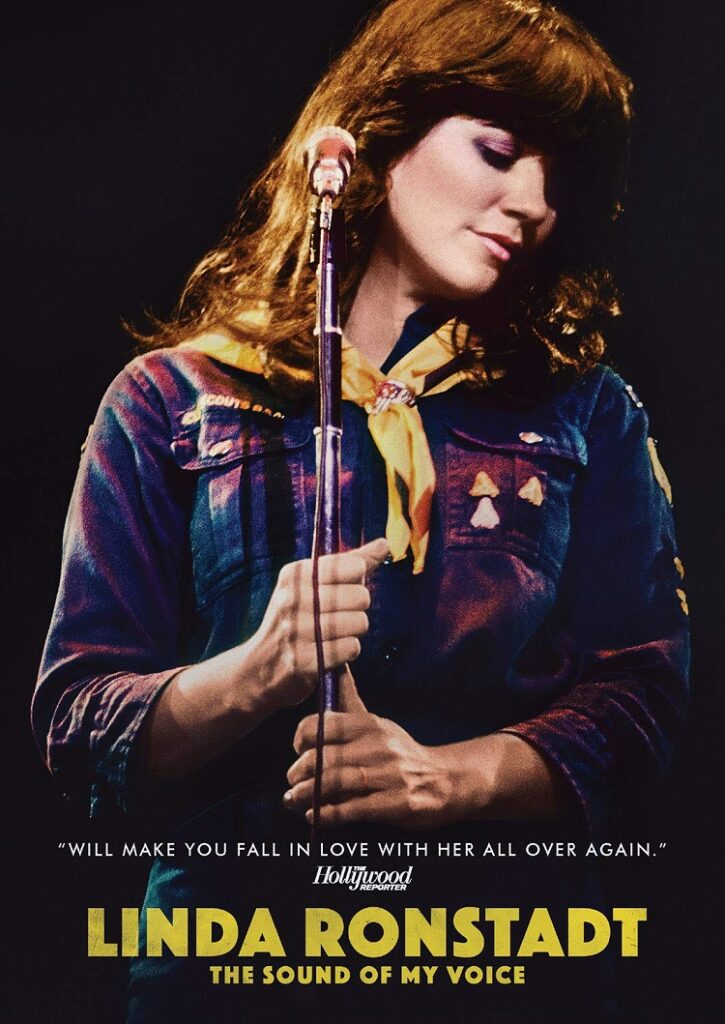 Linda Ronstadt: The Sound of My Voice is a biographical documentary that Ronstadt was involved with as she introduces the telling of her story and reveals she no longer sings because she has Parkinson's, although she was later diagnosed with progressive supranuclear palsy. As I put the disc in the player, I realized I hadn't heard much of Ronstadt's music on the radio in years. As I watched the film, I couldn't understand why because she has a collection of hits that should be staples on rock and country radio stations.
But don't take my word for it as the film is filled with interviews by an impressive roster of friends and collaborators from the music business singing her praises, such as Bonnie Riatt, Ry Cooder, Don Henley, Emmylou Harris, Cameron Crowe, David Geffen, Dolly Parton, Kevin Kline, and Aaron Neville. Jackson Browne says though she's not a songwriter, he considered her an auteur "because she made songs happen the way she wanted to hear them."
In addition to the interviews, there's a treasure trove of archival material that augments the telling of Linda Ronstadt's story. She grew up in Arizona with a father of German/Mexican descent and had an interest in music at early age because of him. When her pal Bobby Kimmel beckoned her out to Los Angeles in the late '60, they formed a folk-rock trio the Stone Poneys and had a hit with Mike Nesmith's "Different Drum". It's funny to hear Ronstadt reflect on not liking that the producer decided to add a string arrangement to their acoustic ballad, but she's glad they didn't listen to her. She also mentions liking The Doors except for their lead singer.
When record executives wanted her solo, the Poneys broke up. The documentary doesn't touch on every album, but mentions Henley and Glenn Frey as her touring band members. The two gelled so well, they left to form the Eagles with Ronstadt's blessing, and Henley credits her cover of "Desperado" with popularizing the song. Oddly, the other two founding Eagles, Randy Meisner and Bernie Leadon, were also working with Ronstadt at the time but aren't mentioned.
She got a break opening for Neil Young in arenas and then began creating songs that resonated with a large audience. She had a breakthrough with her fifth album, Heart Like A Wheel, in 1974, becoming the first artist to have hits on the Country, R&B, and Pop charts at the same time: Hank Williams' "I Can't Help It (If I'm Still in Love with You) on the first and Clint Ballard Jr.'s "You're No Good" on both the second and third. Heart… went platinum and the documentary said she was the first female to have five platinum albums in a row. Looking at Wikipedia, she had six in a row, which is even more impressive.
Like many talented artists, including the aforementioned Mr. Young, she got bored playing the same songs in arenas and needed new artistic challenges. She learned of Joe Papp's 1980 revival of Gilbert and Sullivan's comic opera The Pirates of Penzance. To no surprise, she was offered the lead actress role of Mabel because her name would surely sell tickets, but her integrity led her to request an audition to make sure she could handle the part well.
The rest of the decade saw her baffle people like Asylum Records executive Joe Smith and manager Peter Asher, who talk about it. She had no interest in rock, which she had great success with, and instead created a Great American Songbook trilogy with arrangements by Nelson Riddle and Canciones De Mi Padre, an album of Mexican songs. Ronstadt's instincts were proven correct as the albums were critically acclaimed and platinum sellers. Reportedly, Canciones remains the biggest selling non-English language album in American record history.
Several months before Canciones, Ronstadt topped the country charts with Trio alongside her friends Dolly Parton and Emmylou Harris, the root of the project started ten years prior with them singing together in a living room. Ronstadt raves about them both and they return the kind words. When Ronstadt first saw Harris, she thought she was a better singer and had to choose between being jealous and being a fan, hoping they could sing together. She chose the latter to everyone's good fortune.
Cry Like a Rainstorm, Howl Like the Wind (1989), which featured duets with Aaron Neville, was her last platinum album. She started to know her voice was changing, and the documentary jumps over the next few decades, revealing she last sang publicly in 2009. However, Ronstadt is gracious enough to allow filmmakers in her living room while she sings with friends, though she doesn't think it's that good.
As the credit roll, viewers learn she was inducted into the Rock and Roll Hall of Fame in 2014, but no mention that she had been eligible since 1994. (The failure of the Hall to properly honor artists in a timely manner should be the subject of a documentary.)
The DVD extras are deleted interview clips and so short makes one wonder why bother. They are singer/songwriter Karla Bonoff (2 min), guitarist Waddy Wachtel (2 min) who played with Ronstadt, and manager Peter Asher but really is mostly archival material of guitarst Andrew Gold. (3 min). Of note, the captions screw up and repeatedly misidentify manager/producer John Boylan as music critic Robert Hillburn.
Linda Ronstadt: The Sound of My Voice is a fantastic appreciation of Ronstadt as a performer and as an individual who stood up for what she believed in the business and in life. It should serve as a catalyst to seek out her music.