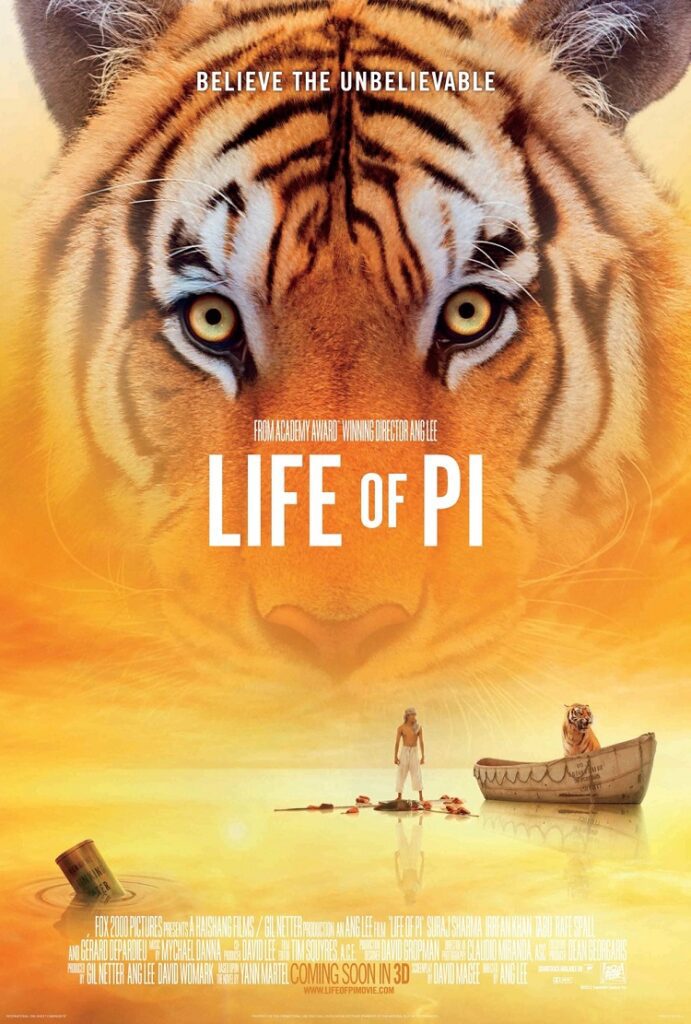 It is good to see that in this post-Oscar season we're finally getting large crops of interesting DVD releases. This week has so many things in it that I'd like to see that I had to actually debate a bit on which one I would actually pick. In the end I went back to good old Oscar (and much critical praise) and picked Life of Pi. To tell the truth, the trailers for the film did not in any way make me want to see it. There's too much CGI tiger and not enough story. Or so it seemed. I have friends who read the book and I think I own a copy but I've not given it much thought nor do I have any inkling what it's about beyond the tiger and the boat. So when I first heard about the film I put it into that category of films I might eventually see, but there was no rush. But then the reviews started coming in and almost all of them were glowing, I started to reconsider.
I'm very much a fan of Ang Lee, but he's not fared all that well with special-effects movies and Life of Pi seemed to have a lot of special effects. It was actually the Oscar telecast that won me over. Not only did Lee win the award for best director, but they showed some extended clips of the film. While it still seems overloaded with CGI, the effects looked pretty spectacular, and they showed more of the actual story, which is much more interesting than pretty things one can create on a computer. I've now moved the film from my "things I'll eventually see" to "something I simply must see very soon." Here's hoping it's more Crouching Tiger, Hidden Dragon than Hulk.
It comes in a Blu-ray 3-D/Blu-ray/DVD set or variations on that theme. Extras include deleted scenes and a bunch of features on the making of the film.
Also out this week that looks interesting:
Ministry of Fear (Criterion Blu-ray): Outside of the masterful M, I'm not at all familiar with Fritz Lang's work, but this one always gets lot of praise from the right people, and you can't go wrong with Criterion Blu-rays.
Hitchcock: This biopic of the Master of Suspense starring Anthony Hopkins and Helen Miran got some mixed reviews, but I'm very much looking forward to it. I love Alfred Hitchcock and those actors, and the film focuses on the making of Psycho which just seals the deal for me.
Ripper Street: Jack the Ripper has been done to death in print, on television, and in the movies, but the previews for this look really interesting. It sets itself apart from the fray in that this series is set just after the actual murders stopped and deals more with the aftermath of the Ripper than actually trying to catch Jack himself.
The Hunchback of Notre Dame (1996): I've not actually seen this Disney animated outing, and if memory serves it came out just a bit past the most recent Disney golden era, but I find myself sucked into Disney marketing trap of wanting to grab their films when they come out so that they won't disappear on me.
The Blob (Criterion Blu-ray): I loved this movie as a kid, but even then I knew it was a big cheese fest. But hey, its got a young Steve McQueen, and if Criterion likes it, then I guess we all ought to.
Doctor Who: The Aztecs: I've not seen William Hartnell as the Doctor so I'm interested to see how the very first one fares against the more modern versions.
This is Not a Film: Shot partially on an iPhone and snuck into the Cannes Film Festival inside a cake, this documentary depicts the day-to-day life of director Jafar Panahi who is currently under house arrest in Iran. Read the review by Dusty Somers.