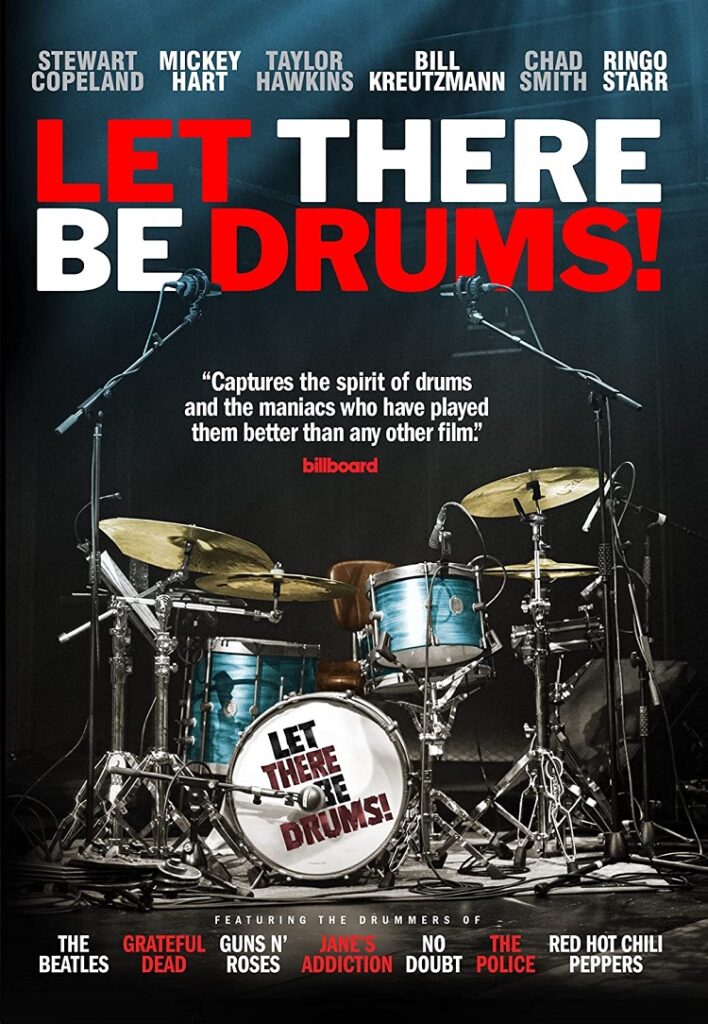 Promotional materials for director Justin Kreutzmann's Let There Be Drums! state "The world's greatest drummers reflect on the art of drumming and how it has shaped their lives." And while it certainly offers that, the film also seems to be an attempt for Justin to better understand his father, who is famed Grateful Dead drummer Bill Kreutzmann.
Growing up, Justin got to travel on tour with his father and the band. The first concert he attended with them was Woodstock. Bill bought his son a drum kit at a young age, but Justin didn't take to them. Instead, he was captivated by movies and has made a career editing, directing, and producing. Unsurprisingly, his resume includes Dead-related projects, including shooting behind-the-scenes footage during the Fare Thee Well: Celebrating 50 Years of the Grateful Dead concerts by the Core Four (Mickey Hart, Bill Kreutzmann, Phil Lesh, and Bob Weir) which took place in Chicago, July 2015. Considering the archival footage of the Dead, interviews with Bill and Mickey, and other interviewees speaking about the band and their music, Let There Be Drums! should be considered a Dead-adjacent film.
The documentary is jam packed with a who's who of modern rock drummers who speak with Justin. Participants include Tre Cool, Stewart Copeland, John Densmore, Steve Ferrone, Jon Fishman, Jim Keltner, Jay Lane (who filled in for Bill during Dead & Company's fall tour last year), Slim Jim Phantom, Ringo Starr, Matt Sorum, and Adrian Young. Justin also goes back to rock 'n' roll's roots and interviews Sandy Nelson, whose 1961 instrumental "Let There Be Drums" is where the film gets its title; Jerry Allison of Buddy Holly and the Crickets; and Charles Connor from Little Richard's band.
There is clearly a brotherhood among drummers. It's wonderful to see the mutual love and adoration for one another and their different playing styles. Taylor Hawkins talks of gleefully meeting Steven Adler for the first time. Adler and Stephen Perkins are excited getting to touch Keith Moon's drums. Chad Smith speaks of being in awe meeting Ringo Starr and getting critiqued by him when he tried to duplicate Ringo's playing.
In addition to the Dead and Ringo, late rock legends John Bonham, Ginger Baker, and Keith Moon are highly praised by many interviewees. And Justin isn't the only person dealing with paternal issues. Drummers Kofi Baker and Jason Bonham along with Mandy Moon speak of the familial dynamics they each dealt with and our currently dealing with.
While a project like this can only focus on so many people, I was very surprised that there was no mention of Rush's Neil Peart, considered one of the all-time great drummers, especially since I have seen many drummers, including Copeland and Hawkins, praise him highly elsewhere.
One doesn't have to be a fan of drums or the Grateful Dead to enjoy Justin Kreutzmann's Let There Be Drums!, as the drummers' passions for their craft is infectious. Justin does a good job shaping and blending the multiple narratives, and the movie will make you seek out the music of all those involved.