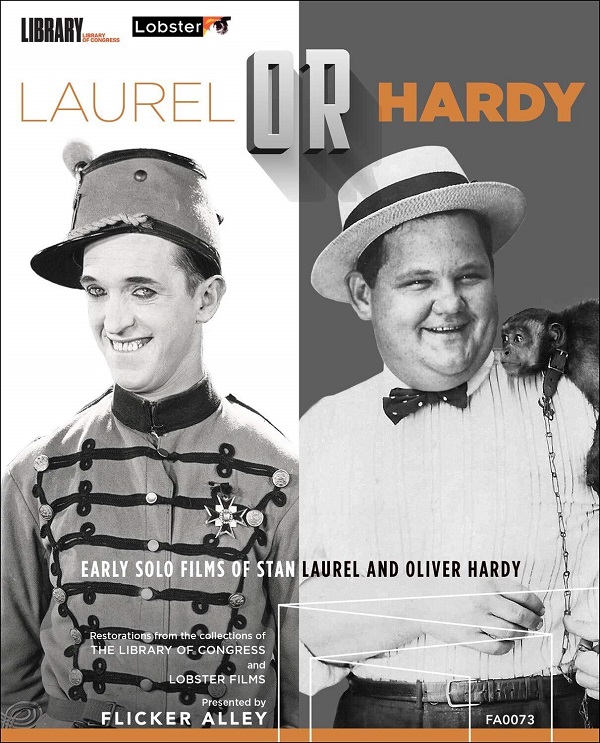 Stan Laurel and Oliver Hardy are a legendary comedy duo that had international success with both their silent and sound films. Even though they appeared in 107 films together, they weren't always a team, having entered the movie business separately. The Lucky Dog (1921) was the first film they appeared together and it wasn't until 1927 that they began to work as a pair. Flicker Alley has released Laurel or Hardy: Early Solo Films of Stan Laurel and Oliver Hardy, a two-disc set of 35 newly restored films from 1914 to 1926 that showcases their individual work.
The Laurel disc presents 17 films that were released between 1918 to 1925. In Bears and Bad Men (1918), he supports triple threat Lawrence Semon. In the remainder, he is the lead and frequently shows a great skill at physical comedy. What's interesting is Laurel doesn't yet have a definable persona like Charlie Chaplin, whom he understudied for while working with the English music hall troupe "Fred Karno's Army," or Buster Keaton. His character is usually an everyman, a regular Joe with a regular job, such as a lumber yard during The Egg (1922), a salesman in The Pest (1922), and a mine in Pick and Shovel (1923). The latter is one of six frustrating experiences for beloved Laurel and Hardy foil, funny man James Finlayson.
I hadn't seen West's work before and was astounded that in The Chief Cook (1917) and He's In Again (1918) he was playing Chaplin's Little Tramp character. Granted he did a good job in the role, but I am surprised such a thing was allowed by Chaplin and his producers. Hardy was given bushy eyebrows and mustache along with menacing make up, similar to how Chaplin nemesis Eric Campbell appeared. Hardy was given this look in some other films.
The video has been given a 1080p/MPEG-4 AVC encoded transfer displayed at an aspect ratio of 1.33:1. Digital restorations were done by Lobster Films. As expected for silent films, some of which are over 100 years old, the quality can be rough. The blacks typically lean gray. A few of the films have a colored tint, like sepia for The Candy Trail (1916) and yellow for Hello Trouble (1918). Some films are missing frames while some, such as When Knights Were Cold (1923), are missing entire reels. Many of the films show damage, occasionally occurring for long stretches, including a myriad of scratches and also splotches where it looks like the film emulsion has melted away.
The audio comes in DTS-HD MA 2.0 and the new piano scores, performed by a variety of musicians, come through with great clarity. The Bonus Material includes image galleries on each disc. The booklet features informative notes from film scholar Rob Stone and restoration notes from Lobster Film's Serge Bromberg.
Laurel or Hardy: Early Solo Films of Stan Laurel and Oliver Hardy is not only a treat for Laurel and Hardy fans, but this set helps bring attention to other silent film stars and directors. Viewers get to see special effects from the early days of cinema with stop motion, multiple exposures and inventive ways of showing dialogue onscreen, from overheard conversations to phone calls. And kudos to all involved with the preservation work that has been done.