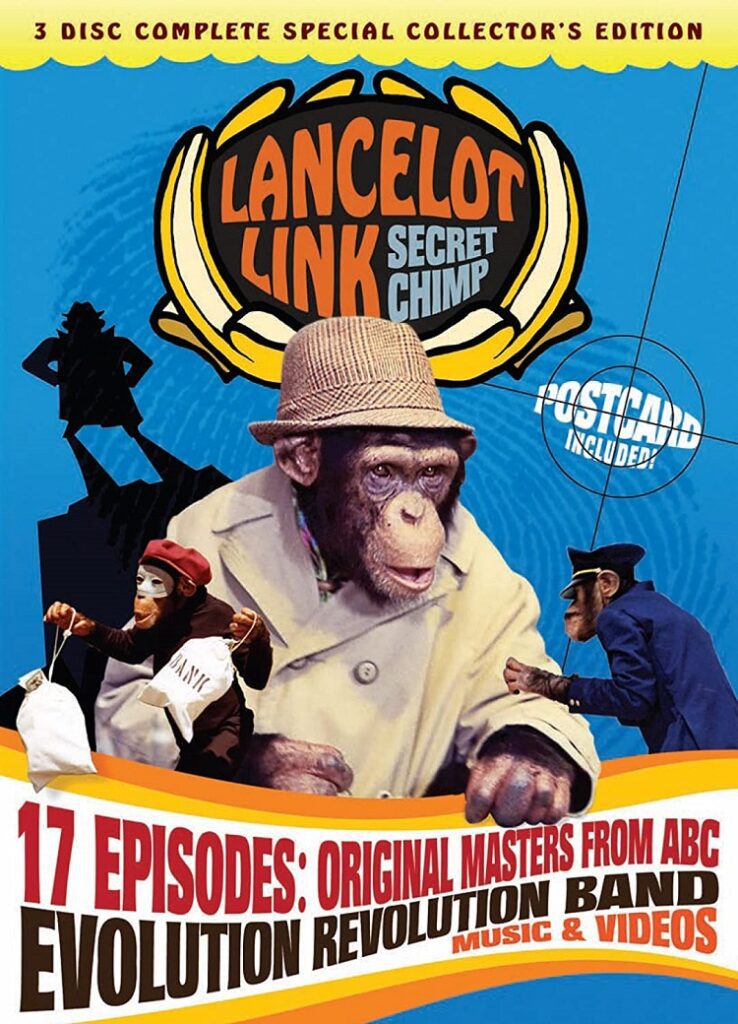 Airing on ABC, Lancelot Link, Secret Chimp was a Saturday morning kids' show that spoofed spy movies in much the same way as the TV series Get Smart; however, as the title implies, all the characters were played by chimps, which added to the humor, if monkeys are your thing.
Link worked for the Agency to Prevent Evil, known as APE, and would be called upon to fight evildoers like the Baron and Dr. Strangemind and less politically correct characters like the Dragon Woman, Ali Assa Seen, and Wang Fu.
Each half-hour episode contained two stories of Link on assignment. What I didn't remember, and was happy to rediscover, was that after each story, there was a very funny performance by the all-chimp rock band Evolution Revolution. The writers also filled time with short sketches known as "Chimpies" where quick gags are played out.
A two-DVD set was previously released in 2006 by Image Entertainment that contained only 12 episodes, but completists are in now luck as this new Film Chest release presents all 17 episodes of the series restored from the original masters.
The bonus materials allow all the Chimpies (9 min) Evolution Revolution videos (28 min) to be viewed together. Different songs by the Evolution Revolution play during a Slideshow (4 min) of production stills and behind-the-scenes footage provided by producer Allan Sandler and LIFE Magazine. The Making of Lancelot Link (53 min) lumps together a few extras, but doesn't allow skipping between them. An interview with Sandler provides a nice bit of history, though the backlight behind him is way too bright. The "I Created Lancelot Link" documentary shot in 1999 gathers comedy-writing team Stan Burns and Michael Marmer, who have since passed away, to discuss creating and working on the series. Musical Director Bob Emenegger is also interviewed. Lastly, Sandler visits the chimp who played Lance at Los Angeles' Wildlife Waystation in 2011. Proceeds form the sales this release will go to them.
If you appreciate silliness and monkey business, I highly recommend Lancelot Link, Secret Chimp.