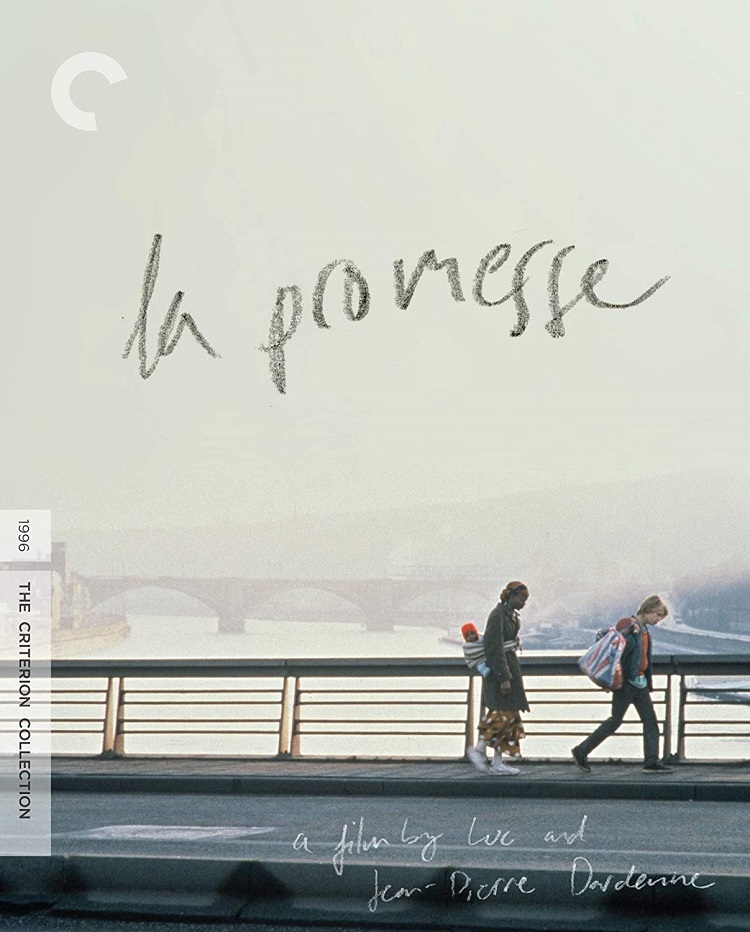 The Film
The cinematic worlds of Belgian filmmakers Luc and Jean-Pierre Dardenne are raw and unadorned, filled with broken people making morally dubious (or worse) decisions. Life tends to be hard. And yet, the Dardennes are not cynics, no matter how ugly the situations they plunge their characters into. Beneath the grime and decay, the ambivalence and ennui, is a genuine compassion and empathy that make the Dardennes some of the great humanist filmmakers.
These qualities arrive fully formed in La Promesse, the brothers' breakout 1996 feature that followed a documentary career and several fiction films. Like much of the Dardennes' work, it is captivating, heartbreaking and immediate — their handheld camera, often following a character from behind, is a signature style that emerged here, and it's served them very well during their fruitful career.
La Promesse was also a breakout work for Jérémie Renier, a frequent Dardennes collaborator in subsequent projects who is preternaturally naturalistic here as 14-year-old Igor. A high-school dropout, Igor occupies some of his time as an apprentice for a mechanic, but he mostly helps his father, Roger (Olivier Gourmet), run his illegal immigration mill. Providing housing, and under-the-table jobs for a slew of undocumented workers, Roger is ruthlessly exploitative despite a generally placid and agreeable manner. Gourmet's subtly slimy performance is perfect at maintaining the dissonance.
Truly though, the film belongs to Renier's Igor, a less corrupted (but not wholly innocent) soul who strives to develop a friendship with Assita (Assita Ouedraogo), an immigrant with a young baby whose husband has disappeared. Igor knows the truth behind her husband's disappearance, which Roger has gone to great lengths to cover up, and he seems to be trying to weigh compassion against deception.
Like most of the Dardennes' output, La Promesse is not narratively complex, and it doesn't need to be. Their elliptical, elided storytelling style allows for a great deal of character complexity, the gaps open for interpretation. There are moments in La Promesse that hint at a moving father-son tale, even as other moments decimate any notion that Igor and Roger have a healthy relationship. Life is messy, and the Dardennes' particular brand of realism nails that notion, but it's not so messy that a ray of good can't shine through the shit, and the Dardennes nail that too.
The Blu-ray Disc
La Promesse is presented in 1080p high definition in its original 1.66:1 aspect ratio. Shot on 16mm, the film is given a transfer taken from a 35mm blowup interpositive, and it's largely excellent, presenting natural, consistent colors, and solid clarity levels. The image is often quite grainy, and the grain can look like noise in several heavier portions, but the look of the transfer remains film-like throughout. Audio is presented in a 5.1 DTS-HD Master Audio track, which is definitely overkill considering the film's 2.0 origins. Other than a scene where Roger and Igor sing a duet, this remains a mostly front channel affair, but the audio is very clean and faithful.
Special Features
There isn't a ton of bonus material here, but it's all excellent stuff. Critic Scott Foundas interviews the brothers in an in-depth one-hour piece that discusses the origins of the film and how they approached it as a fresh start to filmmaking. A 20-minute piece features interviews from Renier and Gourmet, who discuss their respective working relationships with the Dardennes. The disc also includes the theatrical trailer. Included in the package is a booklet with an essay by Kent Jones, who writes about the birth of the Dardennes' style with La Promesse.
The Bottom Line
A major work from two of contemporary cinema's greatest filmmakers, La Promesse gets an excellent special edition from Criterion.