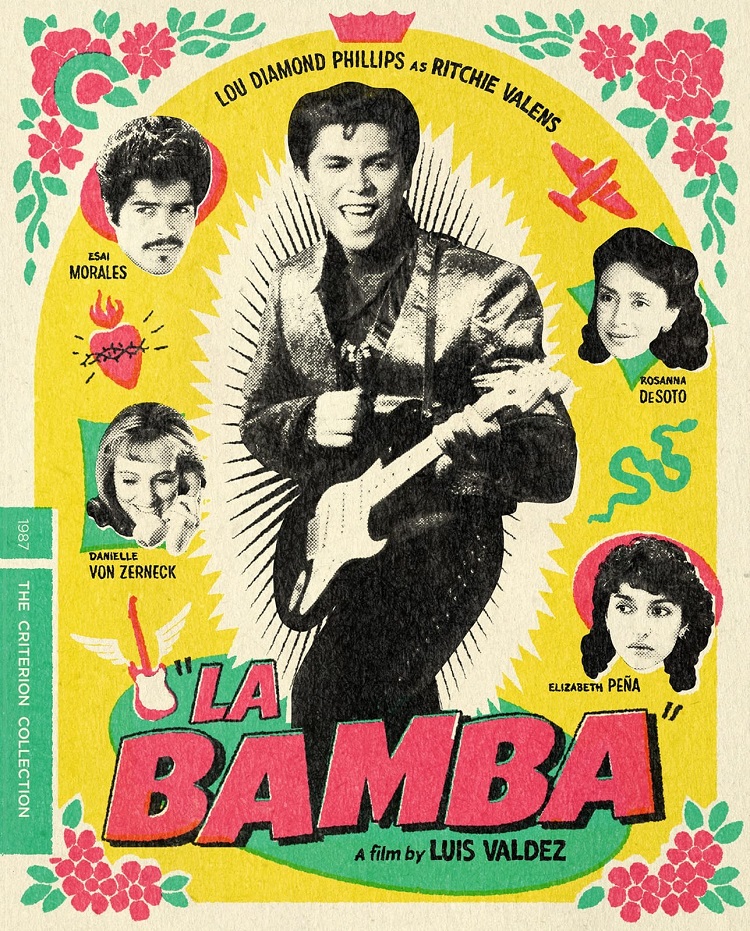 La Bamba (1987) is the story of Richard Valenzuela, known better as Ritchie Valens, a name associated with a song we know well now but that wasn't always the case. From picking fruit to picking guitar on American Bandstand, young Ritchie's life moved fast beginning in the summer of 1957 and ended tragically in early 1959. There's a lot to unpack in Criterion's new Blu-ray release as we laugh, cry, and fly high along with Ritchie. So come on, let's go and dig into it!
La Bamba opens in a dusty, sweat-soaked, Grapes of Wrath-like, Northern California fruit orchard camp where we find young Richie (Lou Diamond Phillips) tortured by nightmares of plane wrecks. One day, Richie's reefer-smoking, booze-swilling, wild older brother, Bob (Esai Morales) shows up to move the family away from field work. Mother, Connie (Rosanna DeSoto); young siblings; and Bob's new "girlfriend," Rosa (Elizabeth Pena) all head to Los Angeles county and a home Bob purchased in the city of Pacoima. While attending San Fernando High School, his beat-up old guitar constantly at his side, Richie falls for a girl named Donna (Danielle von Zerneck) and lands an audition for a local band. Richie nails the audition with his fiery guitar playing and joins the band, eventually helping them land better gigs at bigger places. 
At one of these gigs, Richie is noticed by record producer Bob Keene (Joe Pantoliano), who likes what he hears and soon signs Richie to his Del-Fi Records label. With Keene's influence, Richie will add a "t" to his first name, shorten his last name, and create three hit records in quick succession "Come On, Let's Go" and the doubled-sided smash "Donna" with "La Bamba." Riding these hits, Ritchie travels the U.S., appears on national television, and on stage alongside Rock 'n' Roll stars of the day such as Jackie Wilson and Eddie Cochran (Brian Setzer), who he'd form a fast friendship with as both had come from the L.A. area. Ritchie would also land a tour with Buddy Holly (Marshall Crenshaw) and J.P. "The Big Bopper" Richardson on the Winter Dance Party which would lead all three to a tragic fate known forever after as "The Day the Music Died."
Director Luis Valdez's (Zoot Suit, The Cisco Kid) story of Ritchie Valens' life is more than just a Rock 'n' Roll biopic going over the old rags-to-riches, dreams-comes-true trope. Valdez takes the opportunity to present the American dream through the eyes of a Chicano/Mexican American family while also telling a universal story about brothers on different paths and their shared struggles and love. Valdez weaves a bit of his own experiences with his brother Daniel (who plays Tio Lelo perfectly) into his version of Ritchie and Bob's relationship, making them more realistic as they laugh and cry through life's ups and downs. Adding to the authenticity of the story is the fact that Valdez was able to involve Ritchie's family, including Connie and Bob, in the making of the movie and pulling from their heartfelt memories to expand his script to include as many real-life anecdotes as possible; both good and bad, happy and sad. 
Lou Diamond Phillips making his big screen debut tackles the role of Ritchie perfectly. Is he a spot-on look-alike? No. He's of mixed Latino, Native American, and Filipino heritage but he does capture the energy of a young man whose wildest dreams are coming true. It shows in Phillips' excitement, smile, and good nature, which is exactly why Valdez chose him to play a young man who was always smiling. Valdez says that not one person he talked to had a bad thing to say about the kid from Pacoima who lugged his guitar everywhere with him. It's because of that kind-hearted nature that Valdez elevated the role of Bob, the fun-loving troublemaker who can be a mean drunk. Scene-stealer Esai Morales is spot-on as Bob, not only in appearance but in actions and mannerisms, even providing some comic relief at times. The real Bob consented to and urged Valdez and Morales to portray him as he was then, a mess of a drunken bastard. Most biopics don't gain this kind of approval from family, so things get whitewashed and become less gritty, less real. 
Rosana DeSoto, as matriarch Connie, is not an absolute likeness either but her spirit comes across and shines as she deals with sons who have very different personalities. Joe Pantoliano works his veteran actor's magic, employing neat little tricks in his scenes to enhance his own performance. Handing DJ Rick Dees gum to chew as they play a scene I've always found humorous and clever. Pantoliano was even talked into playing the role sans hair piece for the first time on camera by his friend/producer Taylor Hackford. Danille von Zerneck as Donna does well getting her emotions and affection for Ritchie across without being melodramatic or too corny, as some of the dialog can be at times.
The original score is provided by Carlos Santana whose guitar riffs help move the story along while the rockin' soundtrack brings down the house. Wanting to punch up those old songs a bit, Valdez turned to many roots rockers of the day; they even got original 1950s rocker Bo Diddley to remake his badass anthem "Who Do You Love?"  Valdez didn't want Phillips lip syncing to old records so he asked East L.A. Chicano rockers Los Lobos to recut Ritchie's music and give it a more rocking, live feel; how they themselves would play them at parties and dances. Los Lobos managed to update those classics without losing any of the original feeling. David Hidalgo provides the perfect bridge between Ritchie's work and Phillips' acting/lip syncing abilities. Together, they ensure that it all looks and feels as authentic as possible when captured on film. Stray Cat Brian Setzer goes hard in his portrayal of Eddie Cochran as he lights up "Summertime Blues" with his own special flare. Marshall Crenshaw standing in as Buddy Holly gives his rocking take on Holly's lesser-known "Crying, Waiting, Hoping." 
The Special Features are outstanding. Criterion has managed to keep the best extras from the DVD version while adding more recent interviews. Valdez is insightful, funny, and warm as he tells of his life from farming to college, then on to working with Cesar Chavez, forming a theater group on the picket lines, and finally to the Hollywood directors chair. The vintage featurette from 1987 includes footage of the real Bob and Connie as they lovingly interact with cast and crew during filming. 
The two audio commentary tracks are superb, truly adding to the viewing experience. The first with Valdez, Morales, and Phillips is genuinely funny throughout. They talk about what they recall, what they would have liked to do differently, bad hair days, and what lines remind them of Eddie Murphy's "drunk dad" bit. They also point out how many times "come on, let's go" is used throughout the movie and how that was supposed to be the title but it was already taken so they settled on La Bamba. Valdez discusses his desire to pull together a passionate cast and how he wanted to include the actual Valenzuela family members as much as possible in telling his story of a son whose love for his guitar was only matched by his love for his family.
The second commentary is with Hackford and actor/producer/composer Daniel Valdez. Danny is the man who tracked down and befriended the Valenzuela family, gaining their trust and ensuring them that their Ritchie wouldn't be a stereotypical caricature or whitewashed beyond recognition. Danny was also considered for the role of Ritchie years before when the project was first conceived. It's fun and informative as we listen to these two buddies reminisce about life, music, and growing up in California's Latino communities. They relate what it took to bring this movie to the big screen and capture the spirit of everyday Chicano life in 1950s California: from words they used and the way they style their hair to what was eaten and how homes were decorated.
The Director-Approved Blu-ray Special Edition Features are
New 4K Digital Restoration, Approved by Director Luis Valdez, with 5.1 Surround DTS-HD Master Audio Soundtrack
Audio commentaries featuring Valdez, actors Lou Diamond Phillips and Esai Morales, and producers Stuart Benjamin, Taylor Hackford and Daniel Valdez
New interview with Luis Valdez
Conversation between Luis Valdez and filmmaker Robert Rodriguez from El Rey Network's The Director's Chair
Making-of program featuring cast and crew
Audition footage
Trailer
Spanish subtitles
Plus an essay by critic Yolanda Machado
Is La Bamba the perfect movie? No. One could get real nit picky about likenesses, yellow lines on streets, or the fact that the song "Oh Charlena" did not come out until 1961, but things like that shouldn't matter at the end of the day. It's the feel of the thing, the emotional roller coaster ride we take with those characters on screen that matter most. That's why the movie continues to soar far above other Hollywood biopics retaining a loyal fan base worldwide. Thanks to the efforts of the Valdez brothers, Taylor Hackford, along with the love and support of the Valenzuela family, La Bamba brought Ritchie Valens and his music a renewed fame.