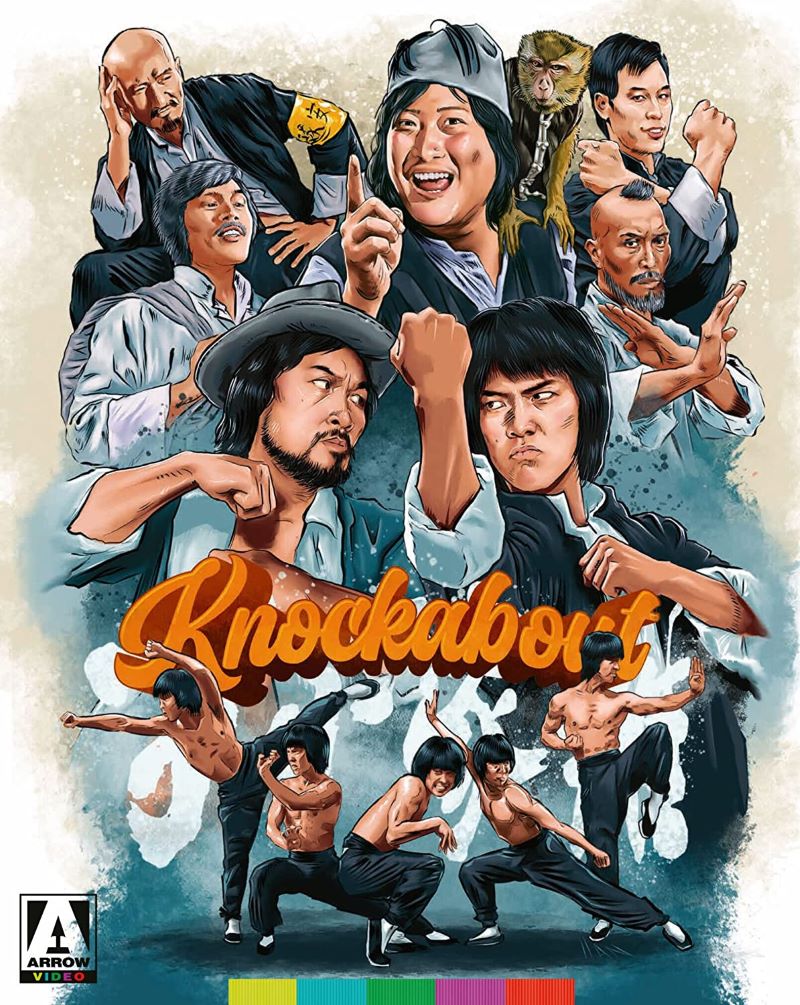 Arrow Video continues their new series of Sammo Hung releases with this action comedy from early in his directorial career. After building his reputation as a stunt coordinator and actor beginning in the '60s through '70s, he moved into the director's chair in the late '70s, where he stayed for a very active 20 years, right up until the handover of Hong Kong to China. Knockabout is only his fourth film as director, which is fairly evident as soon as he appears onscreen with his hair still entirely black. If you're used to middle-aged graying Sammo, his youthful appearance here will likely come as a shock.
Unlike Millionaire's Express, Sammo isn't the star. Instead, he gives fellow China Drama Academy classmate and legend Yuen Biao his first shot as a leading man. Yuen and Ka-Yan Leung play bumbling hustlers comedically attempting to con their way to riches. When they push their luck and fail trying to swindle an impressive martial arts master (Kar-Wing Lau), they convince him to teach them in the hopes of bettering their con game. Unfortunately, their new master is too evil for them, so when they encounter a stumbling beggar with amazing skills (Hung), they recruit him to learn his unorthodox drunken monkey fist-fighting style to counter evil master's secret snake style.
Of course the story is largely beside the point in this kind of action vehicle, which is good since it doesn't amount to much. Instead, the emphasis is on blistering action, and all of the players put on an exciting clinic in martial arts mastery. Fights are acrobatic without relying on wires, and Yuen in particular stakes his claim as a leading man and force of nature. However, Sammo sets a screwball tone for the action, so even though it's expertly choreographed and performed, many stunts are more Looney Tunes than Enter the Dragon. Also, if your primary interest is in Sammo as an action star, you're likely to be disappointed by his diminished role here, as he's mostly only onscreen in the second half, and even then only as a supporting player to the primary leads.
The Blu-ray features new 2K restorations from the original elements of both the original Hong Kong theatrical cut and the shorter Export Cut. While the Hong Kong cut features lossless Cantonese, Mandarin, and English mono audio tracks, as well as a new 5.1 English dub, the Export Cut only contains the English mono track, immediately ruling it out for all purists. Picture quality is excellent, still showing a bit of debris but clearly the best presentation ever available in the U.S.
Bonus features are mostly archival interviews, specifically with a kung fu master of the monkey style, Leung, and Hung. Sammo reveals that he originally intended to star in the film, but made way for his old chum Biao and then put himself back into the film in his eventual co-starring role. A deleted scene featuring Yuen and Hung rounds out the features.
Knockabout is available on Tuesday, March 28.