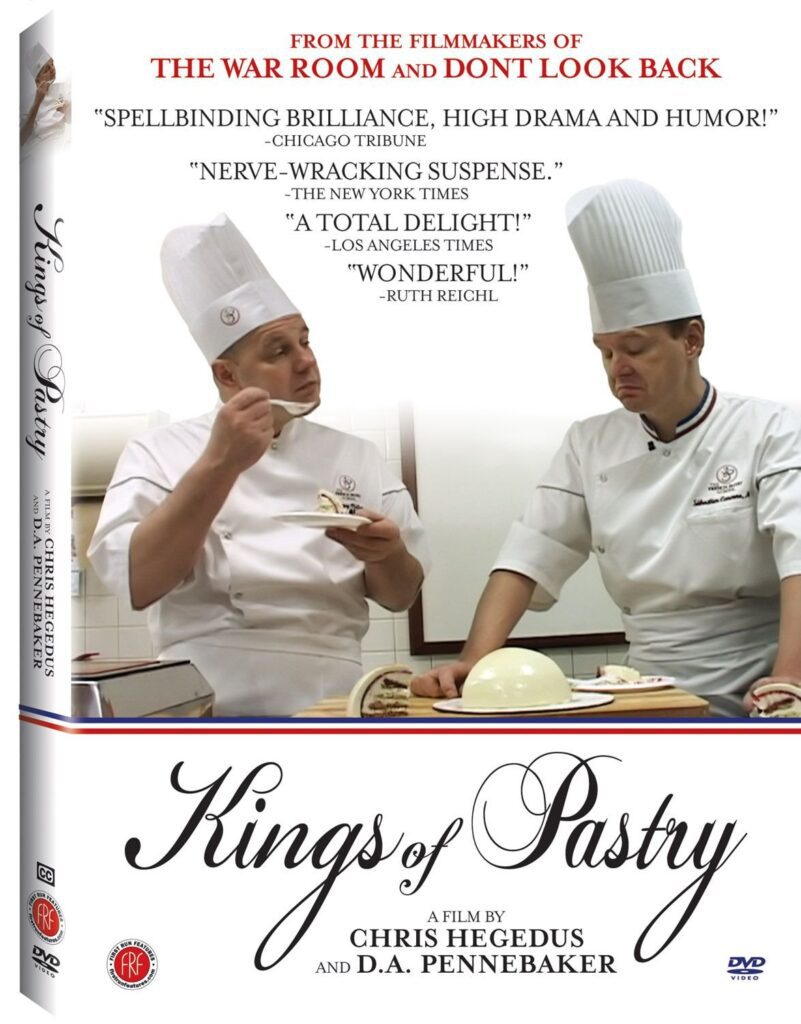 Written by Amanda Salazar.
First, wrap your head around being in a kitchen for three days time, with an extensive list of criteria on what to bake. Then film the competition for audiences to get a taste of the intimate trials that France's highest pastry chefs must go through. It may not sound interesting, but it is. The Kings of Pastry is a remarkably stimulating documentary that examines the determination and gravity of what it takes to win top honors in your particular field, without sugarcoating the details.
Filmmakers Chris Hegedus and D.A. Pennebaker have worked together on documentaries since the seventies. Being in veteran hands, the format and pacing of Kings makes each time in the kitchen feel like a life or death adventure.
The film follows three pastry chefs competing for the Meilleur Ouvrier de France (MOF), France's highest honor given only to top pastry chefs. Winners are awarded a red, white, and blue collar that is worn with their chef's outfit. Like the Olympics, the competition takes only pre-qualified individuals and only takes place every four years. This particular competition does not have only one victor, many are collared based on their performance and scores after the three days. Within this time frame, they must complete a series of baked goods including a sugar sculpture, wedding cake, lollipops and chocolate candies. Not only are they judged on their appearance, but also taste.
Jacquy Pfeiffer is the first chef that we are introduced to and he is the founder of the French Pastry School in Chicago and his plans are to return to France to bring home his collar. Two other chefs are followed, one who has competed before and did not pass and another who simply wants to further his career with pastry.
The viewer gets an inside look into the preparation and practice that even the best chefs must adhere to. Jacquy goes to France a month before the competition to practice everyday in a friend's kitchen, while others have kitchens built in their basements.You are not always sure what the contestants are working on. Instead the focus is on how important the competition is and the extreme measures they take to prepare. They even set up three-day fake trial runs to ensure that they are ready.
When the competition begins, suspense comes from them being able to complete everything and perform at their best. All of the contestants are clearly qualified, but to rank as one of the best pastry chefs from France they must be on the top of their game the entire time. Some of the baked goods are absolutely breathtaking; craftsmanship and creativity make for an entertaining show of goodies.
The filmmakers chose to emphasize the importance of the competition, rather than getting weighed down by details. We are only given basic information about the competition, never really being shown how or why they are given certain scores or what criteria they need to meet in order to walk away successful. They either do or don't and we are never really given a reason why.
Our contestants are so immersed in this competition with what they must do to win, their passion is what drives the film. Watching the best chefs in the world crumble under pressure makes for great dessert making and great entertainment. Without a hint of pretentiousness, the filmmakers successfully bring the viewer into a prestigious world where wedding cakes and sugar sculptures are the most important things in life.
The DVD includes four special features that should definitely be looked at if you enjoyed the film. The first is an interview with the filmmakers that follows them through a chocolate shop as they talk about why they chose this subject and what they are trying to achieve. The next extra is "Chef Jacquy Pfeiffer Builds a Chocolate Sculpture" and you can literally watch him build a beautiful chocolate structure complete with chocolate film reels. There is then a "Chocolate Fashion Show" which is exactly that- a fashion show of students from the French Pastry School of chocolate adorned dresses. There are then Biographies of the filmmakers and others that helped make the film.