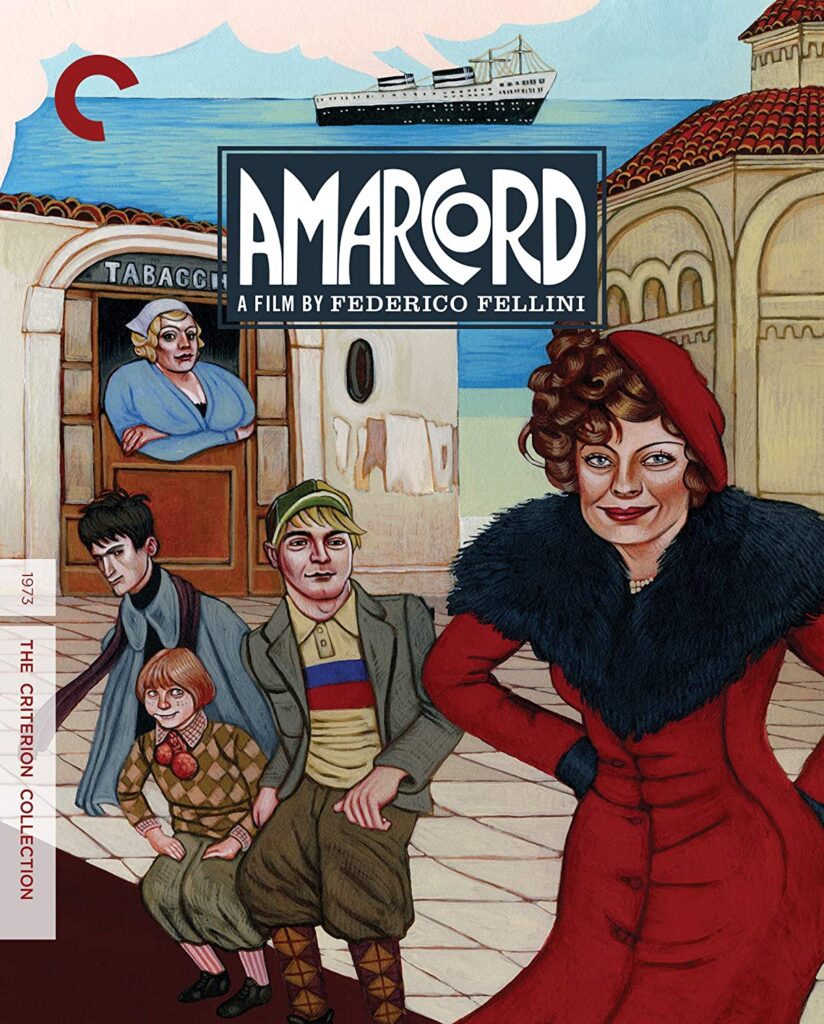 Federico Fellini's films are widely perceived as an acquired taste, with their odd flights of fancy, peculiar characters and avoidance of normal narrative structure. As such, they can be a daunting proposition for even the snobbiest of viewers, but I opted to take the plunge with this Oscar-winning later work in his filmography thanks to Criterion's stunning new Blu-ray release.
Although Fellini reportedly offered conflicting accounts of its origin and basis in fact, Amarcord is evidently an ode to his own childhood in a quaint Italian town in the 1930s. Rather than follow one character however, the film presents a series of vignettes loosely tied together at times by an onscreen narrator addressing the camera. While that means there's no tangible plot to follow through to any logical conclusion, those vignettes and characters are so imaginative and captivating that they are now permanently seared in my mind. So in short, what the film lacks in narrative flow is more than counter-balanced by what it gains in memorable impact.
Among the characters populating the fictional town of Borgo (standing in for Fellini's real hometown of Remini) are a vivacious beauty named Gradisca who gains the instant affection of most men and boys in town, a bawdy and busty tobacconist who challenges a scrawny teen to lift her and finds herself so enraptured that he is rewarded with far more than he can handle, crazy Uncle Teo who climbs to the very top of a tree and repeatedly shouts "I need a woman!" during his day out from the mental institution, and an old man named Guidizio who nearly burns to death atop a festive bonfire celebrating the arrival of spring. Those characters and many, many others cavort in the carnival-like atmosphere of the town, even during fascist demonstrations. Other memorable images include a live peacock atop an icy fountain, a huge talking caricature of Mussolini seemingly constructed out of roses, and a sultan's harem with a whopping 28 ladies. There's substantial deeper meaning and criticism of fascism, religion, and education for viewers wishing to dissect the film, but for this first-time viewer the film functioned best as an entertaining parade of unforgettable characters and situations.
The extensive bonus features include a 45-minute documentary on Fellini's conflicted relationship with his hometown and past, a fairly recent video interview with star Magali Noel, audio interviews with Fellini and other associates, Fellini's own accomplished drawings of characters in the film, a deleted scene, and the American release trailer. I found the interview with Noel to be the most enlightening as she candidly and cheerfully recounted tales from the set, although I was also quite impressed by Fellini's colorful drawings.
The package also includes a lengthy autobiographical essay written by Fellini after a near-death experience left him hospitalized and nostalgic for his past. Because of its inclusion in a somewhat thick book form, the contents are not packed in a standard plastic case but instead arrive in a cardstock cover encasing both the book and the disc (in a plastic tray), then packed in a cardstock slipcase for extra support.
Elsewhere, Criterion has included a fascinating demonstration of the restoration efforts performed for this re-release, vividly showing viewers the vast improvements that have been made between their original release and this new transfer. The colors are now incredibly vibrant and details are far more crisp, especially when subjected to the high-definition microscope of Blu-ray, clearly making this the definitive release of the film.