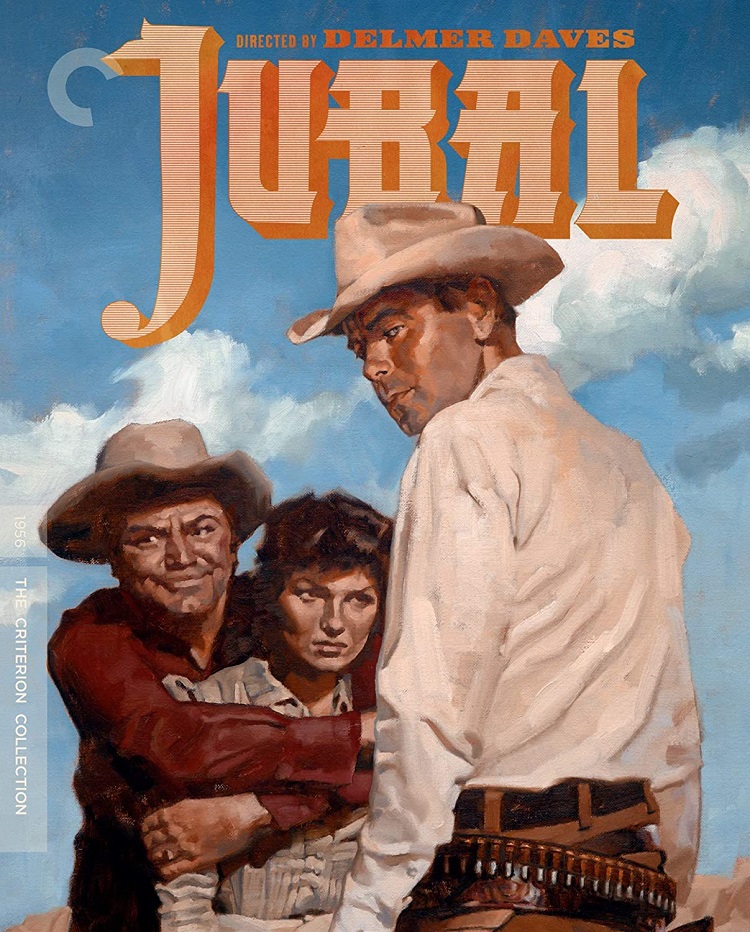 Written by Brandie Ashe
Delmer Daves' 1956 film Jubal is sometimes dismissed as simply a cowboy retelling of William Shakespeare's Othello. But while the film shares some similarities with the Bard's great tragedy, the film ultimately stands as its own gripping story. This underrated gem of a Western boasts a strong, talented cast that brings an intriguing and well-constructed plot to life.
Glenn Ford plays the title character, Jubal Troop, a wandering cowpoke who spends his life moving from place to place. Shep Horgan (Ernest Borgnine) happens upon an exhausted Ford and takes him back to his sprawling ranch. Shep offers Jubal a job, a move that angers his most senior cowhand, Pinky (Rod Steiger), who jealously baits Jubal by accusing him of being a sheepherder. When Jubal proves his work ethic around the ranch, Shep makes him the foreman, raising Pinky's ire further. Complicating matters even more, Shep's vain Canadian wife, Mae (Valerie French), falls for the handsome newcomer and does her best to entice him into an affair, but Jubal's loyalty to Shep remains true.
When a traveling group of religious worshippers stop on Shep's land, Jubal protects them from Pinky's efforts to drive them away, and in the process falls for Naomi (Felicia Farr), the daughter of the religious leader–which enrages Jake (Robert Knapp), Naomi's would-be suitor. Jubal also finds an ally in Reb (Charles Bronson), another traveling cowboy with whom he forms an immediate bond. All seems well as Jubal begins to set up permanent residence for the first time in his life. But as Pinky works to persuade Shep of Jubal's supposed ulterior motives regarding Mae, Jubal's newfound serenity is quickly and tragically uprooted.
Ford and Borgnine are excellent here–Ford's performance as the troubled yet upright Jubal is especially effective–but Steiger's affected delivery can be off-putting at times. While his co-stars embody their roles quite naturally, with an ease that speaks of familiarity with these types of characters, Pinky is almost cartoonish in Steiger's hands. He delivers his lines with a purring menace and a lackadaisical drawl that sharply contrasts with Ford's straightforward performance and Borgnine's genuine good bonhomie. Note in particular the scene in which Pinky confronts Mae, threatening to tell Shep about their affair unless she abandons her sudden yen for Jubal. His threats are delivered almost silkily, with an overly mannered air, and at the same time, he pants at Mae like an animal, barely able to draw breath between his lines. It's a strange performance in an otherwise well-acted film.
As I mentioned previously, there are similarities to Othello built into the film's plot, particularly in the relationship between Pinky and Shep. Pinky functions much like Iago in the movie, figuratively perching on Shep's shoulder like a jealous demon, putting ideas into his head. In fact, the entire film hinges on the concept of seething jealousy, with multiple characters affected by the proverbial green-eyed monster: Pinky, Shep, and Jake all exhibit varying degrees of jealousy toward Jubal at certain times in the film, and Mae resents Naomi, the true object of Jubal's affections. But unlike Shakespeare's doomed Moor, Shep ultimately takes his rage out not on his wife, but on her supposed lover, and the resolution to the film is a bittersweet ending as opposed to a melancholic one.
The recent Criterion release of Jubal boasts a new 4K digital remastering of the film, and the lovely vistas of Wyoming wilderness are displayed in all their original Technicolor glory. Unfortunately, the release does not include any special features, though as with most other Criterion discs, a full-color booklet is included, featuring an essay by Kent Jones and photo stills from the movie. The film is also available in a Blu-ray edition.
If you have never seen Jubal, you're missing out on one of the great 1950s Westerns, a true stand-out in the genre. And if you are going to watch it for the first time, you certainly can't beat Criterion's excellent presentation.