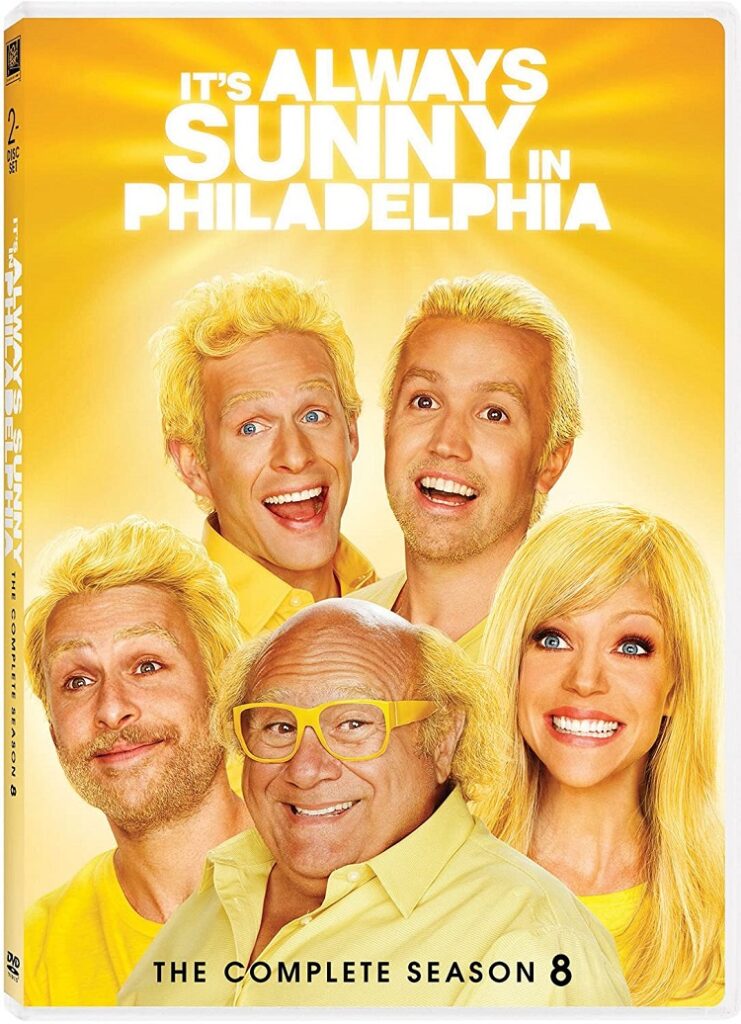 Written by Mike Bruno
Goodbye, Fat Mac. Hello, more hilarity.
I always enjoy what the Gang is up to and Season 8 was no surprise, other than how much I would be laughing out loud. Frank, Dee, Dennis, Mac, and Charlie delivered again with the 10-episode Season 8, packed with all the quirks and backstabbing the Gang has to offer. This two-disc set comes with some extras that include bloopers/gag reel and commentary from the cast.
I caught the first three episodes when they aired on TV, but uncensored is so much better, so when asked to review this season I was all about it. The eighth season starts off with a bang, or should I say a pop, as in "Pop-Pop: The Final Solution." Pulling the plug on their dying Nazi granddad, the Gang learns of the old man's secret Nazi treasure so the hunt begins. Charlie pulls off his best Dennis Hopper circa Blue Velvet while Dennis and Dee contemplate life and the taking thereof, while rancid soup takes up most of the space in Pop-pop's hospital room. It will make you look twice at paintings of German Shepherds.
While watching "The Gang Recycles Their Trash," I didn't think anything could be funnier than Dee, as a hooker with an orange-ish black face and bright white arms gleaming in the sun as she tried to convince the striking garbage workers they were being held down by the man, until I saw Mac hanging off the back of a limo like a trash man on the back of the truck. Man, that seagull shit looked authentic.
My three favorite episodes have to be "The Maureen Ponderosa Wedding Massacre," "Frank's Back in Business" and "Reynolds vs. Reynolds: The Cereal Defense."
The Gang at a wedding fills my mind with disaster, the funny kind with it being the wedding of Dennis' ex-wife (Catherine Reitman), who happens to be marrying Liam McPoyle (Jimmi Simpson). Dennis is there to make all his alimony woes disappear, while Frank is there to make sure Dennis doesn't get what he wants even if that means destroying Maureen's wedding day. Here is where bath salts and zombies come in, and another one of Sweet Dee's cars gets totalled. I have to say that anytime Jimmi Simpson is on screen I laugh. This man is perfect for the part he plays and his attention to sick details really puts him over the top, just what is called for in a TV show such as this. Put him with his counterpart brother Ryan McPoyle (Nate Mooney) and it's comic gold.
In "Frank's Back in Business," the Warthog returns to stop the sale of Atwater, the company he built with his own two hands, and he brings Charlie along as his right-hand man. Meanwhile, Dee, Dennis, and Mac seize upon the misfortunes of a traveler from Canada, who had stopped into the Paddy's Pub, yet left his wallet behind. The three find tickets to a Red Sox game and decided to go. Little did they know those tickets where part of business deal, and so not wanting to have to leave the game Dennis and Dee pretend to be the Canadians, as two businessmen try to persuade them to make a deal with them. Mac fucked himself by naming himself as bodyguard for the twins, and soon lets Dee and Dennis do their thing. Charlie is helping Frank, but after meeting with some businessmen from China and eating sushi off a naked woman, Frank fires his roommate. Charlie and Mac go into business for themselves as they use crow eggs, milk, and alcohol to make their new product "Fight Milk". Their creation of the ad video for their product is awesome and some of it shows up in the gag reel.
In "Reynolds vs. Reynolds: The Cereal Defense" Frank has slammed his car into the back of Dennis' SUV, making Dennis spill his cereal. Why does Dennis eat cereal while driving? That's not the point, nor is the fact that Frank can't see. The point seems to be why Mac doesn't believe in evolution. Yet the Gang has their own style of the People's Court, and eventually takes it to the street, literally. They scientifically try to see if eating cereal while driving is donkey-brained but all they find out is that it's Dee's fault as usual.
The extras are great and listing to the commentary really adds to the scenes. You understand how things got done, who was breaking up on the set, and you learn what really goes into making a hit TV series such as this.
If you haven't seen Season 8, here's your chance to catch up on it now, and if you have, you really need to add this to your collection. It's well worth it, and all the laughter will make you understand why.