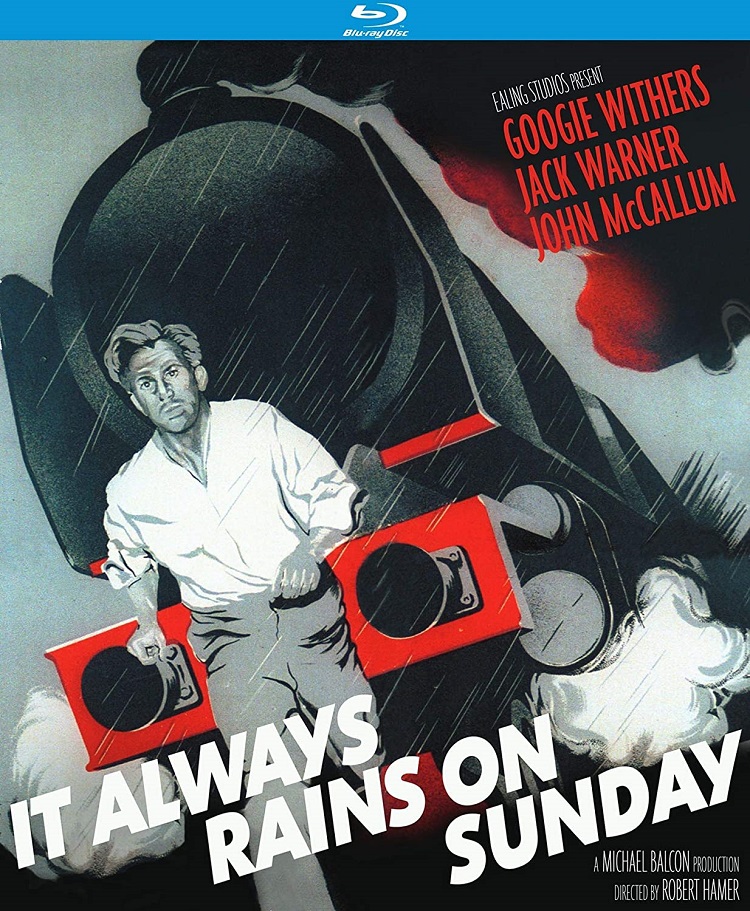 A man breaks out of prison and returns to the home of his former fiancee. They were set to be married but he got caught in a bash and grab and was put away for years. In the time between, she met another man, dull but kind, who has children of his own; settled down; and created a life for herself. But when she finds him hiding out in the air-raid shelter those old feelings return. With a house full of people, she can hardly let him inside. It is even difficult to smuggle him a little food.
Elsewhere, three crooks have robbed a warehouse on the wrong day, coming up with only a collection of roller skates for their trouble. They are desperately trying to sell them to anyone, willing to go cheap to earn enough money to survive another few nights. They keep running into a copper who seems to know what's up, but can't yet prove it. He's not actually all that concerned with proving it as he's really got his nose out for that escaped convict.
A married man, who runs a local shop and also plays in a jazz band, begins to fancy a pretty woman he meets on the street. He tells her she's got a nice voice and with a little training, she could win some awards. He, of course, is the one who can train her. She comes to his shop, listens to some records, and kisses him. Some young boys, one the son of the woman with the convict in her garden, see the kiss and blackmail the man into giving them some things from his shop to keep their mouths shut.
All of this and more happen in one small neighborhood on the East-End of London not long after the end of World War II, all during a 24-hour period. It Always Rains on Sunday is an early example of what became known as kitchen-sink movies – social dramas that realistically depicted lower-middle-class life in Britain, usually focussing on angry young men living in cramped quarters. It is beautifully shot and very well acted, but the story meanders and I never quite connected to any of its (many) characters.
The main focus is on the woman, Rose (Googie Withers), and her ex-con former lover Tommy (John McCallum) but it spends so much time wandering through the neighborhood checking in on its various other stories, it doesn't quite give the main one the attention it needs. At least that story has some forward momentum going for it and an actual conclusion. The rest of the stories just sort-of exist like postcards from another time without actually telling much of a story at all.
There is some tension created when Rose manages to get Tommy into her bedroom. He tries to seduce her and she almost lets him, but then one of the girls comes home early, the other wants her comb from inside the bedroom, and the father just wants to take his regular Sunday nap. It builds up nicely and there are some narrow escapes for Tommy, but it's not enough to really get things going. It isn't until the last 15 minutes or so that things actually get exciting. The copper gets wise to where he's staying and Tommy runs into a train yard where he's chased. The drama turns into a film noir here and there are some brilliant compositions mixed with stunning black and white photography.
I'm being a bit too harsh. There is a lot to like about this film from its cast to its cinematography and direction. It is best to think of it as a slice of life. It depicts this particular moment in British history from a specific place and as such, it is a fascinating time capsule. The way it wanders from character to character, story to story, reminds me of the films of Robert Altman and I have to wonder if he wasn't a fan.
The film was shot by Douglas Slocombe, who was the director of photography for a lot of British films in the '50s and '60s but also worked with filmmakers like Steven Spielberg, Roman Polanski, and even shot a James Bond movie. It was directed by Robert Hamer, who is best known for the classic black comedy Kind Hearts and Coronets but made numerous films for Ealing Studios before deteriorating into alcoholism. Ealing Studios is now known for a certain kind of comedy but they made lots of dramas as well, this being a prime example.
It Always Rains on Sunday is an interesting depiction of everyday life in post-war London. Its slice-of-life approach kills any real tension and drama it may have tried to create, but if you allow yourself to relax and let its myriad of stories wash over you, there is plenty to like.
Kino Lorber Studio Classics presents It Always Rains on Sunday with a 1080p transfer and a 1.37:1 aspect ratio. Extras include an audio commentary by film historian Imogen Sara Smith, a making-of featurette, one on the film's locations and the usual trailers.