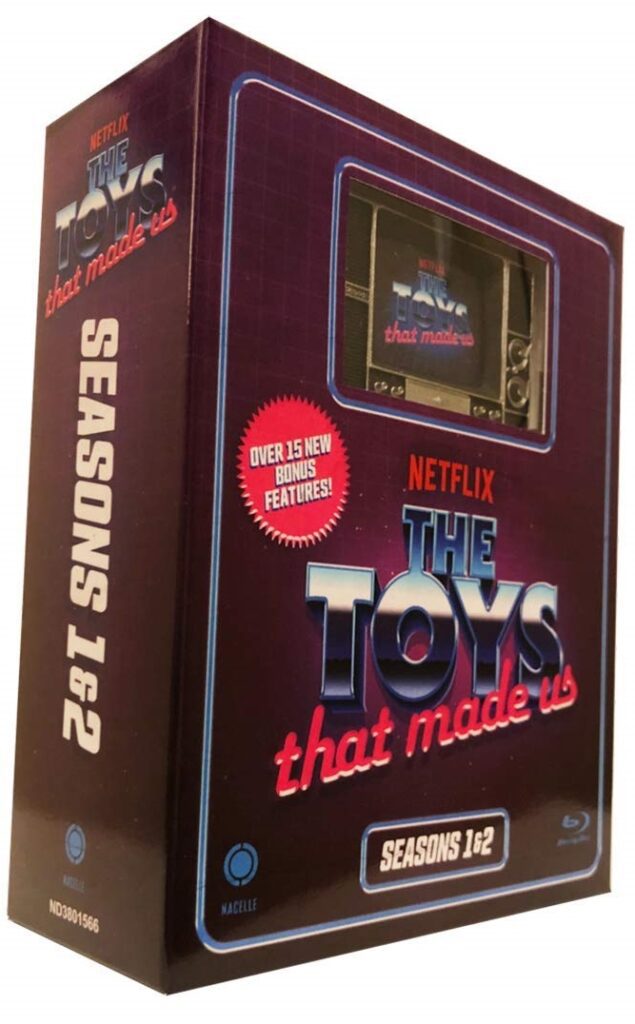 Written by Michael Frank
Brian Volk-Weiss is most likely a name you've never heard before. He isn't center stage, nor is he the star of any movies or series. He exists in the background, behind-the-scenes, orchestrating close to 300 comedy specials as a producer and over 30 specials and series as a director.
In his free time, he creates and direct multiple Netflix series, including The Toys That Made Us (four seasons) and The Movies That Made Us (one season). When he was a kid, he played with Star Wars toys, LEGOs, G.I. Joes, and Transformers. He even thought Star Wars was a documentary at one point.
"I'd be a dentist or lawyer in Queens if it wasn't for Star Wars," said Volk-Weiss. His favorite comedy growing up was A Fish Called Wanda, and his VHS collection consisted of dramas, thrillers, and action films. Everything changed after college.
"I knew that college wouldn't be that important to my career. I'm the first kid in my family to only have a Bachelor's degree," said Volk-Weiss. He studied at the University of Iowa, majoring in Communications, experiencing the country from a different place than the coasts. Three days after graduation at the age of 22, Volk-Weiss flew out to LA for good.
"I'm sad I wasn't in LA one day after graduation," joked the producer. He's charismatic on the phone, and I can't stop myself from laughing along with him. After a few temporary jobs on film sets, including a ripoff of Swingers in Vegas and realizing he didn't want to be a director after being on the set of Cast Away, he took a job representing stand-up comedians, making $50 a day.
"I didn't want to be a manager. I thought I was going to be an director," said Volk-Weiss. He managed comedians for the next 10 years, and then the production career started. He told me a story about getting a call one day. The call was about producing a stand-up special for a non-client. His answer?
"Fuck no."
The next day, he called the guy back, apologized, did the special for Michael Ian Black, and that was the start of everything.
He has been at the start of several big-name comedians' careers, including Ali Wong, Bill Burr, and Jim Gaffigan. He gave me a bit of info on how they act off the stage.
"Almost all of them turn it off," said Volk-Weiss. "92 out of 100." But when asked about whether he's ever tried stand-up, his response was strong and swift.
"Never."
"Will you ever?" I asked.
"No."
He wasn't done though.
"I don't think people appreciate how hard it is," he said. "The people that are really good at it make it look easy. I like hearing people laugh like anyone else, but it's not something you can do two nights a month. You do it every day for 5-8 years before you become good."
When he's not working with comedians, Volk-Weiss is directing Netflix shows and other network series, including The Toys That Made Us, an origin story that starts with an old-fashioned sentence.
"I was in a Borders books about nine years ago," said Volk-Weiss. He wanted to learn about how different toys were created. "I tried selling the idea for about seven years, and couldn't get it sold." He was already working with Netflix due to his comedy specials, so they gave him a shot.
"It's very hard to get [Netflix] to buy something, but once they buy it, they trust the filmmaker."
They trust him enough to make a spin-off, The Movies That Made Us, Volk-Weiss' exploration of the history of our favorite films, a much more compelling way of learning about movies outside the usual DVD extras. To use his words: he loves this pop history stuff.
A man with seemingly unlimited energy, the creator, producer, and director has bigger plans in the future.
"I want to make my own Star Wars," he said with real excitement. He wants it to be brand new, even if he doesn't have the details down yet. He complements his team, those he trusts with his life. He speaks about them like they're family.
Volk-Weiss talks about his life in such a positive tone. His happiness sounds genuine. He calls everything that has happened a blessing, a word he doesn't use often. Volk-Weiss is living his dream, but as for his Star Wars project, he has only one wish.
"I pray to God that people like it as much as I do."