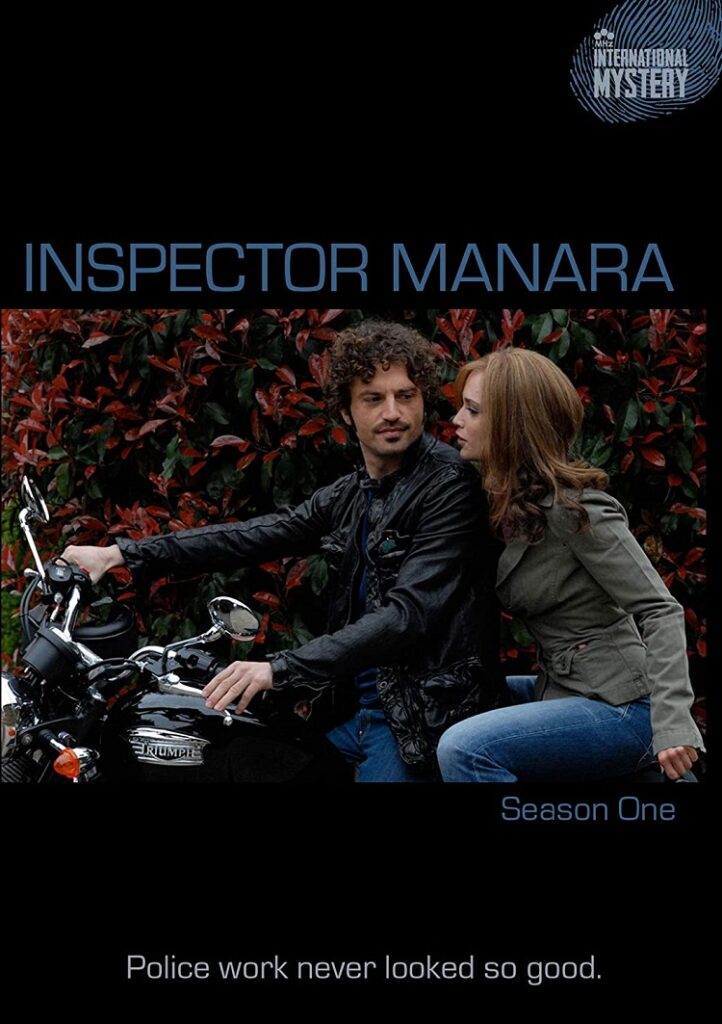 MHz has released another international series on DVD, Inspector Manara (Il Comisario Manara). Part police procedural, part romantic comedy, it is a very engaging show with likable characters that American audiences should take to immediately.
Set in a small Tuscan town by the seaside, Inspector Manara features Guido Caprino as Luca Manara, who has been transferred from his beloved and fast-paced Milan to be the new police commissioner of what he thinks is a tiny, boring, crime-free town. He will soon learn that murder is as frequent an occurrence here as in some other mythical television hamlets like Cabot Cove and Midsomer. Luca has no intentions of staying, and doesn't hesitate to declare so at every opportunity, but his transfer was a disciplinary measure – the result of his getting too cozy with his former superior's wife. His current boss, Casadio (Luis Molteni), has no intention of granting his transfer request until he can prove himself. Casadio also isn't too pleased that his own wife (and just about every lady in the vicinity) are immediately charmed by the handsome Inspector. Come bello.
That is, every lady except one, Lara Rubino (Roberta Giarrusso), the new forensics chief and former classmate of Luca, who upon seeing her new boss greets him with a solid slap across the face. We are in Italy after all. It is clear to everyone but Lara that the rest of the series will consist of "will they or won't they" scenarios and the inevitable obstacles thrown in their way. Because this is Italian television the question is not so much will they or won't they sleep together (Ma certo!), as is done in an American series, but will they or won't they declare their love for one another and end up together.
The first season of Inspector Manara, originally broadcast in 2009, consists of twelve episodes. Inspector Manara is actually a spin-off of a 2005 six-episode comedy drama, A Family in Yellow, which featured many of the same characters and actors – even the German Shepherd "Brigadiere," and which introduced Caprino as Manara in an episode entitled, "Poison Biscuits." These characters add lots of color and humor to the series, and include Lara's Aunt Caterina (Valeria Valeri), who is the resident Miss Marple of the village. Aunt Caterina provides Luca and Lara with many helpful insights as they try to solve their cases. British-born Jane Alexander plays the sexy coroner Rosmini, who makes a play for Luca just minutes after he arrives, adding some complications to his possible romance with Lara. Two comedy teams join the inspector at the police station – husband and wife cops Toscani (Augusto Fornari) and Sardi (Lucia Ocone), and bumbling police officers Barbagallo (Tribastone Mario) and Buttafuoco (Massimo Andrei).
The twelve episodes included on the disk are:
"A Perfect Murder (Un delitto perfecto)" – Manara introduces himself to his crew, including Lara, who has bad memories of crime school with him – although Manara has no idea what he has done to make her angry. They manage to put aside their differences to try and solve a murder that at first appears to be suicide.
"Late Harvest (Vendemmia tardiva)" – a homeless man is found dead by the roadside and the owner of a winery is also missing – can Lara and Luca discover a connection between the two incidents?
"Rhapsody in Blue (Rapsodia in blue)" – a local musician is found murdered – a man as popular with the ladies as Luca – who apparently was very well-known by Rosmini. Lara also reveals to her Aunt Caterina what event in her past has her so upset with Luca.
"Letters of Leopardi (Lettere di Leopardi)" – The town's librarian is found dead and the only suspect is his missing assistant Marcuccio. Caterina knows the boy and can't believe he could be responsible, but Luca and Lara need to find him first before they can determine whether he is innocent or guilty.
"The Green Ray (Il raggio verde)" – A valuable Etruscan jewel has been stolen from the local museum and a body has been found by some fishermen near a nearby island – its up to Luca to find the relic and discover who the man was.
"Chain Reaction (Reazione a catena)" – Lara and Luca try to solve the murder of a filmmaker while juggling their own separate romances, Lara with childhood friend Massimo, and Luca a fling with Rosmini.
"Dreams of Glass (Sogni di vetro)" – Luca and Lara both go undercover at a cowboy-themed bar to discover the killer of a local glassmaker.
"Death of a Cowboy (Morte di un buttero)" – A man has died after a presumed fall from a horse, but all is not what it seems. The real drama of the episode comes from Lara, who spends a week with Massimo on his boat – and he gives her a ring.
"Strangers in Paradise (Delitto in paradiso)" – Lara and Luca grow closer as they try to solve the murder of a local psychiatrist who was found, stabbed, with the only witness one of his patients, holding a pair of bloody scissors, who has no recollection of what happened.
"One Corpse Too Many (Un morto di troppo)" – A beautiful woman is found dead – in an elaborate set-up, a la Hamlet's Ophelia.
"Blessed Among Women (Beato tra le donne)" – A wealthy man is found dead in his study – with his entire family nearby.
"What Lies Beneath (Le verità nascoste)" – A local psychic is found dead in her home, in an obviously staged suicide. Luca agrees to help the team solve the case – but also informs them that he finally intends to return to Milan.
There are many charms to Inspector Manara besides its main character's sexy '70's vibe. Crimes of passion are certainly more common in this particular burg than premeditated murder. Italophiles will be interested in the series' beautiful locations, which were filmed near the small village of Trevignano Romano, which is not too far outside of Rome. After watching a few episodes, viewers will not only get pulled in by the recurring cast of characters, but the rhythms of life in their small and picturesque town. Everyone actually seems to go home at the end of the day (who's minding the police station?) to try and spend family time and eat some fabulous homemade food. This idyllic pace is of course a recurring joke on poor Manara, who yearns for some activity, some nightlife.
Happily, Manara and Co.'s adventures return in the second season, which originally aired in 2011, and is also available from MHz on DVD. Inspector Manara features a winning mixture of comedy and mystery. È ottimo!