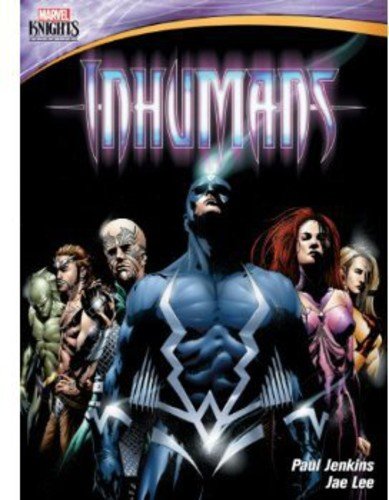 Marvel has released quite a few motion comics in the past few years, but none as surprising a choice as this overlooked classic. Rather than flood the market with an obvious Spidey or X-Men tale, or even a book from the origin title of these characters, the Fantastic Four, Marvel took the welcome opportunity to shine a light on these largely unknown characters.
The basis for this release is a 12-issue comic book series by writer Paul Jenkins and artist Jae Lee. Their story reintroduced these minor characters 15 years ago, in the process greatly elevating the Inhumans in the Marvel universe. As recounted in the DVD bonus features, the original comic book run quickly became a sensation, with rapidly increasing sales from issue to issue. And then, almost nothing. Rather than continuing their tales with a long-term ongoing series, Marvel has released only three additional miniseries in the last 15 years, mostly letting the characters return to the sidelines. Sure, Inhumans leader Black Bolt pops up from time to time, but the group as a whole has been largely abandoned. This DVD serves as a stark reminder of just how great the series was, as well as the huge opportunity mostly wasted by Marvel up until now.
Thankfully, somebody there realized the error of their ways and the resulting motion comic is among the best they've produced to date, not just because of the story and art but because there truly is some motion in these comics. We've reached the point where motion comic animators aren't content to just manipulate mouth movements on static images and instead have refined their techniques to the point where this film actually looks like animation most of the time. New moving backgrounds and effects have been added, while characters move via manipulated animation of their previously static appendages, and excellent camera work adds further kinetic energy to the scenes. The voice acting is well-matched to the characters, with no standout performances but no groaners either.
The Inhumans are a race of mutants who differ from the X-Men in that they choose to become mutants. When they reach the age of adulthood, they enter chambers filled with sacred Terrigan Mist that grants seemingly random mutant powers such as flight, healing, and devastating sound waves. Unfortunately, some are cursed with lame or potentially fatal powers, along with startling physical deformities that leave many looking like monsters, but all willingly embrace the right of passage. They keep to themselves in their tiny kingdom of Attilan, a small sliver of Atlantis above water.
When human armies threaten to destroy their sacred kingdom, the Inhumans send ambassadors to the US to broker peace, while their brooding and ultra-powerful leader Black Bolt prepares for the worst at home. Meanwhile, opposing Inhumans conspire with the humans and threaten to topple Black Bolt's reign from within, leaving him fighting a war on multiple fronts as he strives to save his people and home. As written by Jenkins, the series is a great introduction to and exploration of the characters, and while the plot isn't the most intricate it is an intriguing look at how we view and deal with outsiders , as well as how a leader under siege rises to the challenge. By far the best aspect of the project is artist Jae Lee's original work, as his highly stylized and distinctive artwork gives the comic and motion comic incredible visual flair and heft.
Each issue of the comic book serves as a chapter of the motion comic, with each chapter running around 11 minutes. That puts the final film over the two hour mark, just a bit overlong but manageable for viewing in a single session. Unfortunately, Marvel continues the practice of retaining the episodic opening and closing credits for each chapter rather than omitting them for feature length viewing, making for a recurring annoyance and waste of time. Bonus features include interviews with Marvel Chief Creative Officer Joe Quesada and writer Paul Jenkins about the lasting significance of the work.