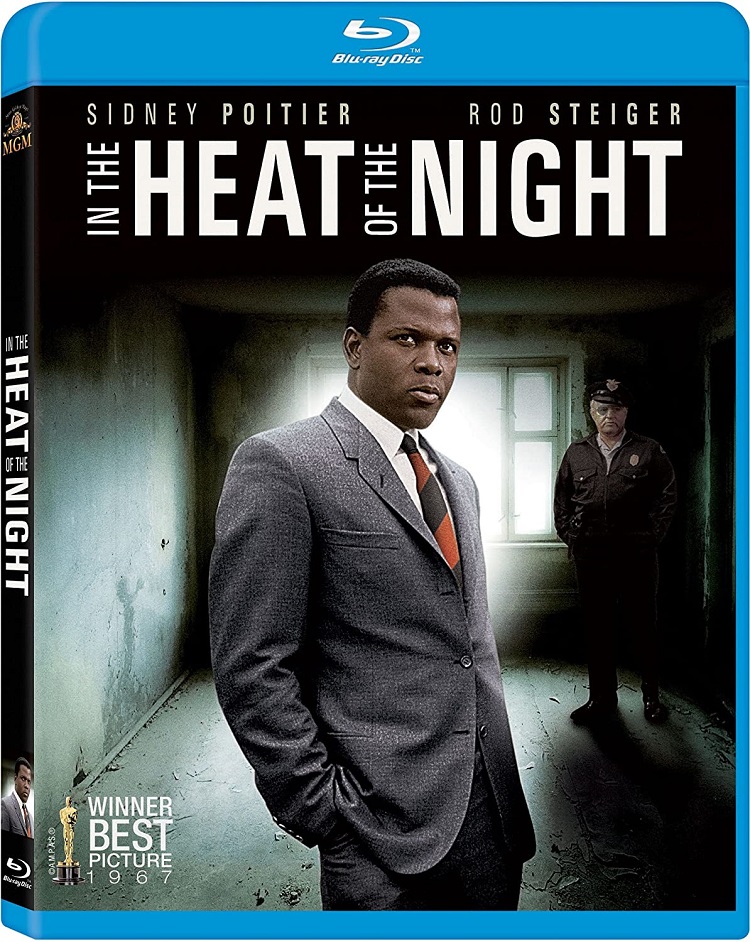 Based on John Ball's 1965 novel of the same name, Academy Award Best Picture-winner In the Heat of the Night (1967) takes a police procedural and ratchets up the tension and intrigue by having an African American police officer from Philadelphia working to solve a murder in a small Mississippi town where the locals treat his kind poorly. I didn't catch the exact year it's set, but if the Civil Rights Act of 1964 has been passed, not many in Sparta, MI recognize it.
After Ray Charles delivers a marvelous performance singing the theme song, Sergeant Sam Wood (Warren Oates) finds Mr. Colbert, a developer from Chicago who is planning to build a major factory in town, dead in the street at 3 am. Looking for suspects, Wood swings by the train station and finds a black man, Virgil Tibbs (Sidney Poitier), which he assumes is up to no good, because he's black.
Back at the station, Police Chief Bill Gillespie learns Tibbs is a talented homicide detective from Philadelphia who was passing through town. Mrs. Colbert (Lee Grant) sees Tibbs prove the innocence of a man wrongly accused of the murder of her husband. Not trusting Gillespie and his men, she tells the mayor (William Schallert) if Tibbs doesn't work the case, she will pull the factory. In order to save his job, Gillespie has to get Tibbs to stay. The mayor tells Gillespie not to worry because either the culprit will be caught or the blame will fall on Tibbs. Tibbs is aware he is being set up, but wants to find killer.
Working the case is difficult because the townsfolk respond with great disrespect to Tibbs, seeing him as a black man who doesn't know his place. Interestingly, Gillespie is also a bit of an outsider, new to the job and possibly the town. This similarity brings the two main characters closer together as does Gillespie's growing respect for Tibbs, as a police officer, who is obviously smarter than him, and as a man who demands respect, on display when Tibbs slaps Endicott (Larry Gates), a wealthy town leader who is opposed to Colbert's factory, in immediate response to Endicott slapping him first. As In the Heat of the Night progresses, what is revealed about the main characters is as important as the plot, making for a very satisfying story.
The video has been given a 1080p/MPEG-4 AVC encoded transfer displayed at an aspect ratio of 1.85:1. The color palette uses a lot of earth tones with limited primary colors. Blacks are solid, and cinematographer Haskell Wexler intentionally uses darkness and shadows to obscure in some scenes, Great details can be seen in the textures of buildings. Grain is apparent. Objects have soft edges. A slight bit of banding around street lights during opening credits. The audio comes as a DTS-HD Master Audio 5.1 track. Dialogue comes out the front center channel as does Charles' vocals. Both sound clear. The surrounds deliver Quincy Jones' impressive jazz score and minimal sound effects.
As with other MGM catalog titles on Blu-ray, the film starts right up rather than going to the menu first. The extras are taken from past DVD releases, 2001 and 2008, and appear in SD. There's an extremely informative commentary created by separate interview sessions with director Norman Jewison, Wexler, Steiger and Grant. "Turning up the Heat: Movie-Making in the 60's" (21 min) looks at the film and its historical significance through interviews with those who worked on the film, such as Jewison, Wexler, producer Walter Mirisch, and composer Quincy Jones, along with those who appreciated it, such as directors John Singleton and Reginald Hudlin. The same group of interviewees talk about "The Slap Heard Round the World" (7 min). "Quincy Jones: Breaking New Sound" (13 min) looks at his work on the film's score and its original song. Lastly is the Theatrical Trailer (HD, 3 min).
Nearly 50 years later, In the Heat of the Night remains an impressive work even though its power has been diminished due to the improvement of U.S. race relations since 1967. Main factors of the film's success are screenwriter Stirling Silliphant, who won an Oscar for his work, and the acting by Steiger, who won Best Actor, and Poitier, who wasn't even nominated even though his performance is more iconic, suggesting AMPAS members in 1968 may have had more in common with the film's Southern characters than they would like to admit. The film is also notable for its Oscar-winning editing by future director Hal Ashby. The Blu-ray offers a satisfying high-def presentation and its few special features offer great insight into the film's creation and importance.