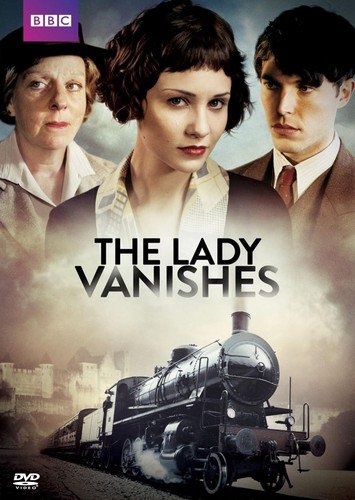 Diarmuid Lawrence directs The Lady Vanishes, a BBC and Masterpiece Films production that originally aired in March of 2013. Now available on DVD from BBC Home Entertainment, this movie comes based on the Ethel Lina White novel The Wheel Spins and adheres more to the source material than the Alfred Hitchcock adaptation from 1938.
For one thing, this version of The Lady Vanishes is less comic and more ominous. Lawrence and screenwriter Fiona Seres use the close quarters of a cross-Europe train to unfurl the dramatics from White's work, providing a mesh of characters who are impossible to trust.
The film opens on Iris Carr (Tuppence Middleton), an English socialite on her way home after some time in Croatia. She made quite an impression at the hotel she was staying at and decides to leave early. After struggling to procure a spot on the train, she is stricken with a bout of "sunstroke." Upon reviving, she finds herself in the midst of some rather peculiar events.
Iris meets Miss Froy (Selina Cadell), an older woman who is also from Britain. She goes to tea with the woman and returns to her cabin for a short sleep. When Iris awakens, she discovers that Miss Froy has vanished. To make things even stranger, nobody seems to have heard of Miss Froy. Iris works to discover what happened, much to the chagrin of her fellow passengers.
Lawrence's picture uses lush, sensual cinematography to present its story and its characters. Initial visions of Middleton's Iris are sexy, with ample shots of her bare back showcasing her carefree nature. Following her "sunstroke" and subsequent confinement to the cars of the train, however, she is a vision of hysterics.
The Lady Vanishes carries an aura of mystery and imposes a dreamlike quality, with characters moving up and down the claustrophobic corridors of the train. Faces are close and always appear to be judging, which makes poor Iris – and the viewer – feel quite insecure. Even before the disappearance of Miss Froy, things aboard the train don't seem good.
Complicating things, Iris has an issue with those who don't speak English. This becomes especially problematic when she finds herself having to deal with the Balkan plot that unfolds on the train. The Baroness and her companions don't make this any easier, but a tale from Miss Froy about a woman sent to an asylum because she didn't speak the language seems particularly prophetic.
Lawrence's The Lady Vanishes makes tremendous use of Iris' limitations, even when she meets Max Hare (Tom Hughes) and the Professor (Alex Jennings). She sees the pair as potential assistance, even if they don't initially believe her, but her zeal and inability to control herself leads to some problems. She also expects to be believed because she is English.
By delivering a particularly flawed heroine, Lawrence keeps the audience guessing. But everything else going on is so sinister in nature that she must have a point, which propels things along at a breakneck pace. The 90-minute movie passes quickly because the director is fully in charge of the elements and confidently knows the story inside and out.
Thanks to top-quality performances, especially from the sublime Middleton, The Lady Vanishes is a fresh and contemporary adaptation that honours the White novel without trying to overshadow Hitchcock's vision. It is a satisfying mystery with just the right traces of absurdity and sensuality.