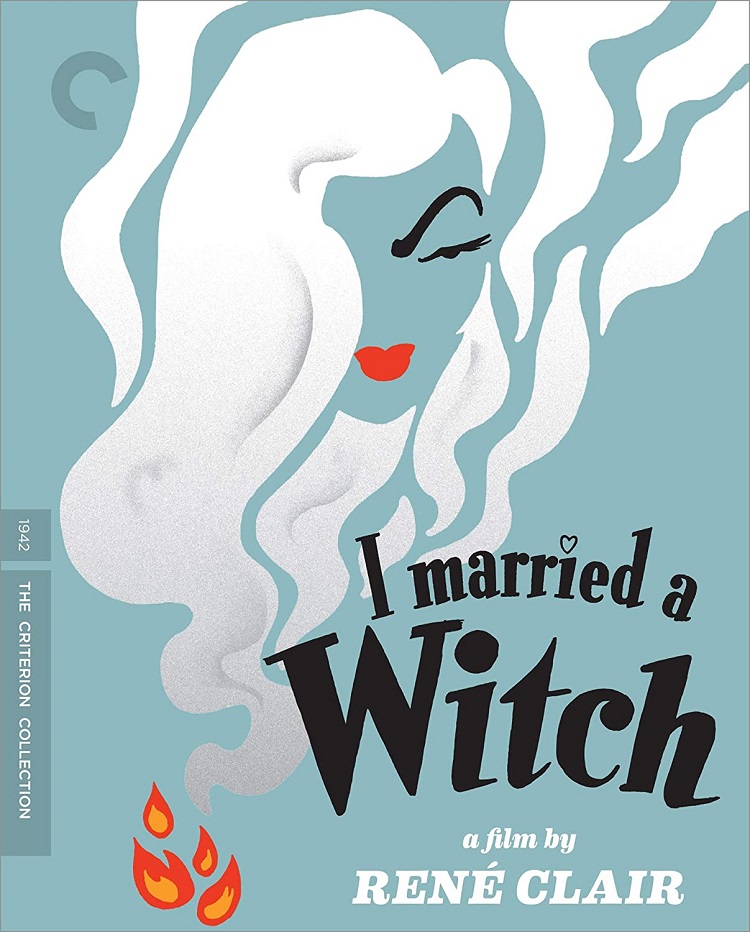 Directed by René Clair, I Married a Witch is low on magic and high on fumes. Its major selling feature is the presence of one Veronica Lake in an impish and syrupy performance as a "vengeful sorceress." Much of this 1942 picture plays by absurd fantasy-farce rules but it isn't an effective comedy, even if it inspired the television series Bewitched.
Now available on Criterion Collection Blu-ray, I Married a Witch regularly stumbles without direction. At times, it seems to long for satire (the opening scene, for instance) but other moments rely too heavily on the sensibilities of the small and syrupy Lake to navigate a one-note Fredric March through his passé paces.
The film opens on the rather wobbly footing of the Salem witch trials, where Jennifer (Lake) and her father Daniel (Cecil Kellaway) are seared at the stake by the Puritan Wooley clan. In the spirit of revenge, Jennifer curses all the Wooley males to marry shrews for the rest of their lives. Cue the historical flash-forward showing years of matrimonial misery.
In present day 1942, Jennifer and her pops have their spirits freed by a lightning strike and happen upon a party where Wallace Wolley (March) is revealed as running for governor. He's also set to marry Estelle (Susan Hayward). Jennifer wants to torment Wallace. After concocting a love potion, her plan goes awry in the most predictable way possible.
Clocking in at just 77 minutes, it's hard to get a good read on the characters of I Married a Witch. A lot of what drives Jennifer is her sense of mischief, which is strangely presented in girlishly cheerful fashion considering her being roasted on a spit. Her sense of reprisal is buried under a chocolate-box exterior, but those who enjoy a woman they can fit in their pockets will likely find Lake intoxicating.
Lake's chemistry with March is questionable, which is hardly surprising considering how hellacious things were behind-the-scenes. The pair absolutely detested each other, with Lake gaining a reputation for being impossible to work with. The actress, christened a "brainless little blonde sexpot" by her co-star during pre-production, pulled pranks on March.
Given the nature of the Salem witch trials, a case of mass hysteria if there ever was one, it could be argued that the trivial nature of Jennifer's curse is a matter of wasted potential. In authenticating the "immorality" and reality of witches in this fantasy, Clair has a chance to mine the Thorne Smith/Norman H. Matson source material for social commentary. Alas, it doesn't pan out.
One could also read I Married a Witch as a comic meditation on types of women. In one corner is Hayward's Estelle, a supposedly shrewish prospect with go-getting designs on being a politician's wife. In the other corner is Lake's Jennifer, a supernatural woman with the power to brainwash and close doors quickly. Her naïve purity and tendency to pass out makes her vulnerable.
Is there a good reason for March to have fallen in love with the witch? Hardly. When Jennifer insists that "love is stronger than witchcraft," the film's wiriness starts to play against it. It's hard to logically piece things together in the middle of wedding monkeyshines and soaring taxicabs, but a deeper reading is not advised.
In the end, I Married a Witch is a dainty and frothy diversion. A fundamentally meatless comedy, Clair's film plays at broad jokes even when it seems to long for better and settles in terrain that is less than winning. Some may find themselves riveted by Lake's enchantment, but this critic must be immune to childlike charms. So it goes.
The new digital transfer looks and sounds good, all things considered. It was created in 2K resolution from the original nitrate 35mm negative, while the monaural soundtrack was remastered at 24-bit from a 35mm optical soundtrack print. As is usually the case with Criterion releases, Pro Tools HD was used to clean up.
The Criterion Collection Blu-ray is lean on bonus features. There is an audio-only interview with Clair from 1970 that serves as more of a career retrospective and a trailer. The booklet features a wordy essay by My Winnipeg filmmaker Guy Maddin, most of which relates to career histories of those involved in I Married a Witch. With so little material actually dedicated to the picture, it's hard to count this as among Criterion's better releases.