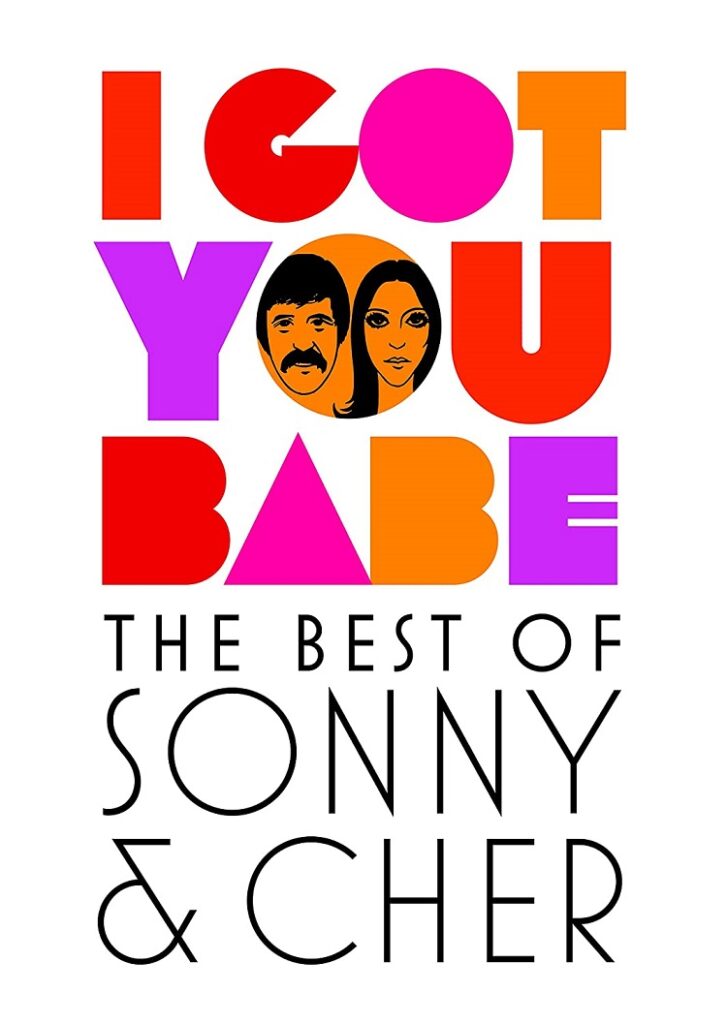 Sonny & Cher started as a singing duo and had their first big #1 hit in 1965 with "I Got You Babe" off their debut album, Look at Us. They never reached the same heights of success and failed with a couple of attempts at making a movie. They headed to nightclubs where they added comedy to their act with Sonny the butt of Cher's jokes and put-downs. After successful guest appearances and a TV special, CBS head of programming Fred Silverman hired them for a summer-replacement series that debuted in the summer of 1971 and ran for six episodes. The Sonny and Cher Comedy Hour was then moved to the fall schedule and ran for three more seasons, ending because their marriage did. They tried separate TV shows before reuniting for a couple more seasons.
Time Life is releasing I Got You Babe: The Best of Sonny & Cher, Volume 1, a five-disc set that contains 10 never-before-released episodes from The Sonny & Cher Comedy Hour including the premiere episode and three from each following season. The shows followed a basic format. Sonny and Cher open and close the show with a song and banter. Some times joined by their young daughter Chastity. In between was a mix of comedy sketches and musical performances. They had a number of recurring characters and sketches, such as "Vamp" with Cher playing famous women, "At the Laundrette" with Cher as Laverne and Terri Garr as her friend, and "Mr. and Ms." a role reversal sketch with Cher out working while her husband Sonny stays at home.
Sonny and Cher were joined by a company of players that over the show's run featured Garr, Murray Langston, Peter Cullen, Freeman King, Billy Van, and a brown-haired, bearded Steve Martin (also a show writer). Guest stars appearing in this set include Jimmy Durante, Tony Curtis, Dinah Shore, Glen Campbell, Carol Burnett, George Burns, Carroll O'Connor, Art Carney, Jerry Lewis, The Supremes, Jim Brown, Bobby Vinton, Jim Nabors, Joe Namath, The Righteous Brothers.
Disc 5 contains the two-part "The Sony & Cher Years Special" which aired nine weeks apart and focused on the '60s. For Part 1, they are joined by Chuck Berry, Edd Byrnes, Dick Clark, Jerry Lee Lewis, Frankie Valli & the 4 Seasons, and Bobby Vinton. Part 2 has Paula Anka, The Coasters, Peter Noone, Neil Sedaka, and Wolfman Jack.
Disc 1 contains bonus features, which include interviews with Cher (17 min), Frankie Avalon (10 min), and producers Allan Blye and Chris Bearde (17 min). Also included are clips from The Barbara McNair Show (8 min), considered the pair's pilot with them bantering and Cher singing "Danny Boy", which aired on February 15, 1970, and an interview on Jerry's Place (14 min).
Sonny and Cher were a very funny comedic duo. Their segments one upping each other with insults are the funniest parts of the show and are what made Sonny & Cher stand out. Cher was the better vocalist of the two and usually got to sing solos. The sketches were amusing, though the humor is frequently corny, and could be culturally insensitive like when Jimmy Durante plays an Indian chief. There is a disclaimer about potential flaws in the image and sound quality, but the presentation is satisfactory, although the producers' heavy use of laugh and applause tracks affected the presentation the most. Fans of variety shows and of this era of television should enjoy these episodes.