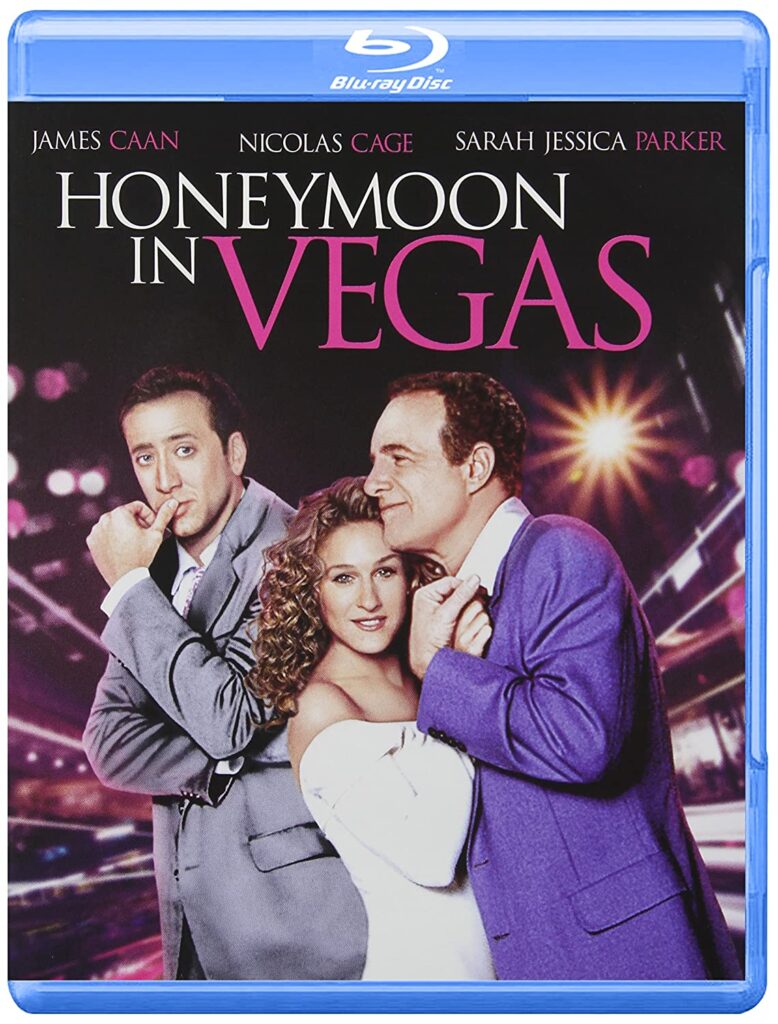 Oh, I how I remember the days when Nicholas Cage made good movies. Honeymoon in Vegas was one of them. Originally released in 1992, it was nominated for two Golden Globes including Best Motion Picture – Musical/Comedy.
Jack Singer (Nicholas Cage) makes a promise to his dying mother that he will never get married. Several years later, his girlfriend Betsy (Sarah Jessica Parker) is ready to call it quits unless he commits. Worried that he will lose her, he abruptly decides that they should fly to Las Vegas and tie the knot. Upon arrival at their hotel, Betsy is spotted by Tommy Korman (James Caan), a ruthless mobster. Betsy is the spitting image of Tommy's dead wife and he becomes determined to have her. Tommy plays poker with Jack and takes him for a lot of money. Tommy is willing to erase the debt if Betsy spends the weekend with him. Jack and Betsy agree to the arrangement and that is where the fun begins.
I really enjoyed this movie when it first came out and it still has the charm, wit, and romance that I fondly remember. Cage shines as the man who realizes that he might lose the love of his life and becomes willing to do anything to win her back. His desperation is touching and hilarious. Parker is adorable and sparkles on screen. Caan works perfectly as the lovestruck villain. One of the highlights of the movie is Pat Morita in a small role as a taxi driver. The biggest star, however, is the amazing soundtrack featuring Elvis songs performed by the likes of Bruce Springsteen, Billy Joel, Willie Nelson, Bono, and many others. Each song that came on had me wanting to jump in the car and head to Vegas with Elvis blaring.
This is a sweet, fun and entertaining film that I recommend to anyone who enjoys a nice romantic comedy that isn't missing the gross male buddy that is the norm these days. However, if you already own the movie, there is no reason to buy the new Blu-ray edition. The MPEG-4/AVC encoded transfer is an inconsistent mess. Dirt and debris are noticeable. Colors, including flesh tones, flucuate. The picture can be extremely fuzzy from grain and then be clear. The scenes in Hawaii look the best and make the rest of the film suffer in comparison. The audio is an adequate DTS-HD Master Audio 2.0 that conveys clear dialogue and the soundtrack but that's it. No extras except for the theatrical trailer which is really disappointing.