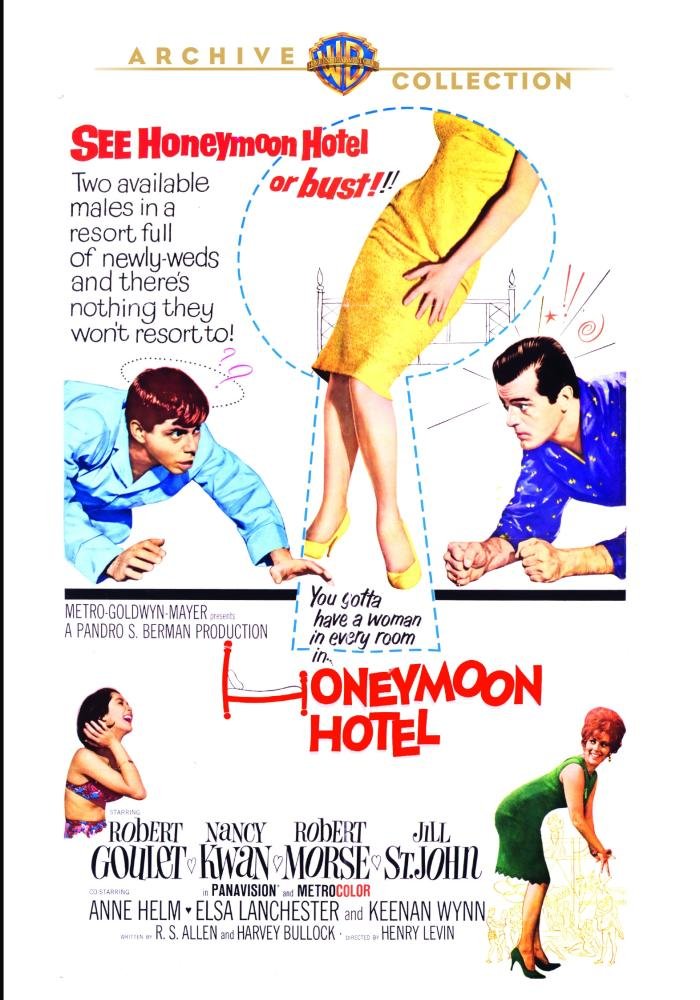 Not too terribly long ago – a few weeks ago, in fact – I dived into three features from the swingin' '60s, as recently unburied and released to DVD via the Warner Archive Collection. While two of said films were passable entertainment at best, the third – an abominable ice creature known as Quick, Before It Melts – was so utterly awful, it genuinely made me question as to whether or not I would be able to look another movie starring Robert Morse in the eye ever again. Sure enough, such a test arose immediately thereafter when two relics from the MGM studios hailing from the 1960s – one of which starred the talents of Mr. Robert Morse once again – appeared on my doorstep.
Honeymoon Hotel (1964) finds Mr. Morse (in a performance that is, thankfully, more subdued than that other, previously mentioned title I so adamantly loathe) as one of two longtime bachelors living in New York City, aided in the undaunting task of conquering all that the fairer sex has to offer with his studly roommate, Mr. Robert Goulet (who joins Mr. Morse in making an official transition from Broadway to the big screen here). Morse, however, makes the foolish pledge to marry one of his girls (Anne Helm), but that takes a turn for the expected (bad) when a few idle comments from the boys about the girls at the wedding cause the bride-to-be to be gone. Picking his (later) inebriated colleague up by the bootstraps, Goulet whisks Morse off to the very tropical island hotel that was to be spent with his former beloved during the duration of their honeymoon.
Alas, this is a Honeymoon Hotel, wherein only married couples are permitted to stay. Our Bobs don't know it, and a perhaps-too-forcibly-staged moment during check-in prevents hotel clerk Bernard Fox from knowing it before it's too late. While Morse licks his wounds entertaining a fellow billed as "Fatty" by the pool, Goulet promptly finds the resort's one and only single woman: the beautiful Nancy Kwan, who – as fate would have it – is the best friend of Morse's former future wife! But even Mr. Goulet is not immune to Ms. Kwan's persuasion, making for an unmentioned (and rather unheard of) interracial romance in '60s American cinema as this diehard womanizer begins to fall hard for the beauty. Matters grow more cumbersome once Goulet's boss, as played by the great Keenan Wynn, arrives at the hotel a special young lady guest of his own (a ditzy Jill St. John, in a sparsely-utilized fourth-billing spot) who is most assuredly not his wife.
Elsa Lanchester has a part as a nosy chambermaid, and Sammy Cahn and Jimmy Van Heusen provide songs for this, the best Dean Martin and Jerry Lewis movie that Martin & Lewis never made. While the production obviously had a restricted budget (a majority of the film is shot on a soundstage), Honeymoon Hotel is decent fodder for the so-called "war of the sexes" that would have greatly benefitted from less song-and-dance routines (although Ms. Kwan's native dance number for Mr. Morse is certainly a good way to take up several minutes of screentime) and more a "natural" film feeling (as opposed to the stageplay vibe the picture has going for it). Perhaps it was a method of easing the movie's two stage stars to the world of cinema. Or maybe director Henry Levin (The Remarkable Mr. Pennypacker) was just doing what he could with what little budget/story he had to work with.
At least the aforementioned Mr. Levin was able to get out and stretch his legs a bit the previous year, when MGM's head said Come Fly with Me. Just like Honeymoon Hotel may be held as an interesting curiosity for being the official film debuts of Robert Goulet and Robert Morse, this 1963 romantic comedy shot on location in the New York, the UK, Paris, and Vienna may be deemed culturally significant for showing us what the world of flying was like before corporate greed, a paranoia of terrorists, a flock of probe-happy TSA agents, and increasing flight regulations restricting patrons from enjoying themselves no matter what came to be placed in full effect. For here, we not only have open cockpits, but open arms from the staff that fly the many jet-set men and women of the 1960s into the friendly skies on a daily basis.
Entirely uncertain of who its main character is, Come Fly with Me centers on the misadventures of three stewardesses (back when they were still called such) who work for an airline company that actually seems to care about its reputation with the public. Top-billed Dolores Hart (in her final film, before she quit acting to become a nun) plays a gold-digging gal who is determined to skip past the hard part of love, and just dive right into a man's pocketbook. And she certainly thinks she may have in fact struck gold once she meets, rejects, then makes up to an Austrian baron (Karl Boehm/Karlheinz Böhm) as soon as she figures out the man she spurned is royalty. Class. But the European aristocrat is not all his title implies: stripped of his heritage and dignity, the man with the distinguished family background is now smuggling stolen diamonds in from the Big Apple!
Then there is newbie stewardess Pamela Tiffin, who is really off to a bad start. Late for work on her very first day, she's teased and mocked by her co-workers and a regular dick in the cockpit (James Dobson). The young woman's beauty and determination soon lands the attention of studly co-pilot Hugh O'Brian, which leads to a series of mishaps as he attempts to detach himself from a clingy married socialite (Dawn Addams). Meanwhile, third wheel Lois Nettleton – the eldest of the trio and hence, most reformed – catches the eye of none other than Karl Malden. The two promptly head out for a date once the plane reaches its destination: Paris, France. And it genuinely seems that this is the most stable relationship out of the lot here, until Lois discovers Karl is a desperately lonely widower. With millions of dollars to spend. Which she takes offense to, naturally.
With its international shooting locations Come Fly with Me definitely could have had a larger budget than Honeymoon Hotel. Of course, the film was shot at the same time as Follow the Boys with Connie Francis, so maybe it was just a matter of convenience. Either way, it's an enjoyable mild-mannered romp into the kind of sexist comedy nobody is supposed to laugh at anymore. Also appearing in this feature from Henry Levin are John Crawford, Victor Rietti (in a cameo), Andrew Cruickshank, Robert Easton, and – if you look fast in a few scenes – Miss Moneypenny herself, Lois Maxwell (who doesn't even get so much as a line in – but then, James Bond fever hadn't quite caught on just yet; a year later, and who knows what her part might have been like). Frankie Avalon provides the vocals for the opening title song.
Both Panavision features from MGM arrive individually on DVD from the Warner Archive Collection in their original 2.35:1 aspect ratios and in anamorphic widescreen. Each title shows its own bit of age here and there (especially during the dissolves on Come Fly with Me), while the soundtracks sound as good as I earnestly expected them to. While each title is notably lacking in terms of extras, these should not be construed as black marks against anyone. Truth be told, both of these titles slipped off of the face of the earth long ago – and, were it not for these Manufactured-on-Demand releases, we probably wouldn't be privy to seeing them at all except in late night television airings. Plus, we are now able to see Nancy Kwan's semi-erotic miniskirt dance and Karl Boehm in not only a rare English-language role, but in that of a rom-com, too.