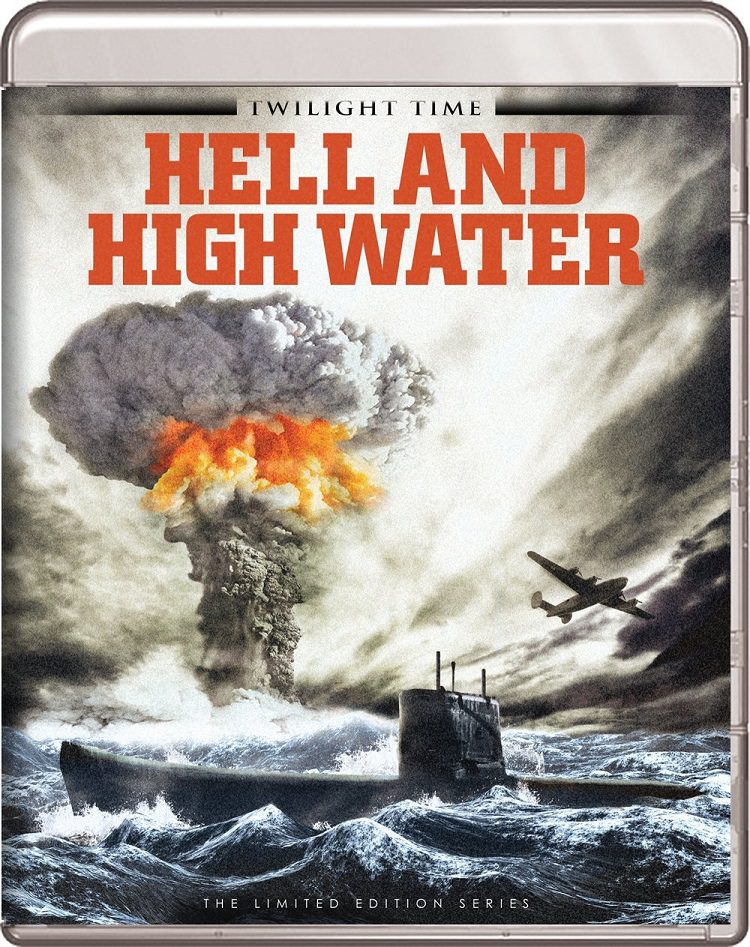 Ever the cinematic pioneer, director Samuel Fuller broke new ground ‒ by removing it completely ‒ with his 1954 Cold War thriller Hell and High Water, which would prove to be the first time audiences were exposed to a different kind of submersion. Previously, the wonders of CinemaScope (Hollywood's fancy way of pulling people away from their newly purchased 500lb TV sets at home) were limited solely to majestic Biblical epics, sprawling western dramas, and romantic comedies. Fuller, however ‒ hailing from that rare breed of filmmaker, the kind who created his own path ‒ sensed 20th Century Fox's newfound gimmick could be a great way to sink audiences into a different setting entirely: that of claustrophobia.
And as if that wasn't cool enough, he hired Kiss of Death icon Richard Widmark and future Mario Bava star and B-movie legend Cameron Mitchell!
Following the mysterious disappearance of a prominent French scientist (as played by Victor Francen), ex-US Navy sub commander Adam Jones receives an equally enigmatic care package containing more money than people in 1954 knew what to do with: five-thousand buckaroos. Arriving in Tokyo to figure out what why someone is sending him free money (something absolutely no one will do today, even if that Nigerian Prince finally followed through), Jones soon finds himself working for a clandestine group of distinguished scientists ‒ including our missing French professor ‒ and businessmen who want to make the world a better place; a far-cry from the greedy corporations manipulating bought-and-paid-for congressmen today.
Having received information the bad guys in Red China have constructed a secret atomic base somewhere to the north, the organization offers Jones the command of a knackered-out ol' WWII sub ‒ sweetening the secret mission of peace with 45,000 very good reasons to do so. Of course, there's not enough time to properly overhaul the already antiquated hunk o'bolts before they go out to sea, paving the way (so to speak) for them to find out if they're going to crack-up or not as they go along. While not quite as terrifying as being confined to the chlorine-scented hell of Disneyland's Submarine Voyage before it was renovated in the '90s, it still sets the stage for some darn good suspense, especially once them Reds get wind of what lies beneath.
Ever the charmer, Richard Widmark is once again in top form here ‒ even when he's hacking off the digits of people who get their thumbs caught in closing hatch doors (see: Things That Generally Didn't Happen in Movies Made by People Other Than Samuel Fuller, Chapter 16) ‒ as our hero. Naturally, every filmic hero needs a love interest (especially when it's a '50s film), and Fox studio head Darryl F. Zanuck was more than eager to fill the role of the film's exotic beauty of a heroine with his exotic beauty of a mistress, the unfathomable (sorry) Bella Darvi ‒ the doomed Polish starlet whose surname he himself created via an amalgamation betwixt his own forename and that of his wife, Virginia (!). Because that's what you do with mistresses, right?
In Fuller's world, however, the only pair o'legs in the flick isn't reduced to being a mere sex object. Granted, she isto the oversexed and undernourished half of Widmark's crew who don't think she's an air-breather or bad luck on account of possessing a vagina and stuff (see: Things That Generally Didn't Happen in Movies Made by People Other Than Samuel Fuller, Chapter 7) ‒ especially a very randy and ripe Cameron Mitchell, who even tries to learn French to woo Darvi's intelligent and (mostly) rational professor character fluent in all Asian languages. And what better way to sell your movie's solid stock in sex appeal than to have our top-billed lovers finally give in to their carnal cravings than during a silent running of another kind?
All this and a fine gathering of miniatures (some of which would wind up being recycled when Fox created its TV spinoff version of Irwin Allen's Voyage to the Bottom of the Sea) and an bookended nuclear explosion, too! Between this and the Lemmy Caution movies France was cranking out with expatriate Eddie Constantine at the time, it was only a matter of time before the James Bond/Eurospy phenomenon would soon plunge audiences into similar waters. Fortunately, Fuller helped to pioneer that field, too. And, since we're on the subject of water, another filmmaking pioneer ‒ a guy by the name of Steven Spielberg ‒ once proudly professed his personal fondness for Fuller's feature by showing him he carried a print of the film in his trunk!
It's a lot less cumbersome than naming your mistress after your and your wife, after all.
Also featuring the talents of Gene Evans, David Wayne, and the great Richard Loo, Samuel Fuller's Hell and High Water makes a triumphant return to home video courtesy the 20th Century Fox vault and the folks at Twilight Time. A title truly worthy of being seen in widescreen High-Definition, the action-packed '50s adventure is presented in its original 2.55:1 aspect ratio and it is nothing short of gorgeous; effectively blowing the OOP 2007 Fox DVD out of the water with its exceptional quality. Complementing the feature presentation are two English audio options: a DTS-HD MA 5.1 mix that recreates the original 4-Track Stereo aural experience, and a DTS-HD MA 2.0. Optional English subtitles are included for this sub title (zing!)
Special features for this amazing precursor to other awesome perilous submarine adventures such as Das Boot and The Hunt for Red October include a DTS-HD MA 2.0 track featuring Alfred Newman's score, an episode of A&E's Biography from 2000 focusing on the one and only Richard Widmark (filmed prior to the inimitable actor's passing in 2008), which makes for fine viewing on its own. There are also two theatrical trailers. It's interesting to note the first preview was assembled before the feature had been completed, so it consists of nothing more than artistic rendering of action sequences and strange depictions of the cast, including a very cheeky looking Cameron Mitchell that could very well drown you in your own tears of laughter.
Lastly, this Region Free Limited Edition Twilight Time release ‒ which is reserved to only 3,000 copies ‒ features another excellent essay by the stalwart Julie Kirgo.
Come hell or high water, Hell and High Water comes Highly Recommended. After all, it's Fuller action and suspense!