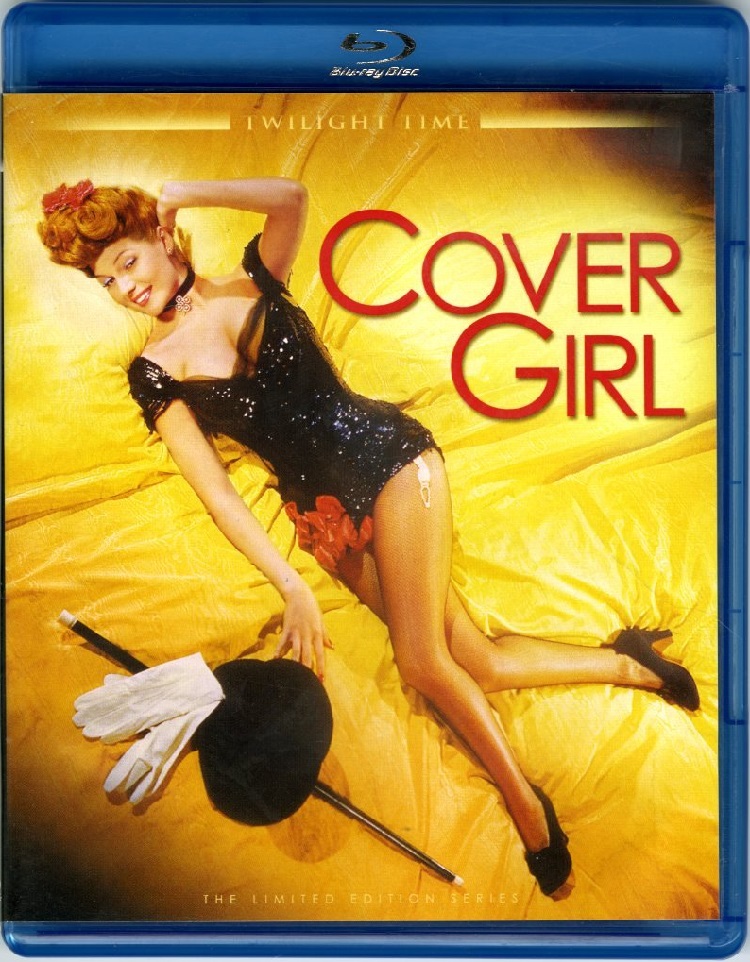 What do classic musicals, aerial races, William Faulkner, and flesh-eating zombies have in common? Not much, really – apart from the very fact that indie label Twilight Time has released all of the above on Blu-ray in the recent past. Continuing where I left off with the previous Heavenly Shades of Delight article, I present you with eight more titles the popular niche outfit has quietly unleashed upon the world of collectors within the last year. Each of these titles are/were limited to only 3,000 pressings apiece.
A musical moving picture fantasy nearly as old as its titular term itself, Cover Girl finds the great Rita Hayworth as a chorus girl named Rusty (Warren?), who gets a chance to stand out from the rest of the gals when an aged magazine editor (Otto Kruger) – who once had a fondness for Rusty's own grandmother – asks her to be on the cover of his publication. Our heroine is torn, naturally, between her dreams of being a star (well, on the cover of a magazine) and remaining a regular ol' gal at the nightclub she's employed at – which is owned by her boyfriend, Danny McGuire (Gene Kelly, who reprised the role more than three-and-a-half decades later in that Xanadu movie so many people are keen to forget about). All Danny has to do is ask her to stay; alas, he doesn't want to interfere with her career. Wait, a movie made in the '40s wherein the man is encouraging the woman to have a career? Why, this surely isa fantasy after all! But, all kidding aside, it's a fun fantasy – one with lyrics and music by Jerome Kern and Ira Gershwin, and featuring the mucho memorable tune, "Long Ago (and Far Away)." Charles Vidor directs, while the talents of Eve Arden and the funny mugs of Phil Silvers and Edward Brophy co-star.
They go diddley up-up, you know. Somewhere in-between making Disney family adventures and British war flicks, Ken Annakin found the time to direct and co-write (with Jack Davies) something that was dearer to his heart: an epic comedy adventure about an air race from London to Paris in 1910, with an assortment of international airborne coots participating. Cowboy Stuart Whitman represents the US of A. James Fox and Terry-Thomas respectfully symbolize both the good and bad of Great Britain – or at least the English part of it. Meanwhile, Gert Fröbe (Goldfinger himself), Alberto Sordi, Jean-Pierre Cassel (accompanied by the luscious Irina Demick), and Yujiro Ishihara fill up the international actors quota. Red Skelton (in his final film appearance) contributes a memorable, silent performance as various stages of humanity attempting to fly in the prologue, and the one and only Benny Hill appears as a fire chief. The hit film was nominated for numerous awards, and Annakin followed it up with Monte Carlo or Bust! (aka Those Daring Young Men in their Jaunting Jalopies) four years later (which also featured Terry-Thomas and Gert Fröbe – and is available on Blu-ray from Legend Films, if you're interested).
No, stoners, it's not a movie made just for you. Rather, High Time is one many comedies as directed by the legendary Blake Edwards – who was a year away from helming the highly overrated Breakfast at Tiffany's here. Taking the lead (no, it's not Peter Sellers, people – sorry) is none other than a fiftysomething Bing Crosby, who stars as self-made chain restaurant owner and widower Harvey Howard – who decides to return to college for his bachelor's degree. Of course, things have changed over the years: the kids are not as friendly – especially to those old folks – while the physicality of college life (from on-campus to off) proves just a little more taxing than it was in Harvey's younger days. Were such a movie to be made today, we could witness the sheer delight of Bing drinking all of the drunken frat kids under the table en masse – and having his way with their coed girlfriends. Oh, dare to dream… Fabian and Tuesday Weld co-star as part of the younger generation, while Yvonne Craig, Gavin MacLeod (Captain Stubing!), and Douglass Dumbrille are featured adults. Henry Mancini (who else?) composed the score to this charming Bing Crosby Productions comedy.
Musicals? You're soaking in 'em! Yes, kids, it's another moving picture from Twilight Time that incorporates the curious style of song-and-dance storytelling that is so rarely utilized in this day and age. Unlike the previously mentioned title, though, this is a more commonly-known offering – one that even suffered a somewhat dreadful television remake in the mid '90s. Fortunately, the original Oscar nominated film adaptation of the hit Charles Strouse/Lee Adams stage musical Bye Bye Birdie is here for all to enjoy on Blu-ray, and looks better than ever. Of course, any musical with Ann-Margret, Dick Van Dyke, and Paul Lynde is a winner in my book. For those of you who aren't into timeless musicals that have been around forever and a day, the story here finds Jesse Pearson as Conrad Birdie: a singing sensation (and teen heartthrob) who gets drafted to join the Army. Chaos ensues once failing songwriter Dick Van Dyke (with help from girlfriend Janet Leigh) tries to come up with a plan to give Birdie a final hoorah before he enlists, whilst giving himself a surefire hit song in the process. The great Ed Sullivan appears as himself in this delightful blast from the past directed by musical pro George Sidney, and with an incidental score by Johnny Green.
Apart from those nudie pics taken of him in his early career (which one might occasionally come across on the Interweb whilst surfing for info on the performer in-general), we rarely ever associate Yul Brynner with a full head of hair. Of course, when we do, we're a bit perplexed – more so than we might be after coming across posed photos of him in his birthday suit. Another thing we would never dare dream of relating would be Brynner starring in a film adaptation of William Faulkner's The Sound and the Fury. And I'm fairly certain Faulkner's stream of consciousness style of writing was something most moviegoers wouldn't know how to take in a world where Quentin Tarantino had yet to even be conceived. So, perhaps, it's a good thing that Martin Ritt's 1959 feature version of the novel in question is about as un-Faulkner-esque as can be – and tends to mimic other, more-popular films from the same period in cinematic history. Alas, The Sound and the Fury also comes off as being a very routine coming-of-age in the South affair. Brynner heads the cast as the step-uncle of main character Joanne Woodward (as a character named Quentin, interestingly enough), with Margaret Leighton, Jack Warden, Stuart Whitman, and Ethel Waters also starring. Alex North provided the film score.
Much like the addition of As Good as It Gets to Twilight Time's roster a few months before (see previous article), the sight and sensation of me opening that always-anticipated package in the mail from Brian Jamieson and pulling out a copy of the quintessential chick flick favorite Steel Magnolias left me with a raised eyebrow and a decidedly stalwart expression of befuddlement upon my kisser. Twilight Time does not discriminate against fans of any genre, however, so the infamous (by most straight male standards, that is) late '80s feature starring the Sally Field, Shirley MacLaine, Olympia Dukakis, Dolly Parton, Daryl Hannah, and Julia Roberts (and which was based on a play of the same name written by Robert Harling, who based the tale off of unfortunate real-life events) is here to stay. Tom Skerritt, Sam Shepard, Dylan McDermott, and Kevin J. O'Connor fill the stereotypical male quotas in this tale about the lives and loves of a small group of women in a Louisiana parish, with Herbert Ross directing his harem of actresses. Georges Delerue composed the score for this box office hit that has since gone on to become a perennial favorite.
Unlike the previous feature, Enemy Mine is one of those movies that just couldn't cut it no matter how hard it tried. The movie's original director was fired, and Das Boot filmmaker Wolfgang Petersen was brought in to finish the project. Naturally, after most of the science fiction flick's budget had already been depleted, Petersen promptly moved the whole production to another country entirely – tallying up an even bigger dollar amount for the movie's backers. And then it completely failed at the box office. Worse still, my entire memory of this being a really cool movie from when I was a much younger lad was squashed upon seeing the feature with all four of my eyes today. Oh, well. Dennis Quaid (playing Dennis Quaid, as he knows no other method of performing) stars here as a hotshot big-mouthed human, who is forced to coexist with his species' mortal enemy (represented here by a very flamboyant Louis Gossett, Jr. – you'd think somebody would have learned not to team these two together again after Jaws 3D) on a barren, hostile world after they both crash land there. Character baddie Brion James turns in the best performance of all in this post-Star Wars-era dud with music by Maurice Jarre.
Whether it be the upcoming winter or that pending nuclear holocaust some people go on an on about, you can prepare for just about anything. With the exception of backlash from the fanboy community, that is. When Sony's mastering department gave Tom Savini's so-so remake of George A. Romero's Night of the Living Dead a makeover, they neglected to tell most everyone – including Savini himself. Thus, a High-Def transfer of the film debuted with a bluish hue to it, making it look like it was shot at night or something (oh, the horror). In case you missed the subsequent hullabaloo that darkened Internet forums for months to come, fans of the movie complained – big time – wrongfully attributing the blame to Twilight Time, who release their titles as issued to them by the licensed film's parent studio. My particular favorite example of fanboydom was when Synapse Films' Don May, Jr. informed his Facebook followers that he sent Savini a query about this release, which Tom followed up with "Blue?" Minutes later, in a similar topic of conversation elsewhere, some idiot referenced Don's comment, claiming Savini's response to the whole ordeal was "BLUE!!!!!" Classic, all the way. I really don't know why all the naysayers were in such an uproar, though: I never thought it was that great of a movie anyway – though I'll take it over the other Romero remakes any ol' day. Music by Paul McCollough.
Like the last batch of films I provided a brief scrutinization of overall, this assortment of Blu-rays from Twilight Time varies in terms of quality. Standing out above all the others here in terms of visual excellence are Those Magnificent Men in their Flying Machines, Bye Bye Birdie, Steel Magnolias, The Sound and the Fury, and Enemy Mine, with High Time and Cover Girl coming in last as the lesser-looking titles of the bunch. I'm not even going to touch Night of the Living Dead, so there. Audio-wise, all titles include DTS-HD Master Audio soundtracks. Night of the Living Dead, Bye Bye Birdie, and Steel Magnolias receive 5.1 soundtracks, Those Magnificent Men in their Flying Machines is presented in 5.0, and a 4.0 mix is allotted to both High Time and Enemy Mine – the latter of which also sports a 2.0 option. Lastly, The Sound and the Fury features a 2.0 soundtrack, and Cover Girl only has a mono track to bring to the table.
Interestingly enough, Cover Girl is quite possibly the very first Twilight Time release (that I can recall, that is) to not feature an isolated musical score as an extra. In fact, the movie has no special features whatsoever, while isolated DTS-HD MA 2.0 scores are included on the other seven titles mentioned in this piece. A trailer (and sometimes a teaser, too) are offered on High Time, Bye Bye Birdie, Enemy Mine, Night of the Living Dead, and Those Magnificent Men in their Flying Machines (which also has a couple of TV spots for you to peruse at your pleasure). Audio commentaries are available for Those Magnificent Men in their Flying Machines, Steel Magnolias, and Night of the Living Dead by the respective director of the film in question. Each release contains liner notes by Julie Kirgo, which are – as always – in-depth and enlightening.
Happy viewing, boys and girls.