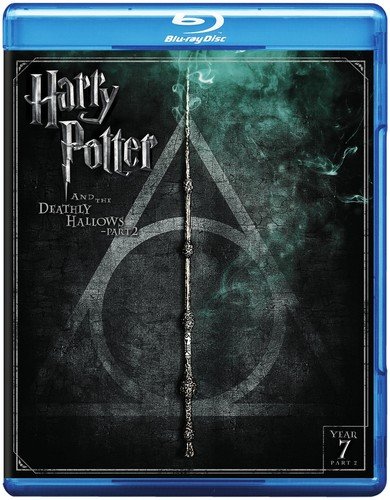 I came to the Harry Potter universe a little late. I didn't see the first movie until the fourth one came out and didn't start reading the books until the sixth one was released. Honestly the first two films didn't really do anything for me. They were cute enough, and they remained fairly faithful to the books, but for someone just stepping into the universe they weren't able to capture my imagination fully and make me understand the massive appeal the stories had. Still, I bought the books for my wife and took them up for something to do. Pretty immediately I fell in love with the story on the page and as the films improved I am now a full fledged Harry Potter fanatic.
It is incredible that it has been 15 years since the first book and now the end has come. The final film Harry Potter and the Deathly Hallows Part 2 is now on Blu-ray and DVD. An entire generation has grown up with Harry Potter and generations to come can come to know Harry, his friends, and his struggle against the villanous Voldermort. I'm very much looking forward to reading and watching the stories with my daughter as she gets older.
How could this not be my pick of the week?
The final film comes in several different packages. There's a bare bones version on both DVD and Blu-ray. There's movie-only versions in both formats with an additional ultraviolet digital copy, and then there is a deluxue 3 disk Blu-ray/DVD/digital copy version. The deluxe edition comes with an extra Blu-ray disk full of bonus materials (including a maximum movie mode, a conversation with J.K. Rowling and Daniel Radcliff, several features and bonus scenes.)
I fully expect that by Christmas there will be a massive boxed set featuring all of the films plus loads of bonus material, but until then this seems like a very nice way to complete the films.
Also out this week that looks interesting:
Fanny and Alexander – Criterion Collection (Blu-ray): This Ingmar Bergman-directed film has been on my list of things to see for some time. This version collects both its theatrical version, and longer television edit.
Doctor Who: The Sixth Series, Part II (Blu-ray) – I've just recently gotten into this modern version of Doctor Who and so I am just now starting the second series, but I'm completely enjoying it.
The Cannonball Run (Blu-ray): I remember this film (and its sequel) very fondly from my childhood. I think even then I knew it wasn't a great film, but it was always tons of fun.
Masterpiece Contemporary: Page Eight: I had not heard of this before I saw it on Amazon, but Masterpiece Contemporary is almost always enjoyable as is Bill Nighy.