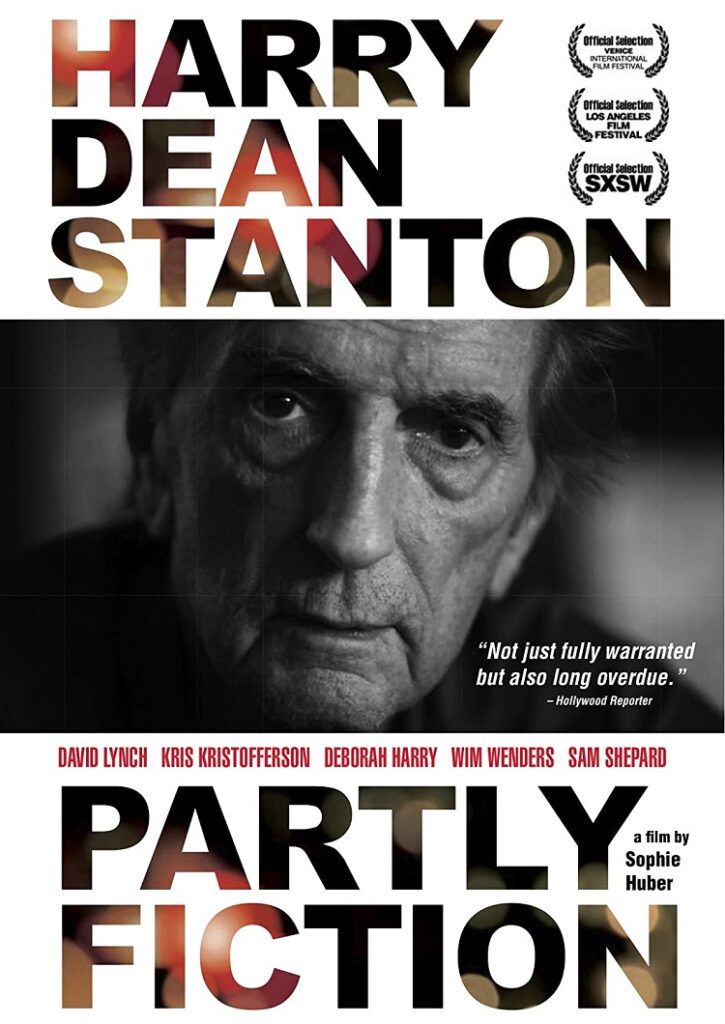 Written by Chris Morgan
Harry Dean Stanton is a legendary character actor. If you watch movies with any regularity, you've seen him, and you can probably recognize him, even if you can't place the name. If you are fortunate enough to have seen Repo Man, you have definitely seen him. He's had a long, successful career, and a long, busy life. He just turned 87, and he's showing his age, and the weathering of a life of age and drinking, and so somebody decided it was the time to do a documentary on him. That movie is Sophia Huber's Harry Dean Stanton: Partly Fiction. If you've ever wanted to see a movie about the life and/or career of Stanton, you may want to check it out. If you want to see Stanton sing songs in semi close-up shots, then, oh man, is this the movie for you.
It is not an exaggeration to say that Stanton sings several songs in their entirety, almost always in a static close-up, and always in black and white. A lot of this movie is in black and white, presumably for artistic reasons. That is, perhaps, the reason for the close-ups as well. Stanton's age shows. The reason for so many songs is less clear. It all feels a bit like the famed Johnny Cash video for "Hurt." In fact, this entire movie sort of plays out like that video. In addition to all the Stanton songs, including one that goes through the credits, Kris Kristofferson sings a song, which gives the movie its post-colon title, a song that feels, in part, reflective of Stanton's life.
If you are interested in Stanton's movie career, you may be left disappointed. It isn't discussed much. There is some talk of his acting skills, and his acting process. Directors like Wim Wenders and David Lynch show up, with Lynch giving the movie a boost of energy that lacks the rest of the way, to talk about him a bit, but Stanton himself is reticent to talk about, well, pretty much everything. Aside from giving philosophical bon mots about the universe every now and then, he seems more content to sing and take drags from his cigarettes.
Fortunately, he does open up a bit and gets talking every now and then. Stanton has spent his life living hard, he openly talks about womanizing and the fact he probably has some kids he's never really connected with. He remains passive most of the time, but occasionally he opens up, so if you are into that sort of personal introspection, there is a bit for you. There's also a few scenes from his movies shown, mostly focusing on Paris, Texas, his one notable starring role, and, of course Cisco Pike.
Harry Dean Stanton: Partly Fiction isn't that meaty, but there is enough to keep the audience's interest most of the time. The songs are probably a bit excessive, and perhaps the price of getting him to agree to a movie about his life, but they aren't without some degree of merit. You won't gain a ton of insight, but it still functions well as a movie. Part of that is because it is well-shot and well put together. Part of it is that Stanton has the ability to keep your attention when he's on the screen. This is why he has been so successful as an actor. This is why he got himself a pretty good documentary about him.