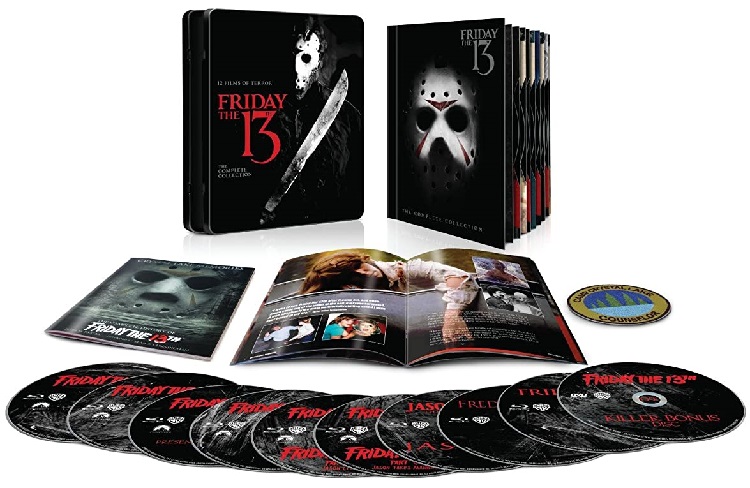 I grew up in the late '80s/early '90s and slasher flicks informed my early film life. Sort-of. My parents wouldn't let me go see those movies in the theater and with few exceptions they wouldn't let me rent them either. But thanks to the USA Network and there tendency to show bad horror movies on Friday and Saturday night (and there was always a Friday the 13th marathon any weekend that included that unlucky number) I got to see lots of Freddie, Jason, Mike Meyers, and the rest. At least in edited form.
A great deal of that early love was social. In junior high, there were many a locker-room chat about who had seen which slasher and what our favorite kill was. To be any sort of cool you had to have some knowledge about each of the big psycho killers and we all tried to one up each other on just how many we had seen. By the 1990s, slasher flicks had gone out of style, but us boys still talked about the horror genre, having moved on to pseudo reality flicks like the Faces of Death series. There is something about teenage masculine hormones, I suppose, that enjoy seeing death on the screen.
Of course, there was also gratuitous nudity. Slasher flicks were notorious for long shots of nubile young women in various states of undress. Watching those films on television where they wouldn't actual show the nudity, but hint at what could be with quick cuts and fade-outs just as it was about to get interesting only pressed my desire to see them uncut and on the big screen. Years later when I actually did watch them uncensored, I was highly disappointed that the reality could not quite match up to my fantasies.
I've long since realized that none of these flicks are good movies. They are dumb and senseless and contain very little artistry, but I can't help but feel all sorts of nostalgic love for them. Now and again, I like to throw on some goofy slasher flicks and relive those memories through hundreds of pointless, over-the-top violence. Which is why Friday the 13th: The Complete Collection is my Pick of the Week.
The set includes the original nine movies (From Friday the 13th to Jason Goes to Hell: The Final Friday) plus Jason X, Freddy vs. Jason, and the 2009 reboot. Plus there is a tenth disk of bonus material. For those of you good at math realizing that there are 12 movies and only ten disks, yes that does mean that there is some doubling up. Part V and VI, Part VII and VII, and Part IX and X are coupled into one disk per two movies. Each of those movies are new to Blu-ray which I suppose takes away some of that irritation. There are 11 hours of previously released special features and a 40-page softcover book. All of this makes one slasher-head more than emotionally erect.
Ah, but there are complaints about the set. Beyond the aforementioned "putting of two movies on one disk" problem, it appears there are other issues for the discerning fan. With the exception of the reboot, none of the films include the uncut versions, which are available on other disks. Gordon S. Miller reviewed the first film when it was released on Blu-ray.
Also, some of the films do not include some of the special features (including audio commentary), which have likewise been featured on other versions. It seems that there is currently nowhere where the ultimate Jason-head can find every version of every film complete with all the special features in one place. If you care about this sort of thing, then likely this set is not for you, but if you are like me and are more interested in some nostalgic gore and more special features than one person could reasonably expect to enjoy, then this looks like a perfect set.
Also out this week that looks interesting:
Crystal Lake Memories: The Complete History of Friday the 13th: If that big boxed set isn't enough to keep your Jason love going then this four-disk, 400-minute documentary on the film series ought to satisfy even the most die hard of die hard fans.
Star Trek: Stardate Collection (Blu-ray): There isn't anything new here. Its a repackaging of previous boxed sets, but this one does contain every Star Trek movie in Blu-ray format so if you don't already own any of those then this is a nice set.
Star Trek Into Darkness (Blu-ray 3-D/Blu-ray/DVD/Digital Combo): Our fearless publisher once called this flick "Shit Trek." I didn't find it quite so horrible but it was by no means a great film. There were numerous plot holes, bad decisions, and far too many references to the original film series. But there were some nice moments too. Personally, I'll be skipping this one in my DVD collection, but there are plenty of fans who will undoubtedly pick it up. Like most big releases these days Into Darkness comes in a variety of packages from the whole shebang mentioned here to more simple DVD releases. The best comes with about eight short featurettes on the making of the picture. None of them are longer than ten minutes, which leads me to believe that at some point they'll be revisiting the film with loads more extras, but for now this is what we have.
Parade's End: A big five-hour costumed mini-series set during the period just before and during WWI and starring Benedict Cumberbatch. The plot sounds a little too close to Downton Abbey and Cumberbatch is veering offly close to over-saturation, but I'm still intrigued by this and will no doubt check it out at some point.
La Cage aux Folles (Criterion Blu-ray): This French comedy is probably best known here because it was remade with Robin Williams as The Birdcage. I've not seen it, but I've always heard lovely things about it and it did spawn that remake plus a couple of sequels plus a Broadway musical so it's certainly on my list of thing to watch.
Talented Mr Ripley (Blu-ray): Though star-studded (it's got Matt Damon, Gwyneth Paltrow, and Jude Law in it) and directed by Oscar-winner Anthony Minghella, I've never had any real desire to see this film. Maybe I will get around to it now with this nice Blu-ray release with a handful of extras including director commentary and a documentary feature.
The Spy Who Came in From the Cold (Criterion Blu-ray): The John le Carre book which this is based upon is wonderful so I should love the film. I have to admit I started it once but couldn't quite get into it after maybe 15 minutes or so and I turned it off never to return to it again. That isn't really fair to the film though as it was more of a mood thing than a quality thing. Some day I'll return to it and there isn't a better way to return to films than Criterion Blu-rays.
Jess Franco – The Perverse Collection: Franco was a weird dude. He had some early successes playing with erotic horror motifs and made movies with folks like Christopher Lee and Klaus Kinski. His most famous film is likely Vampyros Lesbos (the soundtrack of which became something of a hit when remixed in 1997 some twenty years after the film's release.) But then he slipped farther and farther into weirdness, gore and hardcore pornography. This set features four of his erotic films – The Inconfessable Orgies of Emmanuelle, Macumba Sexual, Mansion of the Living Dead, and the Sexual Story of O.
Homeland: The Complete Second Season: I like the first season very much and am looking forward to seeing what they can do with this story in the second.
Castle: The Complete Fifth Season: The basic plot of this (a writer tags along with a police detective to get story ideas while also solving crimes) always seems stupid to me, but I have a lot of friends who love it and apparently it makes lots of fun pop-culture references so one of those days I'll give it a go.
Luther 3: I caught a few episodes of the first season of this British crime show and like it very much. Idris Elba is masterful in everything he does and I really should get on with watching the rest of the series.