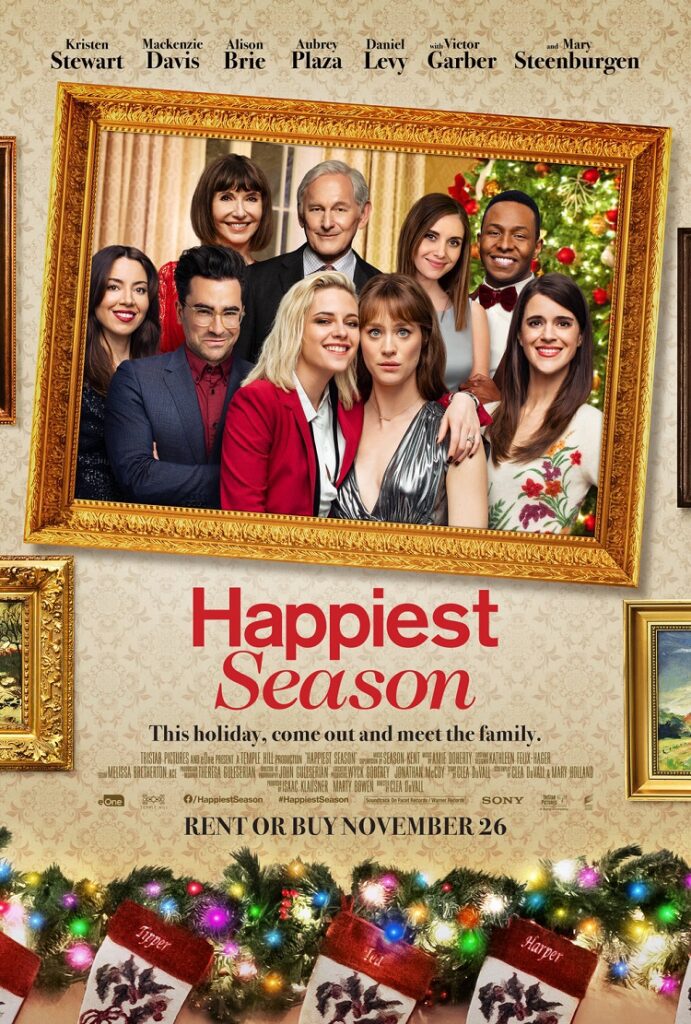 One way to describe co-writer/director Clea DuVall's Happiest Season is that it serves as a heartfelt holiday gem as satisfying as a Christmas cookie served with bitter gingerbread coffee that has dabs of cream and sugar. Although audiences sadly won't get the experience of watching it in a crowded theater, it's still the kind of solid piece of escapism this holiday season needs with enough poignancy to strike a chord with viewers. Queer viewers, in particular, will be moved by it due to its handling of the "coming out" experience and how even life after coming out of the closet is a turbulent journey.
Harper (Mackenzie Davis) may be in a loving relationship with her partner Abby (Kristen Stewart). However, as Harper heads home for the holidays and brings Abby with her, Harper confesses that she hasn't come out to her parents yet. As Abby pretends to be Harper's roommate, pressures start taking place once Harper's father Ted (Victor Garber) mounts an electoral campaign, her uptight sister Sloane (Alison Brie) grows suspicious, and Riley (Aubrey Plaza), a key person from Harper's past, enters the picture.
Additionally, as Harper's Instagram-savvy mother Tipper (Mary Steenburgen) continuously takes group photos of the family with her tablet, it becomes a way of the family plastering an image of perfection. An idea of a stable, flawless, well-off family that makes Harper even more pressured to stay closeted due to the fear that those around you will view being queer as a burden to them. In this case, Harper is afraid that her being a lesbian will shatter the illusion of a perfect family that they've projected in order to conserve Ted's campaign.
With all that being said about Harper, who's played wonderfully by Mackenzie Davis, it's still primarily the Kristen Stewart show. Stewart proves herself as a doable rom-com leading lady as Abby, Harper's loyal and willing love interest who still gradually questions whether Harper is the right woman for her since she's practically forced back in the closet despite living more openly. With her unnerved line delivery, Stewart expertly shows how playing this part is crushing her both inside and out.
Both ladies are also surrounded by an amazing supporting cast including Mary Holland as Harper's open-hearted sister Jane, the always reliable Mary Steenburgen as Tipper, Aubrey Plaza as the rather somber Riley, and Dan Levy who, as Abby's friend John, is the film's secret weapon. As Levy offers flamboyant comedic flair, riffing on his "Johnny Rose" persona from Schitt's Creek, he gives an incredibly touching monologue which serves as the heart of the picture's message.
A moment that helps give Happiest Season the kind of moving spirit that a Christmas movie should have. Along with the fact that it's a rare holiday rom-com from a queer perspective, Happiest Season distinguishes itself from other Christmas pictures thanks to its tenuous dissection of idealistic privilege and also, its memorable humor. Clea DuVall, we simply bow to your greatness.