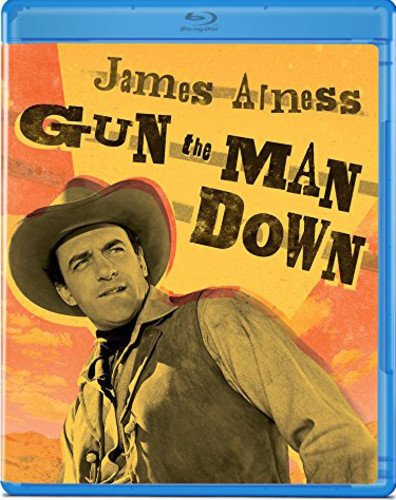 When it comes to following in the footsteps of a larger-than-life actor, it can be pretty darn hard to get a foothold ‒ especially when the actor is none other than John Wayne. But when someone like John Wayne has already taken a liking to you, well then you're a shoe-in for sure. A year after Wayne had recommended his equally gargantuan western counterpart to star in a new television series entitled Gunsmoke, James Arness apparently found himself at that awkward "You owe me one, pilgrim!" moment when The Duke's production company needed a star for their forthcoming theatrical cowboy picture, Gun the Man Down. At least that's the only valid theory I can think of as to why the big TV western legend appeared in this teeny little picture.
Filmed over a whopping nine-day stretch ‒ presumably during the season hiatus of the very series Arness is best remembered for ‒ Gun the Man Down is a modest little B picture originally released to cinemas by United Artists in November of 1956, two months after the second season of Gunsmoke had premiered. Like the production itself, Gun the Man Down wastes no precious time establishing its backstory. We begin immediately before Arness, along with pals Robert J. Wilke and Don Megowan (both of whom were no strangers to westerns, and who would each appear several times as guest stars on Gunsmoke), ride off to rob a bank; a spilled bottle of ink spreads across their schematic, serving as an omen.
Needless to say, things don't go over as planned. Rem Anderson (Arness) was committed to the robbery so her and his true love ‒ former saloon gal Janice (Angie Dickinson, in her first starring role, looking almost nothing like the beauty icon many would later drool over) ‒ could start a new life together. But when he is wounded during the heist, his cronies leave him behind to take the fall, taking his beloved with them in the process. Released a year later from prison, Rem starts to roam about the territory, determined to find those who betrayed him and force-feed them a nice big serving of revenge. But even a very angry 6′ 7″ man weighing in at a good 235lbs may have a little difficulty pulling off such a stunt, especially when he begins to develop a conscious.
Said conscious comes from the film's supporting sheriff, played by the great Emile Meyer. In fact, Meyer's gentle performance seems like a mentor for Arness' famous Matt Dillon character. Frankly, one could even perceive Gun the Man Down as a prequel to Gunsmoke. And that's really all that happens here: Arness gets wronged, goes to do more wrong, but learns to do right. The film sails by like a passing wind, leaving very little behind ‒ which is odd, considering the general tone of the film is rather dark. But then again, Gun the Man Down was the debut of director Andrew V. McLaglen, who was obviously establishing a foothold of his own within the industry.
The UK-born McLaglen later helmed several John Wayne pictures from the '60s and '70s, including The Undefeated, and Chisum. (He also directed a minor B-grade action film during the middle of the '70s which would become a cult classic in the 1990s thanks to a memorable spoofing on Mystery Science Theater 3000: 1975's Mitchell, which starred another towering actor, Joe Don Baker.) Also starring in this feature are Harry Carey, Jr., Pedro Gonzales Gonzales (who is cast as the film's running gag comic relief fellow, naturally), and Michael Emmet (who appeared in two Roger Corman productions, Attack of the Giant Leeches and Night of the Blood Beast, which also showed up on MST3K!).
Conductor Henry Vars later wrote the themes for two beloved classic television shows, Flipper and Daktari; with his work (usually used as stock music, examples of which can be heard in many low-budget horror films from the period, including The Unearthly) having been heard in a range of productions from the '50s and '60s, most notably the film noir classic The Big Heat (which he was not credited for). Screenwriters Burt Kennedy and Sam Freedle each worked with another TV western icon, James Garner: the former directed both Support Your Local Sheriff and Support Your Local Gunfighter, the latter worked on Bret Maverick and The Rockford Files. Cinematographer William H. Clothier, photographed most of John Wayne's later movies.
Yes, there's more going on around the frames of Gun the Man Down than there is on-screen itself. Given the proper treatment, it could be better, but it's still a fun little semi-dark picture disguised as an incognito tale about turning the other cheek (even though it isn't) with a halfway appropriate title. Arness gives an earnest performance, as do most of his co-stars (I was particularly impressed with Michael Emmet's gun for hire, who looks like he would be more at home in the Black Patch, released the following year), but the title is still something of a "hit it and quit it" variety. Nevertheless, I applaud Olive Films for bringing this little B&W western to Blu-ray via a pleasant-looking 1080p transfer, which presents the flick in a 1.78:1 aspect ratio.
Audio-wise, Gun the Man Down boasts a DTS-HD MA 2.0 soundtrack which never disappoints. Optional, easy-to-read yellow English subtitles are included, and the original theatrical trailer ‒ which really tries to sell the film as something it isn't ‒ is also included. (The trailer also presents some alternate angles for certain scenes, such as a well-done shot of an angry Arness tossing a bottle at his reflection.) All in all, Gun the Man Down is unlikely to land a spot in western movie history anytime soon, but, as I said before, it's a good way to kill a little time. So sit back and kick your boots off as you watch these hard-working men (and the one woman) get their feet in the door.