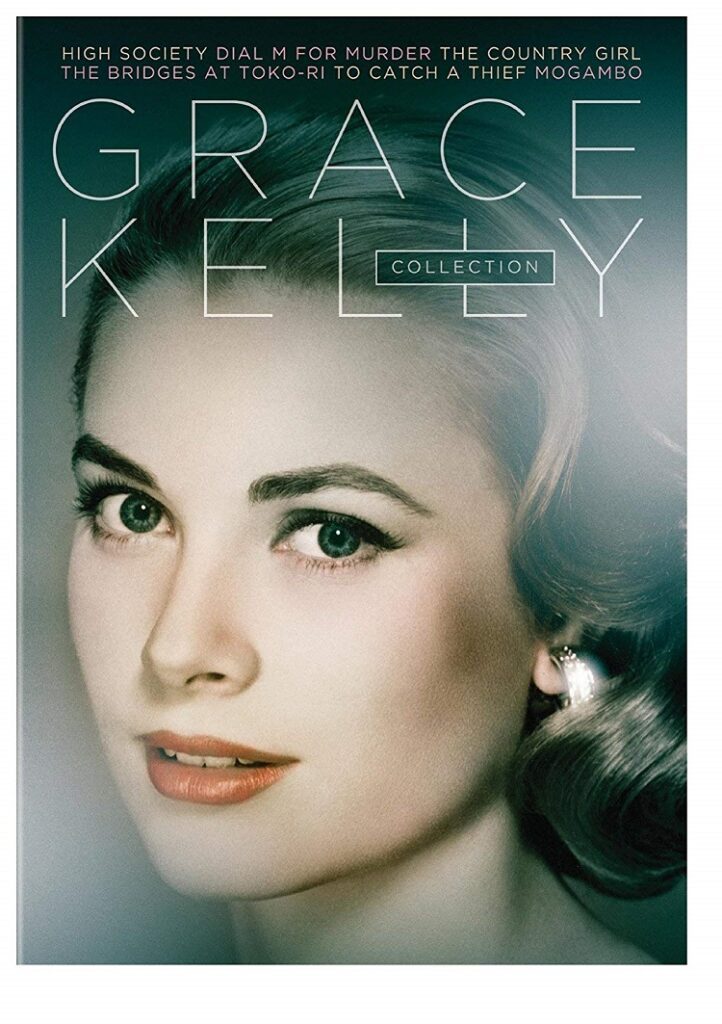 It is an impressive feat that Grace Kelly (November 12, 1929 – September 14, 1982) is such an iconic figure from Classic Hollywood even though she only appeared in 11 films released over a five-year period. She succeeded not only on her beauty but her talent, which was frequently matched by the many familiar names she worked alongside. She was a queen of the silver screen during the '50s, but unfortunately for filmmakers and filmgoers, her career came to an immediate end in 1956 when she became the Princess of Monaco. Warner Brothers is repackaging six films previously released on DVD in a new set titled Grace Kelly Collection.
John Ford's Mogambo (1953) is an MGM Technicolor remake of Victor Fleming's Red Dust (1932). Both films starred Clark Gable and Kelly, who took over the role of Linda when Gene Tierney left the production, earned a Best Supporting Actress Oscar The film tells of the love affair between big game hunter Victor Marswell (Gable) and Linda (Kelly), who crosses paths with Marswell when she and husband Donald (Donald Sinden) go to Africa on safari.
Dial M for Murder is the first of three films Kelly starred in for Alfred Hitchcock. She plays Margot, wife of Tony Wendice (Ray Milland), who plots to kill her after he secretly discovers she has been having an affair with Mark Halliday (Robert Cummings). Tony blackmails C. A. Swann (Anthony Dawson), a former friend from college, into killing his wife, but his plan doesn't work as intended. Hitchcock deftly executes the Frederick Knott's screenplay, which is adapted from his play. The DVD comes with two featurettes, "Hitchcock and Dial M" and "3D: A Brief History," the format the film was shot in, but appears here in 2D.
Kelly won the Academy Award for Best Actress in The Country Girl where she plays Georgie the wife of struggling, alcoholic actor Frank Elgin (Bing Crosby) in this backstage drama based on Clifford Odetts' Tony Award-winning play of the same name. Director Bernie Dodd (William Holden) casts Frank in his play and blames Georgie for the deplorable condition Frank is in, but Bernie will soon discover the truth is more devastating than he realizes.
Kelly reteamed with Holden in the Korean War drama The Bridges at Toko-Ri based on James Michener's novel. They play Nancy and U.S. Navy Lieutenant Harry Brubaker, whose lives are interrupted when Harry is called back to active duty during the war. As a fighter-bomber pilot, he is sent on dangerous missions, including a run at the titular structure.
Kelly's third and final film with Hitchcock is To Catch a Thief. Previously reviewed on the site, it finds Hitchcock revisiting the theme of an innocent man trying to clear his name as retired jewel thief John "The Cat" Robie (Cary Grant) is suspected in a recent series of robberies. Hoping to catch thief framing him, he seeks out the next potential victims, who are Jessie Stevens (Jessie Royce Landis) and her daughter Francie (Kelly), but things grow complicated when Robie and Francie begin an affair.
This DVD has a wealth of extras. There is a commentary track by filmmakers Peter Bogdanovich and Laurent Bouzereau. It also ports over from the Paramount Centennial Collection DVD: "Writing and Casting To Catch A Thief", "The Making of To Catch A Thief", "Alfred Hitchcock and To Catch A Thief: An Appreciation", and a look at legendary costume designer "Edith Head: The Paramount Years".
The last film in the set is also Kelly's last film as an actress. High Society is a musical version of the Phillip Barry's play The Philadelphia Story, which already been adapted to the screen in a film starring Cary Grant, Katherine Hepburn, and Jimmy Stewart. Featuring music and lyrics by Cole Porter, this new version stars Bing Crosby, Grace Kelly, and Frank Sinatra in this madcap romance about a woman with many options for love. In addition to songs by Crosby and Sinatra, Louis Armstrong and his band get two numbers, The special features are "Cole Porter in Hollywood: True Love", the cartoon Millionaire Droopy, newsreel footage of the gala premiere, radio ads, and trailers for High Society and The Philadelphia Story.
For anyone who doesn't own these movies, the Grace Kelly Collection offers half her filmography at a great price. In addition, the set's final disc contains Princess Grace de Monaco: A Moment in Time, her last TV interview, which was recorded with Pierre Salinger ten days before,her untimely death. There is also a series of cards featuring film posters and pictures from each film suitable for framing.