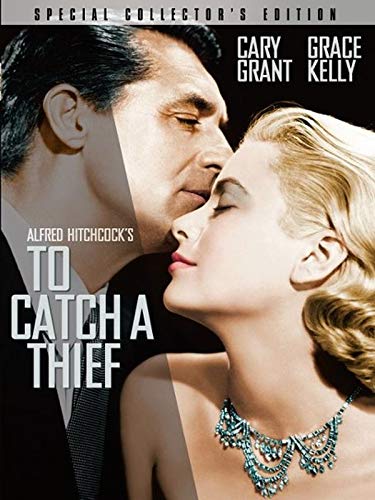 Alfred Hitchcock's To Catch A Thief is his first film shot in the short-lived widescreen format VitsaVision, and his second film shot for Paramount. It finds the director covering very familiar territory, both thematically as it deals with an innocent man trying to clear his name and interpersonally as Hitch had previously worked with actors Cary Grant, Grace Kelly, and John Williams; screenwriter John Michael Hayes; and cinematographer Robert Burks who won an Academy Award for this film.
Based on the novel by David Dodge, former jewel thief John "The Cat" Robie (Grant) is retired in France; however, a recent series of robberies cause the authorities to question his status. On the run, he seeks the help of from his old gang, but when the police show up, Danielle (Brigitte Auber), his former flame and daughter of his associate Foussard (Jean Martinelli), whisks him away by boat. Robie determines he must catch the imposter to prove his innocence. He teams up with insurance man H. H. Hughson (Williams) to learn who the next potential victims might be. They are Jessie Stevens (Jessie Royce Landis) and her daughter Francie (Kelly).
Robie gets close to them but Francie sees through his story and wants to become his partner in crime, but he denies his identity. She invites him over to watch fireworks in the evening and they make love. When Francie later awakes, her mother's jewels have been taken and she blames Robie. He admits to being Robie and denies taking the jewels, but Francie refuses to believe him.
Robie receives a note to stay away from a villa. He knows it's a trap, so he sets his own and has Hughson inform the police. On the villa's grounds, Robie is attacked and his assailant falls to his death, revealing himself to be Foussard. The police announce to the press that the cat burglar is dead, but Robie knows the thief could not have been Foussard.
Francie apologizes to Robie. With her help, he goes to a grand masquerade ball where he is sure the real cat burglar will strike again. The police attend as well keeping a keen eye on Robie. Before the evening is over, the truth will be revealed.
Although this title might not leap to people's minds when discussing his work, Hitchcock delivers a high quality film with To Catch A Thief that combines romance and intrigue. Sure to satisfy fans of classic Hollywood. Keep an eye out early for Hitchcock's cameo.
In Warner Brothers' Grace Kelly Collection, To Catch A Thief is designated as a Special Collector's Edition and comes with a commentary track by filmmakers Peter Bogdanovich and Laurent Bouzereau and the theatrical trailer. It also ports over from the Paramount Centennial Collection DVD: "Writing and Casting To Catch A Thief" (9 min), "The Making of To Catch A Thief" (17 min), "Alfred Hitchcock and To Catch A Thief: An Appreciation" (8 min), and a look at legendary costume designer "Edith Head: The Paramount Years" (14 min).