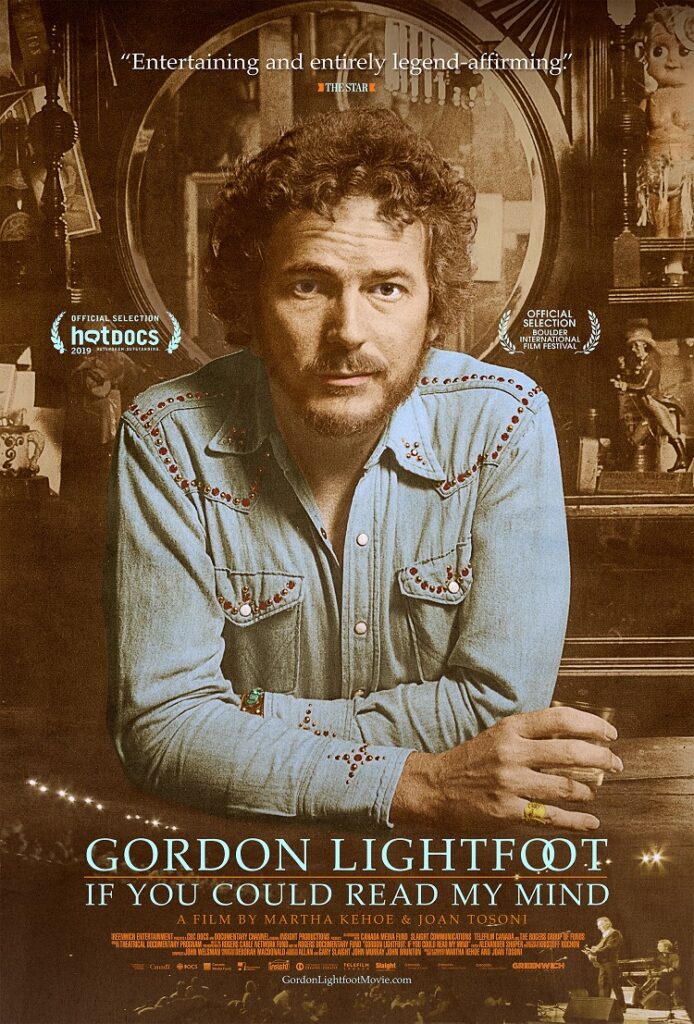 Named after Canadian troubadour Gordon Lightfoot's 1970 breakout hit in the United States, Martha Kehoe and Joan Tosoni's biographical documentary makes mind reading unnecessary because what his songs don't tell you about the man, he and the other interviewees fill in the rest.
Right from the start, it's clear that the man from Orilla, Ottawa remains a perfectionist about his work, as revealed by other musicians later in the film. "For Lovin' Me" was released on his debut album in 1966, but it had already been recorded by folk artists Peter, Paul, and Mary and Ian & Sylvia and would later be covered by Waylon Jennings, Johnny Cash, and Elvis. That such musical legends wanted to sing it should speak to its merits; however, Lightfoot reflects on what a terrible, chauvinistic song it is and wonders what his wife Brita must have thought about it at the time. It's very interesting to see him get so angry about it, a disappointment in himself as an artist and the man he was at the time.
Though not always told in a linear fashion, viewers learn about Lightfoot getting his start singing in church, working 14 months for the the Royal Bank of Canada in Toronto because he couldn't find any music gigs and quitting just before getting a promotion so he could become a choral performer on the TV show Country Hoedown. He formed a duo with Terry Whalen, but when Whalen's father, who managed them, wanted the pair to sign a contract where they shared everything 50-50, Lightfoot balked since Terry didn't write songs and left.
He began to make a name for himself on the Toronto folk circuit. "Early Morning Rain" was another song other folk artists released ahead of him. In addition to Ian & Sylvia and Peter, Paul and Mary again, Judy Collins did as well. The story of longing for home and the loved one there resonated for a lot of musicians and not just of that era as the film shows it being played in recent concerts by Paul Weller and Neil Young.
And Lightfoot is most certainly a storyteller. He puts stories to music, such as "Canadian Railroad Trilogy," commissioned for the Canadian Centennial, and "The Wreck of the Edmund Fitzgerald" about the 29 men lost when the ship sank in Lake Superior on November 10, 1975, that are rich in detail that they feel more like listening to short stories rather than songs. A couple band members tell of the recording of the Edmund Fitzgerald, revealing how mysterious and magical the creation of art can be. They still seem in awe by it.
Lightfoot talks about his songwriting process and credit is given to guitarist Red Shea for helping create his music's sound. His skill as a songwriter is what most of the interviewees are impressed by and the list of musicians that sing his praises will impress viewers. They include Ian and Sylvia, Ronnie Hawkins, Anne Murray, Sarah McLachlan, Tom Cochrane, Steve Earle, Geddy Lee and Alex Lifeson, and Greg Graffon of Bad Religion. Randy Bachman and Burton Cummings of The Guess Who started as a cover band but after seeing Lightfoot in Montreal perform a set of originals, they wanted to be songwriters. Naturally, the Canadians take great pride in their fellow countryman for the doors he opened for other Canadian musicians and the minds he opened outside of Canada that, as Lee puts it, "we're not just a bunch of lumberjacks and hockey players."
Lightfoot admits artists don't always understand the business of the music business. After signing with Warner Bros./Reprise, sales of Sit Down Young Stranger were sluggish as it only sold about 80,000. The second single, "If You Could Read My Mind," was a hit. The executives asked to change the album title, but Lightfoot was so irate, he flew to Los Angeles to argue about it. When they told him it would increase sales sevenfold, he deferred. Good thing as the executives were proven right.
A camera joins Lightfoot as he visits important Canadian locations from his life, and the film is filled with great archival footage of him, photos and video clips, on and off stage. But the documentary isn't a hagiography. It delves into his life's lowlights. Lightfoot and others don't shy away from his alcohol drinking becoming a problem, professionally and personally, and he confesses to not being faithful in past relationships.
If you aren't already a fan, Gordon Lightfoot: If You Could Read My Mind makes the case for what an immense talent he is. I can't imagine a viewer not seeking out his music after the credits roll. His discography is too good not to be well versed in it.