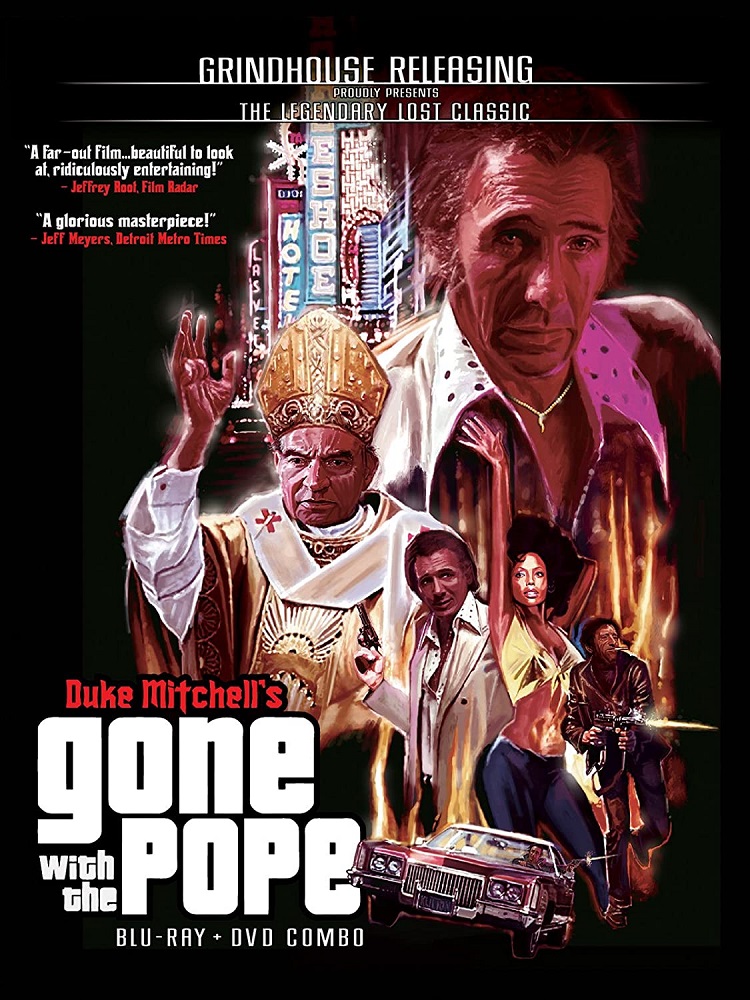 If Massacre Mafia Style was Duke Mitchell's antithesis to Francis Ford Coppola's The Godfather, the late Southern California Italian/American crooning personality's final (known) work, Gone with the Pope could very well be his own flip side to the entire world of filmmaking in general. Massacre Mafia Style was a delirious – and highly enjoyable – assault on the senses, made in the wake of the famous gangster picture, with plenty of oomph and random bits of lunacy thrown in for good measure. Gone with the Pope, on the other hand, is pretty much a feature-length film full of random bits of lunacy, all of which are thrown at the audience with plenty of oomph.
In a tale as feverish as what you might expect to encounter after washing down a whole dish of spicy sausage ziti with Sudafed and NyQuil before calling it a night, Gone with the Pope finds amatueur auteur Mitchell on both sides of the camera again. Here, the man was Duke plays Paul: a recently released ex-con who gets hired by the mafia to whack seven men in Las Vegas and Los Angeles. Once that job is done, Paul hits upon the idea of taking three of his old cellmates – Luke, Peter, and an old man everybody just refers to as The Old Man, themselves fresh from the joint – to Italy via his small motor yacht. What for? To kidnap the Pope, of course, with the ransom initially being a dollar from every Catholic in the world.
But that's just the tip of the bad dream iceberg, kids. Several romance and sex scenes are sewn into the body of the film, including a jaw-droppingly offensive moment where Paul kills time with a black call girl in Vegas, only to compare her pubic hair to a Brillo pad! Were that not enough to tip the scales of good taste, Paul also picks up an obese woman from the park, wherein she is stripped and teased by skinny Paul and his skinny pal in their underwear. Now toss in a few Vegas nightclub acts from the '70s, a couple of mafia (revenge) hits, and an ending that will probably leave you scratching your head in utter confusion, and you have something that truly defies the traditional course of "art," kids.
Of course, if it all seems completely nonlinear and hallucinatory, it's for a reason. Filming of Kiss the Ring (the original title) started in late 1975, with Duke and his one to two-man crew shooting on weekends through to the beginning of 1976 off $35,000 raised solely by Mitchell. When Duke passed away in 1981, he left behind a parking garage containing an incomplete rough cut of his final unfinished work, a heap of film cans, and various notes ranging from blank spots of envelopes to cocktail napkins to fill in for the (presumably) non-existent script. And if you've ever had to go through a deceased relative's possessions to figure out what the heck they were trying to convey, you know assembling Gone with the Pope must have been a entirely different kind nightmare to endure.
In fact, it took 15 years for the fine folks at Grindhouse Releasing to fully assemble Duke Mitchell's Gone with the Pope, after having discovered the bits and pieces during the middle of the '90s thanks to a gracious offering from the dearly departed's son, musician Jeffrey Mitchell (who also has a part in the beginning of the film as a junkie in prison). And with no real guide to go by, they succeeded admirably in piecing together a moving picture that had next to no plot (or even script) to begin with. Between that, several spot-on soliloquies from Mitchell, and numerous captivating shots of mid '70s-era Las Vegas in action, Gone with the Pope has a lot going for it – even if the movie itself seems very lost.
Grindhouse Releasing brings this lost slice of do-it-yourself cinema from the golden age of exploitation filmmaking to home video in a Blu-ray/DVD Combo pack that presents us with the "final" cut of the film (presented in a 1.78:1 aspect ratio), as edited by Bob Murawski with the assistance of Paul Hart and Jody Fedele. Since the film's negatives remained pretty much untouched for years on end, the quality here is makes it look like the film was just shot yesterday, to the point where I honestly think they could have slipped in a new scene or two of guys in '70s clothing and no one would know the difference. It's really gorgeous, and I'll swear to the Pope on that one if I absolutely have to.
The soundtrack for Gone with the Pope is presented in a 5.1 DTS-MA HD mix. Since six channel surround sound was only in its initial testing phase by the time Duke Mitchell assembled his rough cut, it stands to reason that this was not what the man had in mind for this project. To make matters worse, much of the film was shot silent, while other scenes were missing sound altogether. And yet, they still managed to put it all together as best they could, with some newly recorded Foley effects and a couple of genuinely rockin' (and original) tunes by Jeffrey Mitchell from the era in question that need to find their way to my iPod ASAP, and gave it a 5.1 option to boot. Mono and stereo tracks are also available.
Much like their release of Massacre Mafia Style, Grindhouse Releasing has gone all-out once more for their home video debut of Gone with the Pope. Included here are several making-of looks at the film, ranging from interviews with surviving cast and crew, the filming and restoring of the title, and a number of deleted scenes and outtakes (one being an "insert" Mitchell filmed in the hopes of selling it to the then reigning porn king partnership of the Mitchell Brothers, another being an extended performance of a Frankie Carr and the Nov-Elites lounge act). In addition to the proverbial assortment of stills, a Duke Mitchell filmography, and the 1999-made trailer for the film, there is also a Q&A from the film's 2010 debut at the Egyptian Theater in Hollywood.
While it's no Massacre Mafia Style by any means, I get the feeling Duke Mitchell wanted something serious and personal here. Alas, between numerous investors – each of whom more contributed in exchange for being shot on film (sometimes literally) – and his own habit of just shooting extraneous scenes for the heck of it, the movie has way too many random moments going on. And if you've ever squeezed too many things into one hall closet, you know it's only a matter of time before you have a joke right out of Fibber McGee and Molly on your hands (and your floor). But of course, this is Duke Mitchell we're talking about here: he needed an entire parking garage to store his ideas in!
Ultimately, Gone with the Pope is so rough around the edges, it's almost akin to visiting that seemingly far-off world of no indoor plumbing and discarded Penney's catalogues (look, if Duke Mitchell can compare a black woman's pubic hair to a Brillo pad, I can make a toilet joke!). And yet, there's something mesmerizing about it. Sure, it makes very little sense overall, but you really have to admire the work everyone involved in the release of this re-discovered oddity, from the men who dreamed it all up, to the entirely new generation who finally made it come to life several decades later. The Catholic Church might not know what love is, but Duke Mitchell's followers certainly do – and it is for that reason alone I recommend Gone with the Pope.