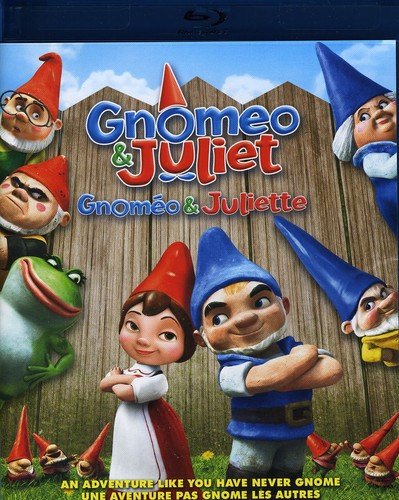 Somewhere there's a big Random Idea Generator that spit out a doozy for this film, uniting three things that have absolutely nothing in common: Shakespeare, ceramic garden gnomes, and Elton John. Surprisingly, the results of this bizarre collaboration are mostly successful, making for some heartwarming animated family entertainment that measures up fairly well to the big guys at Pixar and Dreamworks. That's not to say it's must-see viewing, but it is definitely an unexpected surprise.
Borrowing the same conceit as the Toy Story films, the ceramic stars of the film are sentient but can only talk and move about freely when out of human sight. They're also completely fragile and subject to environmental damage, with visible chinks, scrapes, and worn paint clearly evident, adding a nice authentic touch. It's not just gnomes either, as a frog sprinkler, a plastic flamingo, and other assorted pottery characters also join in the fun. The film's story takes place almost entirely in the adjoining yards of two homes, suitably scaling the world to gnome size and keeping a realistic sense of place.
As evidenced by the title, the film is a retelling of Romeo and Juliet, this time with the warring Capulets and Montagues identified by the color of their red or blue gnome caps. The gnomes (and their human owners) have hated each other for so long that it's no longer evident why, but their ongoing feud consumes their days as they attempt to destroy each other's carefully manicured yards at any opportunity. When plucky young blue gnome Gnomeo disguises himself for a nighttime mission against the reds and encounters the beguiling young red lass Juliet, also disguised, they begin to fall in love before discovering their clan identities. While the story follows the basic structure of its source, rest assured that the ending is far from tragic. Along the way, we get a touching side story about the plastic flamingo that echoes similar heartbreaking musical montages such as Jessie's story in Toy Story 2 and Carl in Up. Aside from that interlude, the story remains tightly focused on the gnome love story surrounded by the war between their tribes.
The vocal talent is effective and includes some unusual choices such as Ozzy Osbourne as a cute deer sidekick and Jason Statham as red baddie Tybalt. Director Kelly Asbury (Shrek 2) competently steers the film through its inevitable plot points and musical numbers, with only a couple of jokes falling flat along the way. And then there's that music. Elton John has garnered incredible success in the past via his original work on The Lion King, and here he's mostly taking a victory lap by simply opening up his back catalog for use, although he and longtime lyricist Bernie Taupin contribute two entirely new songs that work well within the film and on their own. Thankfully, the use of his back catalog isn't nearly as prevalent or annoying as it could have been, making for choices that complement the proceedings for the most part rather than grinding them to a halt. John isn't just the musical artist though, he's also the main producer of the film as it's the first major project from his own production company, Rocket Pictures.
The Blu-ray presentation is crisp and clear throughout, and surprisingly includes lush 7.1 DTS-HD Master Audio. The bonus features are also surprisingly full-bodied, with nearly 45 minutes of deleted scenes introduced by Asbury, a featurette on John's contributions as musician and producer, a featurette on Osbourne's voice work, another featurette on Ashley Jensen's (the frog sprinkler) contribution, and two alternate endings. The 2-disc Blu-ray package includes Blu and DVD discs and is available today.