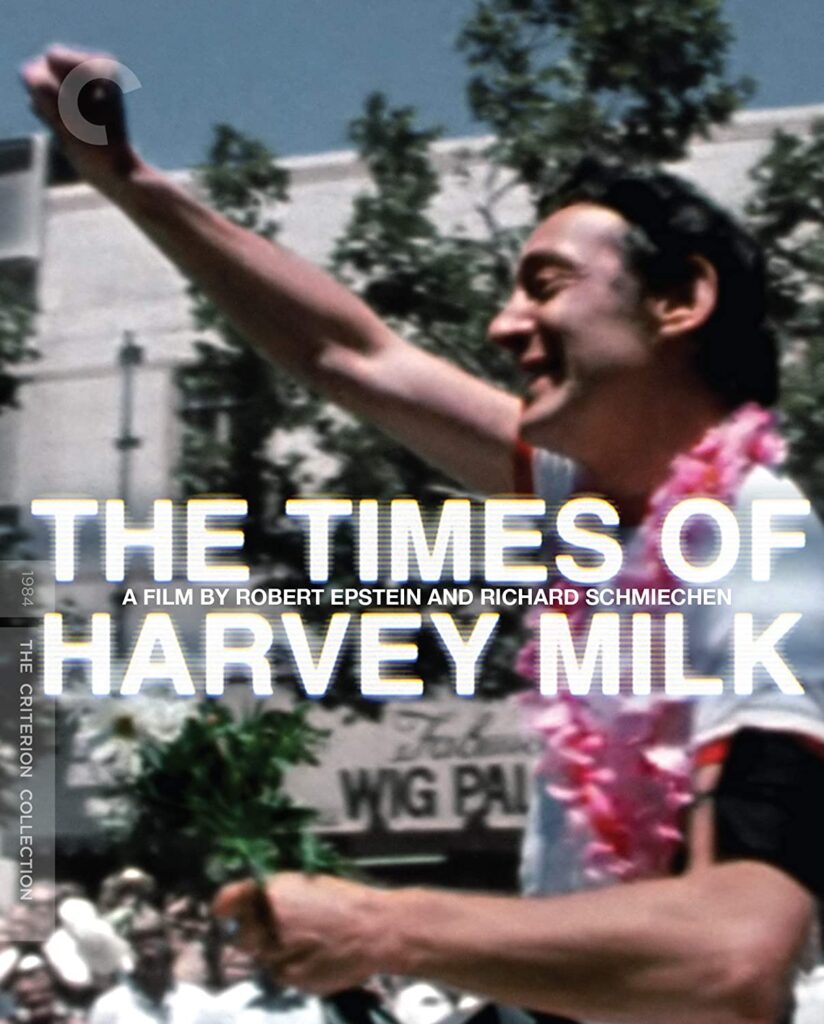 The Times of Harvey Milk is an outstanding documentary that presents an important chapter in the United States civil rights movement as homosexual men and women strove for equality in the 1970s, which unfortunately still eludes them four decades later. Winning a seat on the San Franciscan Board of Supervisors in 1977, Harvey Milk earned the distinction of being California's first openly gay elected official and one of the first in the country. His pro-gay legislative work and his calls for gays to "come out of the closet" made him a de facto leader of the gay-rights movement. Tragically, Harvey's term wouldn't last a year, revealed as the film opens with the news footage of acting mayor Diane Feinstein announcing, "It is my duty to inform you that both Mayor Moscone and Supervisor Harvey Milk have been shot and killed and the suspect is Supervisor Dan White."
Narrated by Harvey Fierstein, the film is comprised of a great deal of archival footage, including an eerily prescient audiotape by Harvey that was only to be played if he was assassinated, which he felt could happen "at any moment, at any time." There are also interviews of people who knew Harvey recorded for the documentary. In 1973, he and his boyfriend Scott Smith opened up a camera shop on Castro Street. Harvey began to get involved with politics and local issues, dubbing himself the Mayor of Castro Street. He was a charming man who was passionate in his convictions. Not only did he impress gay people but straights as well. Auto machinist Jim Elliot refers to Harvey and other homosexuals as "fruits" but was very impressed by him and knew his fellow union members would be to when told that Harvey accomplished something they couldn't: he led a boycott against Coors Beer and drove them out of gay bars.
After a few unsuccessful campaigns for different offices, what helped get Harvey elected was a change in election procedure. Rather than being voted upon citywide, Supervisors came from newly created districts in the city. This created a much more diverse Board. Harvey worked to get a gay-rights bill passed that protected people from losing their jobs if they came out. The only dissenting vote was another new Supervisor, Dan White.
Gay rights were not popular in the country at that time. In 1977, Anita Bryant led a campaign in Dade County, Florida that overturned a sexual-orientation discrimination ordinance. In 1978, California State Senator John Briggs spearheaded Proposition 6, which would deny homosexuals jobs in schools statewide. The proposition, which had conservative detractors like former Governor Ronald Reagan and Supervisor White, failed to pass.
White resigned four days after the 1978 election. Although I didn't catch a timeframe mentioned, he changed his mind after a few days, but it was too late. The mayor was legally required to appoint someone to fill the position of Supervisor. Even though the mayor could have chosen to give White his position back, which Harvey was against, White didn't think it likely and took matters into his own hands.
Many gays in San Francisco were hurt by the loss of both men. A large candlelight vigil made its way through the streets of San Francisco. The sequence of the lights in the darkness is emotionally powerful. Their pain would turn to outrage when White's murder charges were reduced to voluntary manslaughter. His lawyers and their expert witnesses alleged he suffered from a diminished mental capacity brought on by depression, partially induced by junk food, which one reported called the "Twinkie defense". Gays and others angry at the verdict took to the streets, and their anger led to vandalism and clashes with the police, known as the White Night riots. The film concludes showing how Harvey's name and his work continued.
The Times of Harvey Milk went on to win an Academy Award for Best Documentary. Similar to Harvey, it also holds a place in history for being the first openly gay film to win an Oscar. Director Robert Epstein and his team do an amazing job allowing this story to unfold before the viewer. Although as the title indicates, the film is about those times rather than just the man, the only thing missing from this historical document would have been some insight into what drove White to commit his crimes, which presumes there was any.
The video is presented at a 1080p/ MPEG-4 AVC encoded transfer displayed at 1.33:1. The documentary makes use of a variety of sources in various degrees of condition so it looks rough. The film was shot on 16mm, including the material that originally appeared on video. The modern-day interviews are the best looking of the bunch. They have the strongest hues, though they aren't very bright. Throughout, the blacks aren't very deep. Also as expected, the objects aren't always sharply defined nor does the image always have depth. However, the historical significance makes up for any flaws, which are attributed to the source material and not the transfer.
The audio is available as DTS-HD Master Audio 2.0. It's a simple, straightforward track one would expect for a documentary. It doesn't have the same age and wear as the video, sounding very clean and lacking defects. The dialogue is always clear and plays out center channel.
As is typical with Criterion, there is a great collection of features that help augment the story from the film and about the film. Director Rob Epstein, co-editor Deborah Hoffmann, and photographer Daniel Nicoletta recorded the audio commentary in 2004, which now includes new material. "Postscript" (1080i, 3 min) is a fancy name fordeleted clips of interviewees political consultant Tory Hartmann, gay rights activist Bill Kraus, Harvey Milk aide Anne Kronenberg,and auto machinist Jim Elliot that almost were used in the ending. "Jon Else", (HD, 20 min)filmmaker and director of the UC Berkeley documentary program, from talks about Times, particularly its strengths as a documentary.
"Two Films, One Legacy" (HD, 23 min, 1080p)complies interviews with Epstein, Times producer Richard Schmiechen, Milk (2008) director Gus Van Sant, actor James Franco, as well as Harvey's friends Cleve Jones, Anne Kronenberg, and Daniel Nicoletta discussing the two projects. "Director's Research Tapes" (1080i, 80 min)are excerpts from eight of the 40 pre-production interviews by Epstein. Six people here were not seen in the film: Scott Smith, Bob Ross, Amber Hollibaugh, Cleve Jones, Lillian Sing, and Hank Wilson. "From the Castro to the Oscars" shows footage of the "Premiere at the Castro Theatre" (1080i, 8 min) from 11/1/84 and their win during "A Night at the Oscars" (1080i, 4 min). Good though brief time capsules, especially intriguing is "Premiere" as the speaker calls out fellow gays for choosing Reagan and tax cuts over solidarity with their brothers.
"Harvey Milk Recordings" (90 min)is an archive, mostly audio, involving Harvey and his times. "Out of the bars and into the streets" (14 min)was a rallying cry in response to the repeal of a gay rights ordinance in Dade County. A young reporter from KPFA radio was out on the streets as the spontaneous protest occurred.Texas Gay Conference Five (48 min)features a speech Harvey gave on 6/10/78 at a Dallas Royal Coach Inn. On "Anti-Proposition 6 Election Night Party" (11 min) Harvey can be heard responding to the defeat of Prop 6. Portions of "Harvey Milk's Political Will" (14 min) were heard in the film. It's one of three audiotapes he recorded to be played if he was assassinated. "Harvey Milk Speaks Out"(1080i, 3 min)is a series of very short video clips of Harvey on different subjects.
"The Dan White Case" offers "News Clips" (1080i, 4 min) and a "Panel Discussion" (1080i, 30 min) with his attorneys, Douglas Schmidt and Stephen Scherr, and deputy district attorney Jim Hammer held at the University of San Francisco in November 2003. It's eerily prescient when reporter asks an attorney in the clips about being concerned over the possibility of Dan killing himself, which he would do after being released from jail. Legal fans should be interested to hear White's attorneys talk about their approach to the case.
On the 25th anniversary of Harvey's assassination, "Harry Britt, Milk's Successor" (1080i, 10 min) is seen speaking and so are San Francisco Supervisor Tom Ammiano and Rebecca Moscone, the late mayor's daughter, at a "Candlelight Memorial" (1080i, 7 min).
The Times of Harvey Milk celebrate the man and draw attention to times that are very important in America's history, allowing the viewer to witness a minority fighting for the rights the Constitution guaranteed but the majority had not granted. The Criterion Collection does itself proud with this release.