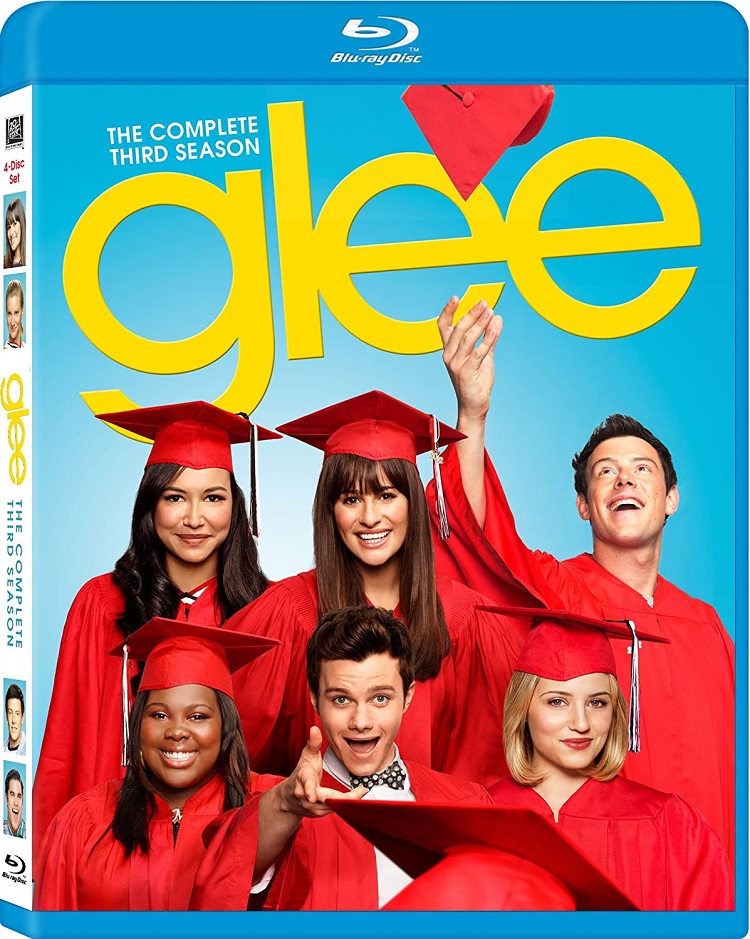 The Show
Severely lowered expectations are a major boon to the third season of Glee, a show I've long given up on being anything approaching "good." Revisiting the pilot recently, I was struck by how much potential — satirically, stylistically and to a lesser extent, narratively — the show hinted at in its early days. But now, with the uneven totality of the first season and the truly atrocious second season having demolished those good vibes, I was surprised by how much I enjoyed season three — and not only for trainwreck can't-look-away reasons either!
Let's be clear: Glee is not and will never be quality television. Season three continues to trade in some of the most bewildering, laughable character arcs ever, trading convenience for consistency and stranding once intriguing characters in a morass of muddled motivations and ever-shifting personality traits. (Dianna Agron's Quinn gets the worst of it this season, but she's far from the only one.)
This criticism doesn't really apply to the three core characters — Lea Michele's Rachel, Cory Monteith's Finn and Chris Colfer's Kurt — but these three do little but tread water through all 22 episodes. Kurt's relationship with Blaine (an underused Darren Criss) never seems to mature at all, while Finn and Rachel's stop-start romance is a lot of filler capped off with a massive emotional payoff it doesn't really earn.
Neither does season three really capitalize on the themes of transition, loss and nostalgia surrounding the senior year of a number of glee clubbers, most who aren't sure what their next step will be. Sure, there's a lot of telling us everyone is so emotional and uncertain, but don't expect any truly penetrating insight about what it feels like to be at the end of an era, forced to move on even if you don't want to. Wistful and thoughtful aren't things Glee excels at, but if you want some heavy-handed very special episodes about spousal abuse and the dangers of texting while driving, you've come to the right place!
OK, so what did I like? Well, the musical numbers this season are pretty superb, and the show has even learned to emotionally integrate some of them halfway convincingly. While the show's talented cast hasn't been given too many chances to flex their acting muscles, each one has become a better performer as the show has progressed. And when Glee allows its ridiculous plotting to take a back seat for a bit (something this season isn't bad at), it can turn in some truly inspired bits, like a black-and-white Christmas special in the vein of Judy Garland's holiday treat.
As season four approaches and half the characters are spread across the country, I wouldn't expect Glee's troubles with plotting, character arcs and splitting time across a super-bloated cast to get any better. But hey, if they can continue to crank out slick, entertaining musical numbers stuffed in the margins around all the melodrama, I'll probably be watching.
The Blu-ray Discs
Season three's 22 episodes are spread across four discs and are all presented in 1080p high definition with a 1.78:1 aspect ratio. The visual presentation is consistently bright and clean, if a little flat, with nicely rendered detail and a slightly visible grain structure, as the show is shot on 35mm. Vibrant colors do pop occasionally and the image generally has a pleasingly detailed depth to it. The 5.1 DTS-HD Master Audio tracks offer nice, immersive showcases for the music, while dialogue remains crystal clear in the fronts.
Special Features
Nothing is essential in this decent round up of extras, though I'm sure hardcore fans will want to savor it all. Like previous sets, this one features a jukebox option to go straight to the songs along with a couple deleted and extended scenes, featurettes on the season kick-off, a donation to a middle school and the clever body-swap episode. Interview pieces introduce us to the new characters as well as give the graduating veterans a chance to look back. The great Jane Lynch has been sorely misused as the alternately imperious and sappy Sue Sylvester, but she makes a lot of it work, and she's great here in a couple of short bits that feature her in character.
The Bottom Line
I've wanted to give up on Glee for a while now, but I enjoy the show in spite of myself, and watching all of season three is definitely a good way to spite whoever ends up watching it.