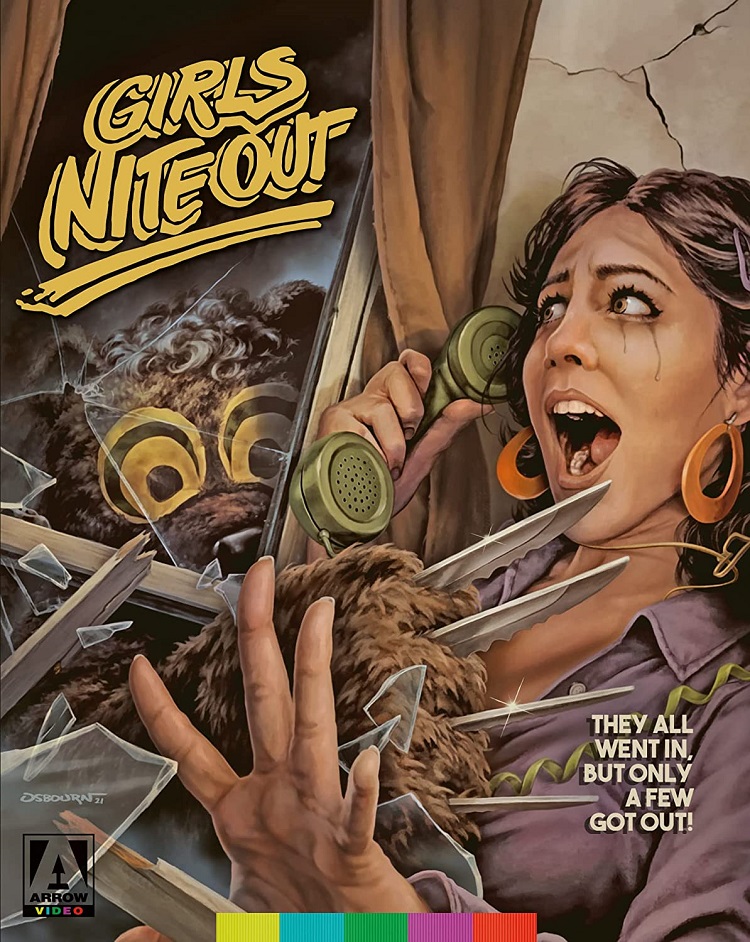 I've seen many slasher flicks, especially those from '80s. I was really impressed by some of them, while others totally went over my head. And I have to unfortunately say that one time director Robert Deubel's 1982 Girls Nite Out (the word Nite is obviously spelled wrong, but I guess that was comedically intentional) falls into the latter category.
Originally titled The Scaremaker (which is very loose here), it starts off in a sanitarium, where someone named Dickie Cavanaugh hangs himself. Then it cuts to a meaningless college basketball game, then to a wild party where his name is brought up. Then for the rest of the movie, a scavenger hunt takes place, which goes very wrong when many of the students are stalked and slaughtered by a killer (Dickie perhaps?) wearing the college's bear mascot outfit (yes, it is just as goofy as it sounds).
That's pretty much it. I found the film trite and rote to the say the least. The plot is typical, none of the characters really stood out, the kills were kind of decent but not that memorable, and the surprise reveal at the end was handled pretty poorly. It also wastes the talents of the late, great Hal Holbrook (in a thankless role as campus security cop Jim) and the always underrated Rutanya Alda (who actually plays a pivotal role as Barney, a cafeteria employee). I guess those paychecks came in handy.
If there's one decent thing I can say about it, is that it does happen to be a sex-positive movie. Most of the central characters obsess about sex, talk about it constantly, and of course have it, even final girl Lynn (Julia Montgomery). Despite some of the messy relationships that a few of them have, they're not actually judged for their indiscretions. After all, this is another slasher where kids will be kids.
I have to give credit to the folks at Arrow. They always come through, even with simple niche titles like Girls Nite Out. The release has a new 2K restoration, despite only the surviving 35mm elements. It's not the strongest presentation, but it's not completely terrible. There are also new special features including a new commentary by genre film critic/author Justin Kerswell and film historian/author Amanda Reyes; new interviews with actors Montgomery, Laura Summer, Lois Robbins, Paul Christie, Lauren-Marie Taylor, and John Didrichsen; alternate title sequence; and original trailers. There is also original and new cover art by Justin Osbourn and a new essay by journalist, screenwriter, and former editor-in-chief of Fangoria magazine Michael Gingold.
I bet Girls Nite Out does have its fans, so this release should be worth their while. They'll probably get a lot out of it, for better or worse. It's not the worst of its kind, but it's nowhere near the best.