Pop Culture Ephemera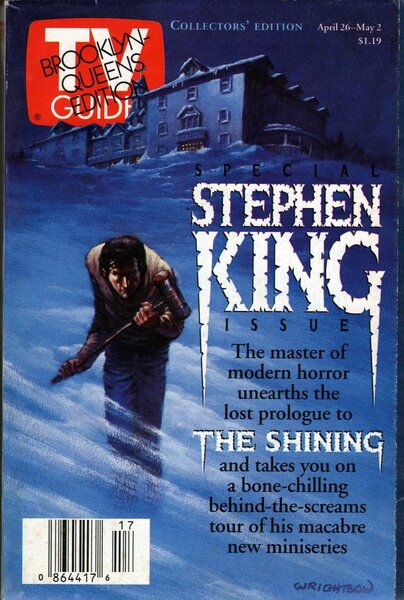 The Shining (1997) (Directed by Mick Garris): "Being someone else, sometimes that's better." – Danny Torrance. Three years after directing The Stand (1994), Mick Garris was given the unenviable task of remaking The Shining for ABC Network for a three-night mini-series. Having six hours (four and a half hours of screen time) to tell the story of the novel is a big benefit for the depth of the story. The casting is one area that plays distinctly against the Kubrick film. Steven Weber plays Jack Torrance without chewing up the screen. Rebecca DeMornay plays Wendy Torrance as much more of an equal to Jack. The weak link is Courtland Mead as Danny in a much less believable role as a boy dealing with the trauma of an alcoholic father. The mini-series is often lauded as being more "true" to the book. I think that only applies to events that happen. It's still missing all of the internal monologue of Jack's descent into madness. I don't know how you would fix that without another three hours or more to let it unfold. They've restored the original ending and the topiary animals that were most missed in the Kubrick version. Somehow they've also manage to lose pacing because of being slaves to the three night mini-series format. The beats of the plot would benefit from current episodic television formatting but this adaptation is a necessary evolution to the original film.
Alfred Hitchcock Presents – "The Old Pro" (S.7 E.8) (NBC) (1961): "A guy with guts is always valuable." – Mace. Paul Henreid (Lazlo in Casablanca) directs this decidedly noir entry into the Hitchcock anthology series. Frank Burns (Richard Conte) wants to retire to his cabin on the lake with his wife, Loretta (Sara Shane). Frank was an "engineer," which we find out is a term for a hit man. Frank's past keeps trying to pull him back for one more job. Conte is perfectly cast as the hit man trying to go straight. This is the rare episode for this season that feels like it could become a film more than a 30-minute story. It ends far too quickly and without the satisfaction of seeing it all play out.
Paul Simon – "Slip Slidin' Away" (1977) (from Greatest Hits, Etc.): "He longed to tell him all the reasons / For the things he'd done." – Paul Simon. Produced by Phil Ramone and appearing originally on his Greatest Hits, Etc. album, it was initially considered a couple years previous for his Still Crazy After All These Years. The Oak Ridge Boys lend the backing vocals. Paul writes best about relationships and life. Do our dreams pass us by because that's how it is supposed to be or do we let things get in our way along our path? It isn't just the backing vocals, there's a structure to the lyrics and repetition of the chorus that gives this a country feeling too.
Saturday Night Live – "Charles Grodin / Paul Simon" (S.3 E.4) (1977): "Apple bobbing! An ancient human ritual. The immersion of the cone into a fluid bath, while attempting to grasp buoyant fruit with a major orifice." – Connie Conehead. The October 29th episode features many Halloween-themed skits including the Bees and the Coneheads. Paul Simon had hosted his own Prime Time Special on NBC earlier this month produced by Lorne Michaels. Here he's backed by the Persuasions. The show was already settling into the comfort of the expected with Samurai, Weekend Update, and the fake ads. It's the first appearance of Gilda as Judy Miller, one of her best characters. There is an apocryphal story that Charles Grodin was banned from hosting the show after this appearance but he seemed to have lots of SNL actors as guests when he hosted his own talk show on CNBC. The best moment was Charles as Art Garfunkel meeting up with Art Garfunkel as Art Garfunkel. In a show that often winks at breaking the Fourth Wall, the running gag of breaking the Fourth Wall is really unique to the series. The Bees episode here is one of the most creative of the first few seasons.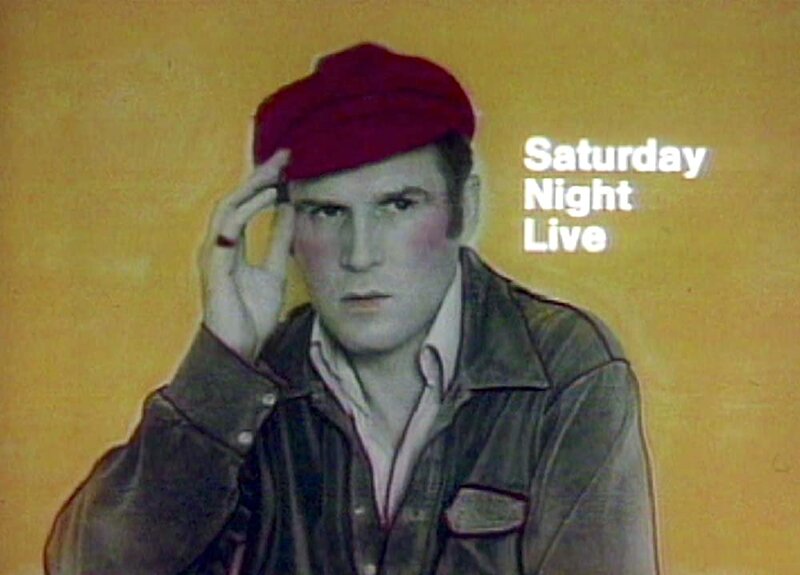 Quicksilver Highway (1997) (Directed by Mick Garris): "You might say I'm a collector of rare objects." – Quicksilver. Taking a break from adapting long form Stephen King novels for ABC miniseries, Mick Garris moves across the dial to Fox and directs a two-story anthology film. The structure feels more like a Pilot for a television show. A newlywed couple has their car breakdown in the middle of nowhere, while waiting for help, the wife meets Quicksilver (Christopher Lloyd) who regales her with tales of the underbelly of America. The first is "Chattery Teeth" by Stephen King (from Nightmares and Dreamscapes). The story fits well within the 45-minute format that it's given and while not my favorite, it does have a tone somewhere between Creepshow and The Twilight Zone. The second story is Clive Barker's "The Body Politic" (from Books of Blood V.4). This one I haven't read but it doesn't feel like a good translation to film. Matt Frewer does his usual quality job as Charlie but the special effects were not high on the Fox budget list. As constituted here, it wouldn't have worked well as a series. I do appreciate the hour-long horror format but Garris seems to work best in a longer format.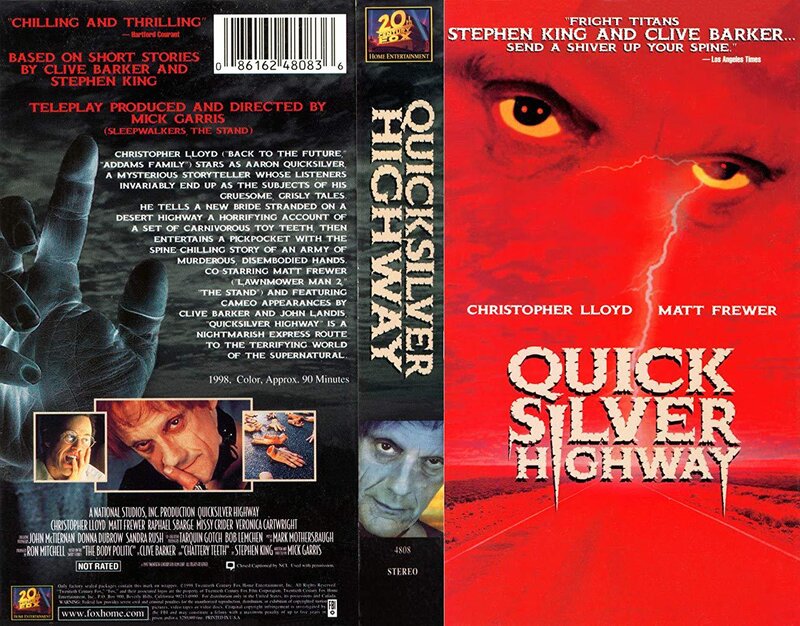 Best of the Rest
I seem to reset my algorithms each year as my projects change my searches and researches. It was no surprise to see a story about the most expensive ice cream in the world come across my timeline. From Japan, it is $6,696 and includes an edible gold leaf, white truffle, and edible cheeses (?!?). Let's just set that one aside until I've exhausted the $4 scoops here in America.
When I think of potential ad campaigns for Gatorade, I don't imagine it as anything but sports ball players sweating and drinking it from the bottle with a full sweat upon their bodies. Repurposing the drink as part of a lifestyle to get over a breakup is an interesting pivot. It kinda works as I was fully drawn into the story and the payoff is worth the mediocre song cover.
Just in time for summer, Lipton releases a few Hard Tea flavors. The ad campaign to essentially say, "Yes, we are the last to market with our Hard Tea but we are the biggest name in tea" isn't bad. There are at least three ads and they are quirky cute without wading into any cultural deep end. If they were anything more than 5.0% ABV, I might actually buy one.
Sunday Morning Tuneage Flashback
On the Sunday Morning Tuneage of 12/9/2007, it was a rainy Sunday with temps in the 40s and I was hoping to do some Christmas shopping at Target. My #10 Favorite Movie of All-Time was Lord of the Rings: Fellowship of the Ring (2001). Is it a Top Ten film? No. I'm being realistic today that it's probably in the last half of my Top 100. It's important to give it the credit for being part of the triple-pronged development of movie franchising with Spider-Man (2002) and Harry Potter & the Sorcerer's Stone (2001). Fantasy, science fiction, YA novels, and comic book-inspired films were poised to take over the next two decades. The Writer's Strike meant lots of repeated Christmas fare and related reality shows like Anthony Bourdain's Christmas Special and Saturday Night Live! Christmas Special repeats. There was a show I was considering that I know I never watched.

2007 World Magic Awards (MYNETWORK) Why did I even want to watch this? I guess that 2007 was pretty near the height of our national obsession with rock 'n' roll magicians? Roger Moore hosts but I'm not sure he wasn't being held captive under a magic spell. The much desired Magician of the Year Award went to Hans Klok and his assistant, Pamela Anderson (is it THAT Pamela Anderson? I won't spoil your experience). This might be one of the worst award shows I've watched. Worse than any of the videogame awards. Part of the problem is the production constantly cutting to crowd members who are being told to seem enthralled. The other part of the problem? It's magic on television.
1973 in Review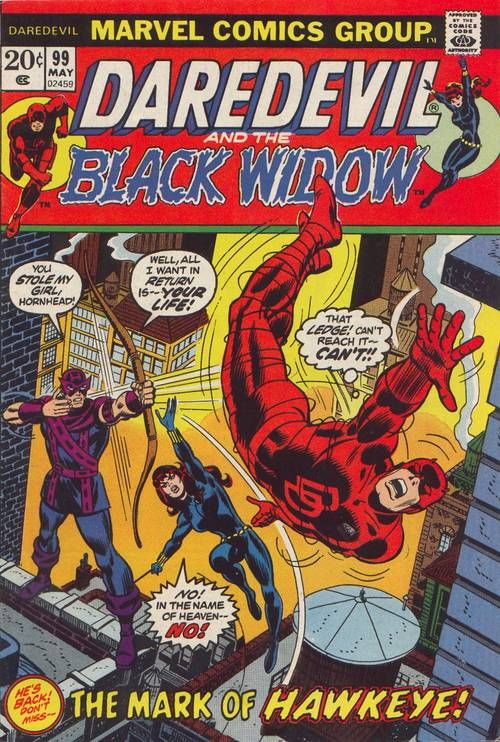 May – Daredevil and the Black Widow #99 (Marvel) Written by Steve Gerber. Hawkeye has quit the Avengers and shows up in San Francisco to reunite with his former girl, Black Widow.
May 19 – Secretariat wins the Preakness Stakes.
May 26 – the great Charles Santore illustrates Karl Malden and Michael Douglas on the cover of TV Guide.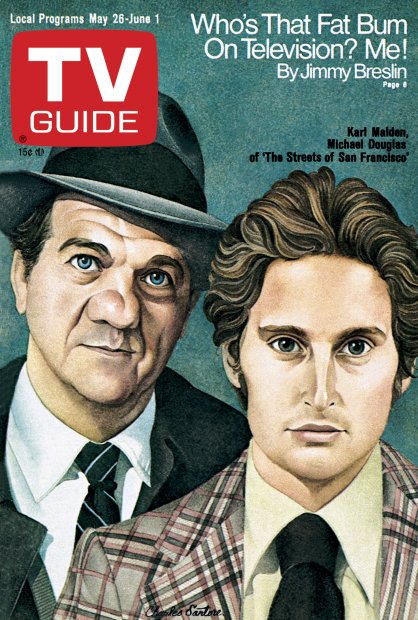 What the Hell Did I Put in My Mouth?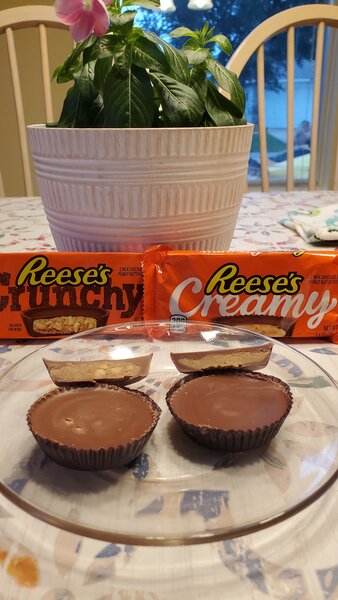 Reese's Crunchy / Reese's Creamy
I thought the release of both Crunchy and Creamy cups to be mostly a marketing campaign (of which I support too). If these are any indication, there's a decidedly different recipe to the peanut butter. It's creamier and not just in the Creamy version. The Crunchy version has more substance as a candy but the peanut butter is the star here. I always have this candy in my rotation but the new peanut butter is even better.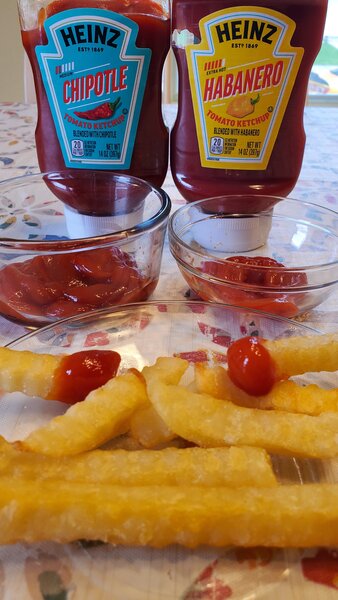 Heinz Ketchup: Chipotle Heinz Ketchup: Habanero
I have lived through one ketchup revolution in my lifetime when ketchup changed colors on an almost monthly basis. The industry realized that it wasn't the color holding back the market. Was it heat? These two new releases along with a jalapeno flavor are testing that thesis. Straight out, as tested on french fries, I love the Chipotle flavor the most. The habanero has a long burn that might be best on a burger. Neither of these will replace your regular ketchup but like I have at least three mustards, I can see keeping both of these on hand.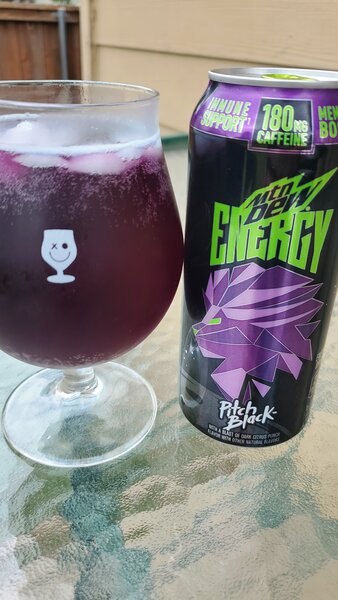 Mountain Dew Energy: Pitch Black
The fan popular, Pitch Black, comes to the Mtn Dew Energy line. At 180mg of caffeine, double that of the regular cans, this would be an interesting addition if it held the same dark berry/grape flavor as the regular soda. It suffers a bit from that "energy drink" chalky taste that I find hard to pinpoint in descriptions. It's an interesting time of year to promote the Halloween-looking can. It would have made a bigger splash in summer or fall. Mountain Dew hasn't found a long term home in the Energy Drink aisle; this might be the best opportunity they've had in years.
"He wore his passion for his woman
Like a thorny crown
He said Delores
I live in fear
My love for you's so overpowering
I'm afraid that I will disappear" – Paul Simon
Stay Hard.