I'm taking a break on the First Anniversary of FTCH. I love my usual format because it allows me to throw out observations that have been on my with the movie, television shows, music, and food that I run across in a week. My previous blog incarnation, "Sunday Morning Tuneage", was much the same. I've included glimpses back to that blog as a way to reflect on how times have changed and how they really haven't.
The week I'm taking time to reflect again on the one blog each year that I agonize over for weeks, The Best Of entries. I am going to take a look back at my "Best of 2006" entry from January 2, 2007. How has my view of 2006 Pop Culture changed over the ensuing 16 years. I was working at North Texas, my children were 10, 9, and 3 and life was wrapped up in sports and activities.
BEST MOVIES OF 2006
Casino Royale. Still a pretty solid choice.
Little Miss Sunshine. Haven't watched it since.
Pan's Labyrinth. Should this move up the list?
Night at the Museum
Cars. I might appreciate this more now than back then.
An Inconvenient Truth
Happy Feet
We Are Marshall. Definitely influenced by having a young boy in football.
A Prairie Home Companion. I apologize for this.
Climates. I'm not even sure what this film is anymore.
BEST MOVIES THAT I DIDN'T SEE IN 2006
The Departed. Still on my list of shame.
Borat: Cultural Learnings. I did take care of this one though. Multiple times.
Brick. This would have been on the other list, easily.
The Queen
Half Nelson
United 93. Still haven't watched it.
Death of Mr. Lazarescu
Deliver Us From Evil. So creepy.
Iraq in Fragments
A Scanner Darkly. More shame.
Superman Returns. I was so excited for this and it just doesn't do much for me.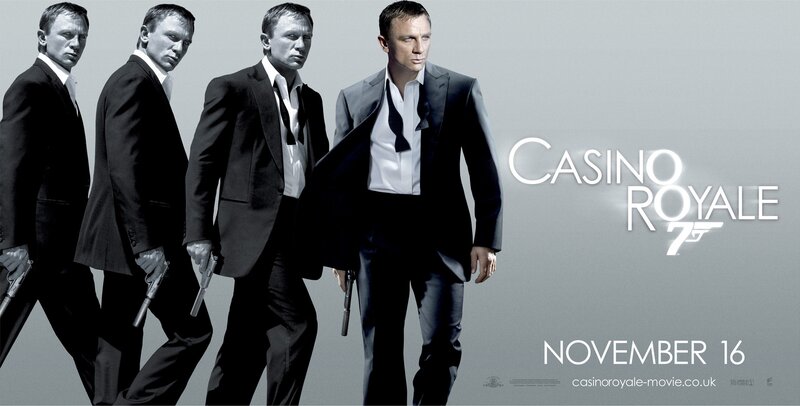 As I ponder this era of films, if I didn't see the film upon initial release to theaters or initial release to DVD, it's likely that I didn't watch the film. There aren't many of films that I missed that I've gone back to watch. I get wrapped up in much older films. I don't see lots of films here that have lasting impact on our current movie culture. In many ways, there's a variety of films across many genres that set the stage for the stellar film years of 2007 and 2008.
Best Movies of 2006 (2022 Rankings)
Pan's Labyrinth. Let's reward originality and creativity.
Flags of Our Fathers / Letters from Iwo Jima. These hit me emotionally more than I expected.
Little Miss Sunshine
Borat: Cultural Leanings . . .
Inland Empire. I need someone to explain it all to me but it's classic Lynch.
This Is England
Casino Royale. Still a really great Bond film.
V For Vendetta. I'm still torn on this film because of my love for the source material.
Brick
Old Joy. This is a film that sometimes I think I made up because no one remembers it.
Best Movies of 2006 I Still Haven't Seen (2022)
The Departed. Should be something I fix this summer.
Children of Men. This list is looking more shameful as I progress.
Bubble. Steven Soderbergh. And I missed it.
This Film Is Not Yet Rated. Documentary.
The Prestige. Completely forgot about this film.
Stranger Than Fiction.
Half Nelson. This is still one that I think about often but never have watched.
Volver. At least I don't think I've watched it. The summary doesn't sound familiar.
The Science of Sleep. Directed by Michel Gondry.
Miami Vice. Because of Mann only.
BEST OF TV 2006
Heroes (NBC) I loved it until I didn't.
Lost (ABC) I was losing interest at this point.
Scrubs (NBC)
The Office (NBC)
Survivor (CBS)
Friday Night Lights (NBC) This new show caught on quick with me.
Prison Break (FOX)
Family Guy (FOX)
The Simpsons (FOX) Sunday night has always been a strong night for television.
Big Brother (CBS)
BEST TV THAT I DON'T WATCH IN 2006
24 (FOX) I had watched S.1, still haven't watched more.
The Wire (HBO) Still haven't finished it.
The Sopranos (HBO) You don't want to know.
Rescue Me (FX)
Smallville (CW) Still somewhere about halfway through.
Veronica Mars (CW)
Ugly Betty (ABC)
Battlestar Galactica (SCI-FI) Still a nope.
House, M.D. (FOX)
Boston Legal (ABC)
It's funny to compare how Network Television heavy that list is still in 2006. I had a DVR in those days but if I didn't record the show, the access to shows on streaming was nil and the access to TV on DVD was always running a year or two behind the current seasons. So it was difficult to catch up to shows that you didn't start from the beginning. I'm going to reorder this list from the perspective of 2022 and how many of these shows played out over the next seasons. This is another list that will reveal some of my most shameful television misses.
BEST OF TV 2006 (2022 Rankings)
The Office (NBC) In the post-Seinfeld world, no other show has affected the landscape of how shows look and feel than this one.
The Shield (FX) This show is not championed enough as being a key in bringing more adult language and situations to cable television.
The IT Crowd (BBC) I wouldn't discover this for another two years.
Lost (ABC) Hard to argue with the influence.
Friday Night Lights (NBC)
Heroes (NBC) Take away the last season and this sets the tone for current superhero shows.
Scrubs (NBC)
Prison Break (FOX) One of my guilty pleasures.
Survivor (CBS) It was in a lull in 2006 but is still one of the best reality shows ever.
The Simpsons (FOX) Much respect.
BEST OF TV 2006 I STILL NOT WATCHED (2022)
The Wire (HBO) I still have most of the seasons to go and I'd probably prefer to just start again from the start when I do it.
Battlestar Galactica (SCI-FI)
The Sopranos (HBO) It's sitting there just waiting for me to jump in. I just haven't had the motivation yet.
Veronica Mars (CW) Few shows have seemed as Scooby-Doo. Maybe I'm wrong but I'm curious.
Dexter (SHO) I'm a few seasons in but never finished.
Deadwood (HBO) Very curious.
Weeds (SHO) Over halfway through and I really enjoy it but never finished.
Frisky Dingo (TOON) A show I really need to finish someday.
Studio 60 on the Sunset Strip (NBC) This passed without even a blink from me.
The West Wing (NBC) Not even one episode.
I was probably watching more TV ads in 2006 than at almost any point. The creativity levels were really starting to peak. Here are a couple that amused me and still do today.
The Mac guy vs. PC guy ads were just starting to ramp up in 2006 and would peak at some point around 2008. This "Virus" ad was one of the first that caught my attention.
Ameriquest had a funny series of ads called "Don't Judge Too Quickly". The airplane one was my favorite.
Sprint made better commercials than they provided customer service (old wounds run deep). This Super Bowl ad with the shocking ending always makes me giggle.
The best music of the year was probably overly influenced by what I would listen to with the children around or in the car. I was consuming more and more on iTunes and on my first iPods at the gym. These weren't streaming days yet and I was still relying on the kindness of friends like Steve Geise to send me tons of new releases. My tastes haven't changed much in the ensuing years but maybe how I view the releases have evolved.
BEST ALBUMS OF 2006 (2006)
Gnarls Barkley St. Elsewhere: I consumed this funk pop over and over that year.
Johnny Cash American V: A Hundred Highways Bittersweet and haunting.
Ghostface Killah Fishscale
Tom Petty Highway Companion: Some of his best lyrics.
Paul Simon Surprise
TV on the Radio Return to Cookie Mountain
Arctic Monkeys Whatever People Say I Am, That's What I'm Not: Guilty pleasure
Prince 3121: This should be higher.
Neil Young Living With War
India Arie Testimony: Vol. 1, Life & Relationship
BEST ALBUMS OF 2006 (2022)
Ghostface Killah Fishscale: Talent rises to the top. This album has stayed consistently on my playlists.
Amy Winehouse Back to Black: Another release that has aged well.
Prince 3121
J. Dilla Donuts
The Roots Game Theory. This has aged really well.
TV on the Radio Return to Cookie Mountain
Johnny Cash American V: A Hundred Highways
Lupe Fiasco Food & Liquor
Girl Talk Night Ripper: This is brilliant.
Lily Allen Alright, Still
My Best Of entries are never just that simple. I have multiple ancillary lists that are all over the board based upon projects and interests I have going on those years. The same was happening in 2006. Here are a few items that caught my interest.
Top Played Artists on Our Household iTunes in 2006: #1 – James Blunt, #2 – John Mayer and #3 – Black Eyed Peas.
Top Songs From 1980 Listened to in 2006: #1 – Bob Marley "Three Little Birds", #2 – Bob Seger "You'll Accompany Me" and #3 – Clint Eastwood "Beers To You".
Top Songs From 1981 Listened to in 2006: #1 – Al Jarreau 'We're In This Love Together", #2 – Grover Washington, Jr. "Just the Two of Us", #3 – Duran Duran "Planet Earth"
Best Movies From 1981 Watched in 2006: #1 – Raiders of the Lost Ark, #2 – Superman II, #3 – Cannonball Run
Most Missed of 2006: #1 – James Brown, #2 – Bo Schembechler, #3 – Robert Altman
Best Comic Books of 2006: #1 – New Avengers (Marvel), #2 – Ex Machina (Wildstorm), #3 – Justice (DC) Alex Ross.
Next week we return to our regularly scheduled Couch Hole.
"I've seen you smilin' in the summer sun
I've seen your long hair flyin' when you run
I've made my mind up that it's meant to be
Someday lady you'll accomp'ny me" – Bob Seger
Stay hard. Thanks for hanging here with me in the Couch Hole.
sb