Pop Culture Ephemera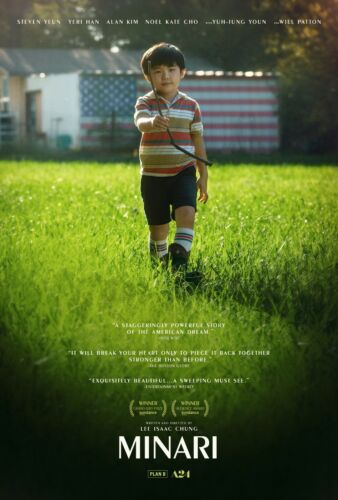 Minari (2020) (Directed by Lee Isaac Chung): "Getting hurt is all part of growing up." – Soonja. In the early 1980s, Korean-American Jacob Yi (Steven Yeun) moves his family from California to rural Arkansas to start a small farm. His wife, Monica (Yeri Han), and children, David (Alan Kim) and Anne (Noel Cho), are having a harder time adjusting to the new surroundings. The arrival of Monica's mother, Soonja (Youn Yuh-jung), changes the way the family looks at work and their faith. This doesn't end up being the typical "immigrant out of place" story. The struggles of the Yi family are that of all American families trying to figure out how to handle aging family members, children with health problems, and differing goals between couples. The little moments like "Should we go to church? And what church should we attend?" that address ideas of assimilation versus culture are poignant and relatable. Beautifully filmed and acted, this isn't a flashy film but one that sticks with you.
Beef – "The Birds Don't Sing, They Screech in Pain" (S.1 E.1) (NETFLIX) (2023): "Oh, I'm going to whoop your effing . . . " – Danny. When the title of your episode is taken from Burden of Dreams (1982) (a Werner Herzog documentary), I already have the disposition to like your show. There's a road rage incident outside of a big box retail store between Danny (Steven Yeun) and Amy (Ali Wong) to start the show. Danny is a struggling contractor and Amy is small business owner trying to sell her business. Both have sadness and anger below their surface lives. The first episode of a ten episode season is just to set the story into motion. We learn that each character has frustrations that lead to inappropriate behavior when they are alone. The end of the episode shows off how the dark humor of this series will dominate the stories as the two are brought together. Much like Dead To Me, Netflix needs these darker comedies to offset the dramas that dominate their service.
Dolly Parton – "Shine" (2001) (from Little Sparrow): "Give me a word / Give me a sign." The original version of "Shine" written and performed by Collective Soul in 1993 was so iconic of the time that it serves as a shorthand these days for a movie or show being set in that era. The song lyrics seemed to be about God, so much so that the band was accused of being a Christian band, a designation that they couldn't seem to shake despite denials. The song won a Billboard Award. Fast forward eight years and Dolly Parton leans into the gospel aspects of the song, records it with Nickel Creek, and wins a Grammy Award. I like both versions of the song for each era. This 2001 version feels like that era where country music was quickly expanding as they embraced songs from other genres.
Alfred Hitchcock Presents – "Maria" (S.7 E.3) (NBC) (1961): Carnival worker Leo (Norman Lloyd) buys a chimp when he's drunk one night. He and his outraged wife, Carol (Nita Talbot), are shocked to find that the chimp is a small woman named Maria. The act is that Maria as the chimp can draw what she sees. It starts to go wrong when Leo sees a picture of his wife and El Magnifico, the lion tamer, kissing each other as drawn by the chimp. The chimp costume certainly shouldn't fool anyone but the creepy factor is huge with this episode because of it. The twist is pretty typical for this show but the carnival setting lends itself to some lovely visuals.
M3GAN (2022) (Directed by Gerard Johnstone): "You gave me an algorithm and then left me to work everything out on my own!" – M3GAN. A robotics engineer named Gemma (Allison Williams of Girls) finds herself taking care of her orphaned niece, Cady (Violet McGraw). Unsure how to be a parent and having troubles at work, Gemma pairs her prototype AI robot doll, M3GAN, with Cady. Initially successful, you can imagine that I wouldn't be writing about the film if everything was both hunky and dory. It's hard to make a doll film in the post-Chucky and post-Annabelle world where the viewer isn't just waiting for the first moments of bad doll behavior. Written by James Wan, I can see why this might garner some following and I can see why it might be shunned by horror fans at the same time. From the initial Furby-ish commercials to the stereotypical neighbor and boss, this movie lets you know it knows it is ridiculous. That's a fine line for me. I like humor and horror mixtures but I also appreciate a more clever mixture. The best scene is in the forest on the school trip and mostly because it surprises us with M3GAN's crazy possibilities. There is only lip service given to dealing with the grief of losing parents (and a sister). M3GAN as a metaphor for those emotions of loss could have been incorporated without significantly changing the humor or the horror of the film. I didn't even need Google to know there's going to be a sequel. We can only be two films away from a crossover with Chucky.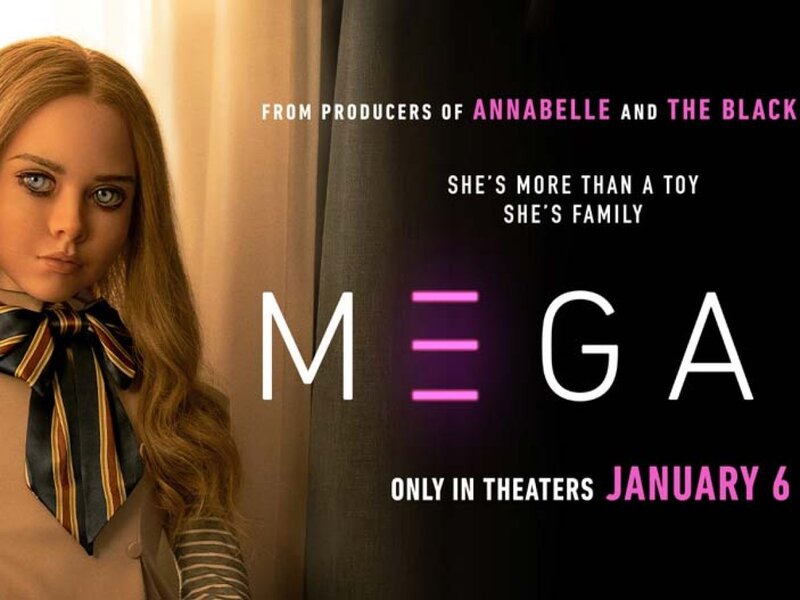 Best of the Rest
"You're doing TV wrong." I don't watch Succession but I think I get the jist of it. I do want to watch the show eventually. I hope this commercial isn't another spoiler.
I am looking forward to Welcome to Derry (HBO) as much as any upcoming new series this year. The tales of Derry set in the world of the film versions of Stephen King's IT, there won't be Skarsgard Pennywise but the past "incarnations" of the evil clown don't have to be replicas of the more modern version. Of the introduced casting, I'm most intrigued by veteran actor James Remar, who was Ajax in The Warriors (1979) and had roles in Dexter and 48 Hrs.
I knew that a headline of Snake On A Plane! was either going to be Australia or South Africa. It turned out to be the latter. The venomous cobra had stowed itself under a seat instead of the overhead baggage, luckily. I had to look away from the story after reading "he felt something cold slide across his lower back." What is missing is the actual quote of his first call to Air Traffic Control where I hope he said "I have a m-f snake on my m-f plane."
Sunday Morning Tuneage Flashback
On the Sunday Morning Tuneage of 11/4/2007, football season and fall baseball season were winding down and basketball season (with me coaching both boys) was on the horizon. Christian and I were making it through a season of Madden 2007 Football on our GameCube. I ranked Rushmore (1998) as my #98 Favorite Film of All-Time. I didn't have the full complement of Wes Anderson films at that time for comparison. It's not a terrible ranking for the film, but in fairness there would be a couple Wes Anderson films ranked higher than this now and that might drive this one just out of the Top 100. I was excited for a double shot of Prison Break and I thought that Bionic Woman was becoming my best show of the season. I wondered if I should be watching Nip/Tuck and I wanted to watch another documentary this week.

American Masters: Carol Burnett – A Woman of Character (S.21 E.9) (PBS) (2007): I watch just about every other documentary series on PBS, but for some reason I don't have any consistency with American Masters. Last week with Charles Schulz and this week with Carol Burnett, I see that I'm missing out. There aren't many revelations here that I haven't heard before (confession, I have seen her in person tell most of these stories) but the footage, especially the early stuff, is great. It's not that she isn't appreciated but I don't know that we give her show enough credit for trailblazing the type of comedy that is still happening on late night today. I like that this was more straight-up biography than trying to slip in some symbolic meaning like the Schulz one last week.
1973 in Review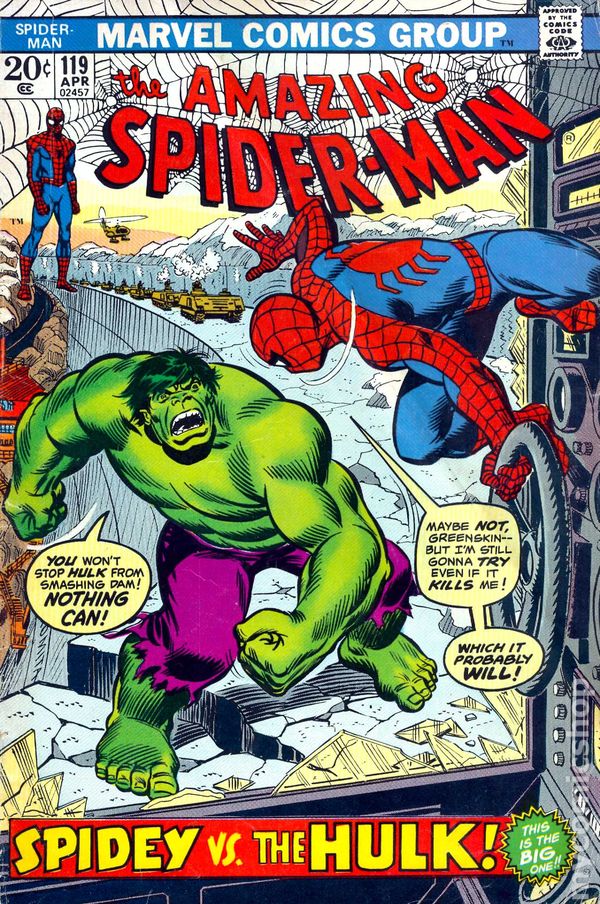 April – Amazing Spider-Man #119 contains "The Gentleman's Name Is . . . Hulk!" with a script by Gerry Conway and art by John Romita.
April – grocery prices are on the rise because of inflation. Eggs $0.73/doz, Chicken $0.63/lb and Hamburger $0.99/lb.
April – The current Woman's Day magazine offers a look at the most current home office designs.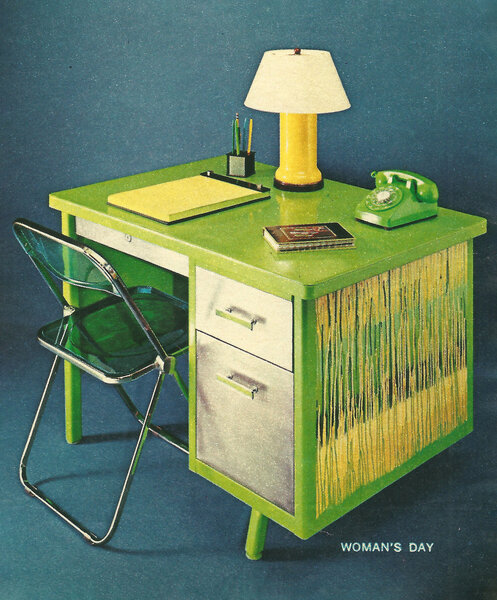 What the Hell Did I Put in My Mouth?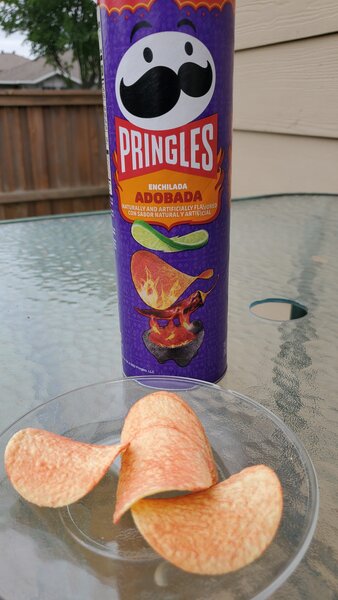 Pringles: Enchilada Adobada
Without much explanation on the can, I'm assuming these should taste like a spicy enchilada that has had lime squeezed on top? I enjoy them in short bursts. They don't fall into the overly spicy family that you might guess by the flames on the chips. The lime aftertaste is very subtle and maybe that takes away some of the chili flavor. After complaining how some of their previous releases were too spicy to be enjoyable, I'm saying here that I need a little more enchilada chili flavor.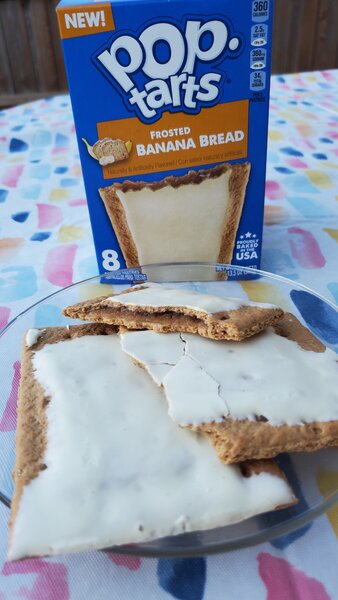 Pop-Tarts: Frosted Banana Bread
Pretty good combo from our friends at Pop-Tarts. I'm in the "toasted" category for actual banana bread and I think these pastries are best when toasted also. The cinnamon taste is much more noticeable when toasted. The frosting is like a icing on the bread but I can see where it might be too sweet for some. The banana taste is accurate for a bread, more of a blended than fresh banana taste. I might not be a frequent buyer of these but it's a box that won't go to waste.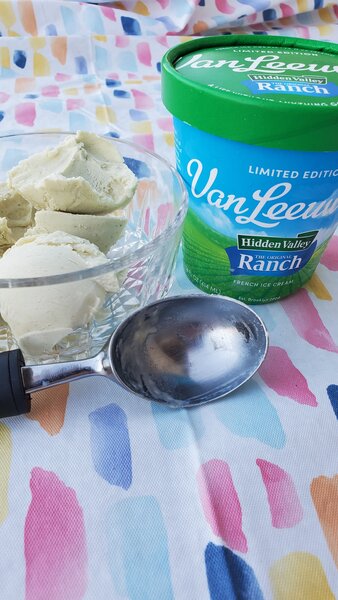 VanLeeuwen: Hidden Valley Ranch Ice Cream
Let's get this out of the way first so there can be no mistaking it. This is the worst tasting food that I have ever purchased for the Couch Hole. Worse than those Taco Truck Jelly Beans. Much worse than the Dr. Pepper Peeps. Why so bad? Because it tastes exactly like what they say it will. No hint of ranch dressing but straight-up cold ranch dressing flavor here. It's not even just French vanilla with a ranch aftertaste. Before I toss it, I'm going to try it with some french fries or pretzels. I support ridiculous flavors and I'll keep buying them, but wow, I'm floored by how terrible this one made me feel.
"Love is in the water
Love is in the air
Show me where to go
And tell me will love be there, will love be there" – Collective Soul
Stay Hard.