Previously on FTCH, we doubled up on Vaughn and King, and we went lime, chocolate, strawberry, blueberry, and frosted sugar cookie along the way. This week, fall really seems to be on the near horizon with decent morning temps even if the days are still so warm. We spend some time with the Sixties this week before hopping on the train for some fall flavors of our favorite snacks. And remember, if you lived here at FTCH, you'd be home now.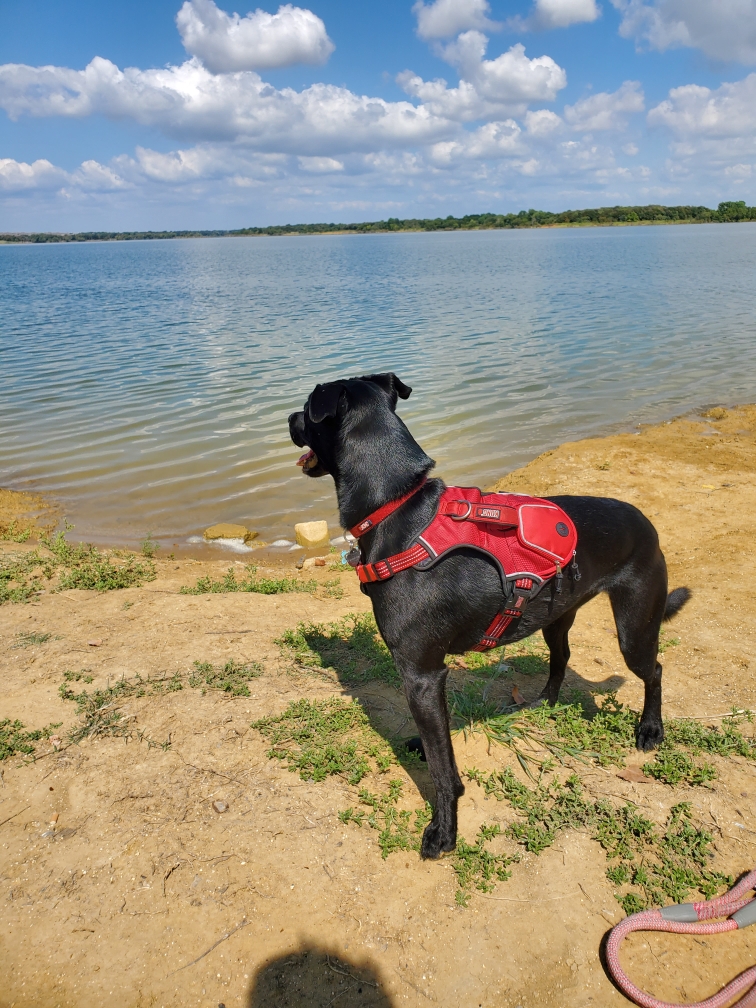 Are there more Pop Tarts out there, Dad?
Pop Culture Ephemera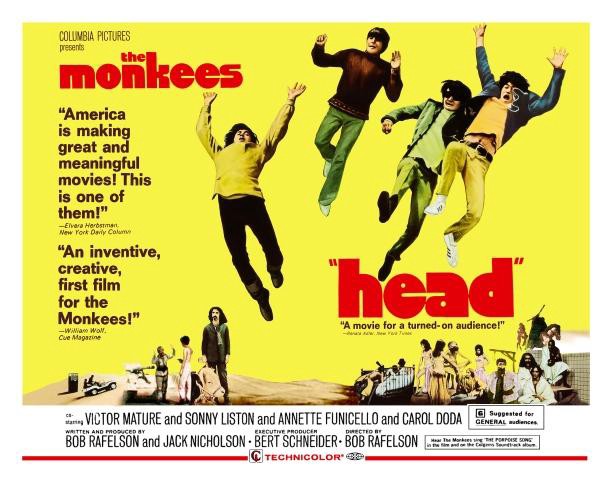 Head (1968) (Directed by Bob Rafelson): "Wait. Don't move! I wanna forget you just as you are!" – Davy Jones. The Monkees film starts in Beatles movie fashion with Micky Dolenz running in slow motion through a ribbon cutting and then jumping into the water symbolizing the death of that genre to the tune of maybe my favorite Monkees' song "Porpoise Song." As the lyrics chant over and over, "Goodbye, goodbye, goodbye.", Micky is swimming with mermaids and the most psychedelic film of the 1960s is underway. In 1968, the Monkees TV show had ended and the world was in tumult that summer and fall. The group had transitioned away from their pop beginnings to playing their own instruments and writing their own songs. This film wasn't my favorite in my youth because it wasn't the show. Now I see all the Fourth Wall-breaking and irreverent humor for what it is, groundbreaking. The film is a series of semi-connected vignettes that parody almost every genre. What is really evident now as an adult is how they are always being put down ("God's gifts to the eight-year-olds"), chased, beat up (by Sonny Liston no less) and imprisoned. Their fight to escape their image reflects those feelings of the counterculture of the day trying to fight the preconceived notions of Hollywood and the older generation. This film deserves a second shot if you haven't seen it in a long time. It's not the TV show and it's brilliant.
Mystery Science Theater 3000 – "The Giant Gila Monster (1959)" (S.4 E.2) (1992) The show is four years on since the KTMA years in Minneapolis. The format, voices, and humor has fallen into a comfort level that will remain constant for the Joel Hodgson years and only slightly change during the Mike Nelson years. The film, The Giant Gila Monster, is one that almost riffs itself, it's so low-budget bad. A 30 ft. lizard terrorizes sex-crazed teenagers (convincingly acted by people in their thirties) in a small town. This is one of the most consistent shows ever created for levels of humor per episode. There is becoming a cadre of repeated references across episodes that reward frequent viewers. Among my favorite are the Palmolive's Madge quote, "You're soaking in it." and "New York City? Get the rope!" from the Pace ads in the 1980s. This is a good riff for newbies. "Oedipus, put me down. You'll poke your eyes out."
Cat Stevens – "Peace Train" (1971) (from Teaser and the Firecat) Fifty years later, the song has taken on a new life but not any less applicable. Yusuf/Cat Stevens recorded the song again with an international cast including Keb' Mo', James "Hutch" Hutchinson, and performers from around the world. Yusuf performs on his piano from Istanbul and sounds strong still. (See that version at the end of this episode) This series that includes international artists first came across my world when Ringo Starr assisted Robbie Robertson and friends with a spirited cover of "The Weight". The claim that this song was written when Cat was on a train thinking about Alfred Hitchcock films feels like a random detail aimed at me. I don't find any Hitch influence in the final product. The lyrics still hold hope today and I'm on the fence about Yusuf and the Rushdie conflict. I'm able to sit here this morning and just ride the train.
This week in "you wouldn't have guessed this Scooby-Doo trivia" includes two names that many people don't associate with the franchise. Fans of James Gunn often hopped onboard his train with Guardians of the Galaxy and Suicide Squad. Gunn is the screenwriter of the Scooby-Doo (2002) and Scooby-Doo 2: Monsters Unleashed (2004) live action films. I had that bit of knowledge in the back of my head. But imagine my surprise to read the headline "Bill Murray Is A Huge Scooby-Doo 2: Monsters Unleashed Fan" Now, this is hard to source since it is prefaced with "James Gunn says" and it happened "at a party." While the second film has aged better than the first one (and both are better than the recent Scoob!), it's hard to imagine Murray waxing poetically about the film. The man who is in Wes Anderson films and once starred in Ghostbusters and Groundhog Day is a person who I trust but I'd like to get some more clarification on this. I might need to revisit these films too.
The Night Gallery – "Pilot" (NBC) (11/8/69): Five years after The Twilight Zone was canceled, Rod Serling returned to anthology television with a more horror- and macabre-oriented series. The Night Gallery would be introduced by Serling and tell the story behind paintings in his supernatural gallery. The series is one of my favorites, despite not having watched all of the seasons, but I will admit that it's uneven at best as it progresses. The high point being this three-story pilot episode. "Good evening, and welcome to the showing of three paintings." – Rod Serling

"The Cemetery" (Directed by Boris Sagal) – A beautifully filmed mental battle between Roddy McDowell and Ossie Davis feels like The Twilight Zone meets Alfred Hitchcock Presents. Multiple twists over a dead body and McDowell as a despicable villain makes this one of the best thirty minutes of any anthology episode of this type.
"Eyes" (Directed by Steven Spielberg) – Steven has the luck of three great actors in his directing debut. The story is of a blind Joan Crawford blackmailing her doctor, Barry Sullivan, to transplant the optic nerve of Tom Bosley to restore her vision. The story has some themes that Steven will later explore in Amazing Stories and in some of his horror scripts. There are a few plot holes that feel overlooked as he tries to wrap up the story in thirty minutes. There is no doubt though of his directing chops and the actors are really let loose to shine.
"The Escape Route" (Directed by Barry Shear) – Richard Kiley stars as Joseph Strobe, a former Nazi on the run and Bleum (Sam Jaffe), a Holocaust survivor, who discovers his identity. The story has been done multiple times and it's a bit moralizing here. I can detect some of the influences that King would take into his Apt Pupil a decade later. It's the weakest of the bunch. I think it's just missing the fun dark twists of the previous stories but this is a very worthy addition to your Halloween season viewing.
Best of the Rest
Last week's story about zebras roaming the Wisconsin and Maryland countryside seems quaint compared to a matchup on the level of Gamera vs. Zigra. Grizzly vs. Mountain Goat seemed a bit one-sided on paper. As it played out in British Columbia a few weeks ago, the mountain goat came out the victor. Uniquely spelled, Steeve Cote, Quebec Laval University professor, has been waiting his whole career to be quoted when he said, "All they need is a good horn jab well placed." The best reason to click through to this article is that mountain goat pictured at the end. They do not disclaimer that he isn't the perp and the look on his face tell you to "mess around and find out."
Even though I read science-related news and articles at least daily, I don't feel like I'm much more than a novice at most scientific concepts. You don't have to be around me long to understand that much of my fascination is space related. For years, I've tried to get my head wrapped around dark matter vs. normal matter. But while conceptually I get that we know there's something there that we can't see or measure, it's hard for a visual guy like me to put it into perspective. I see a story come out that says "Dark energy might be neither particle nor field" and even my tiny brain understands the immenseness of that statement. What we can see and measure makes up about 5% of the Universe. There are other forms of mass that we call dark matter that are about 27%. That leaves this cool thing called dark energy that's 68% of the Universe and might not follow any of our current laws of particles and fields. I sometimes let my nerd side take over here but this is really fun stuff.
I was really taken by the Inspiration4 mission last week and the fundraising of $210 million for St. Jude Children's Research Hospital was just a nice frosting on the Dragon. The mission was a success on all fronts including the first Black woman to serve as a pilot and first person with a prosthesis in space. It even gave Musk a chance to renew his bit that he started back when Biden met with Putin – "He's still sleeping." Elon does love the "Sleepy Joe" references until Biden hits him with his next tax bill.
Sunday Morning Tuneage Flashback
On the Sunday Morning Tuneage of 5/7/2006, Christian (son, 9) and I were coming off the high of a secnd-place finish in the town's Salsa Competition. The TV getting my love was Lost, Scrubs, Invasion, and Prison Break. The tuneage catching my attention was the second album by Eagles of Death Metal. I haven't listened to them much recently They certainly fell off the pop culture radar after the Bataclan massacre. I listened to Death By Sexy (2006) to see how it has aged since I put them above the then popular Garage Sound and I was entertained by their "drum-driven rock".

What is essentially a Queens of the Stone Age offshoot band, Eagles of Death Metal have what also sounds like a joke band name. But they produce some quality rock that isn't really in the vein of Garage Rock that I had pegged them in 2006. The lyrics are definitely tongue-in-cheek but the music isn't novelty. Songs like "I Live To Move", "I Gotta Feeling," and "Cherry Cola" rock more like a hybrid of T-Rex and the Rolling Stones. Not much that I'd go back and listen to regularly now but I can see where at the time they were fascinating. For a flashback, break out your Zune and take another listen.
What the Hell Did I Put In My Mouth?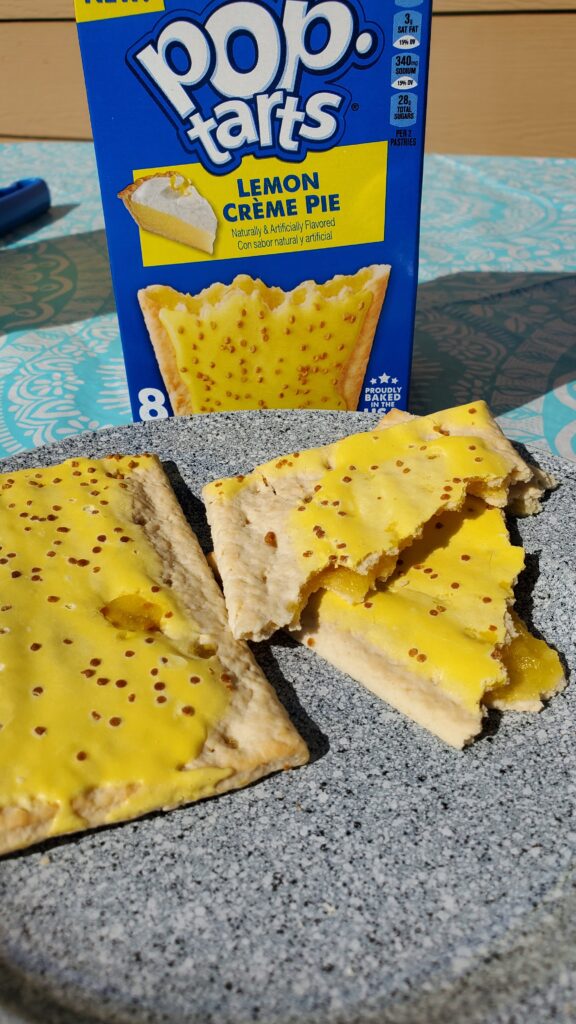 Pop-Tarts: Lemon Creme Pie
Before we completely say good-bye to summer, there's a taste of warm days and sunny picnics on the shelves still. I'm a big fan of citrus creme pies – especially a good key lime or lemon. This isn't a bad pastry but there's something missing that I can't put my finger on here. I ate these toasted to try to replicate a fresh pie but maybe they would have been better at room temperature. (Can someone tell me when they started to suggest "frozen" as a serving option on the packages?) The crust and frosting is really good but the jelly filling doesn't carry much other than a subtle lemon flavor. There needed to be something more to give it the lemon creme flavor of the pie. All in all, not too bad for a lemon Pop-Tart but it doesn't live up to the promise of a good cream pie.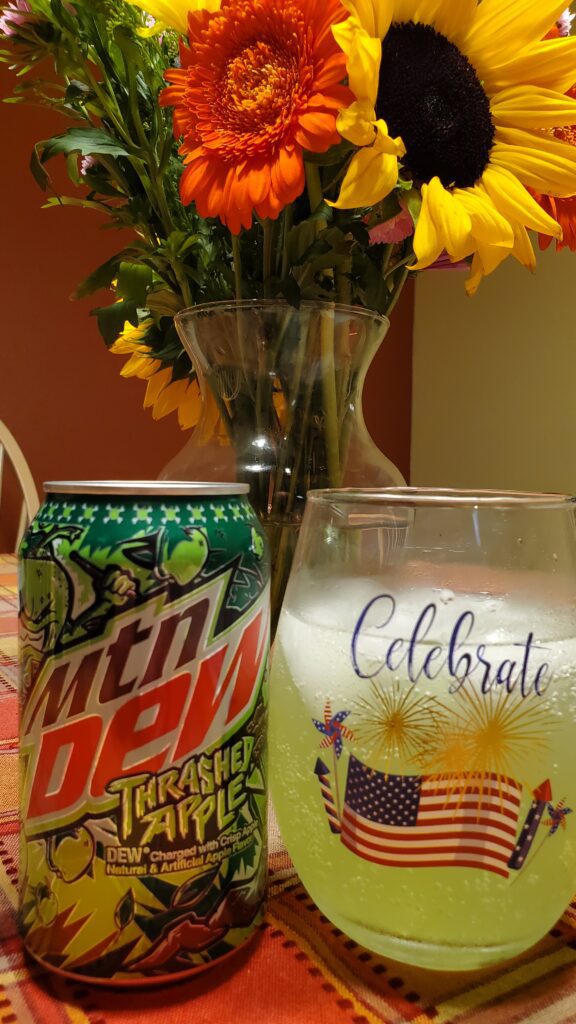 Mountain Dew: Thrashed Apple
The newest flavor found at Kroger is described on the can a "crisp apple". The can is a slightly darker shade of green than the normal Mountain Dew product. I was definitely prepared for a sour apple Jolly Rancher level of sugar attack. What I got was a really pleasant apple flavor that is offset nicely with the citrus taste of Mountain Dew. It's somewhere in-between apple juice and sour apple candy and didn't feel like I got a cavity drinking it. As an aside, this might make a very pleasant mixer for whiskey or vodka during the fall football season.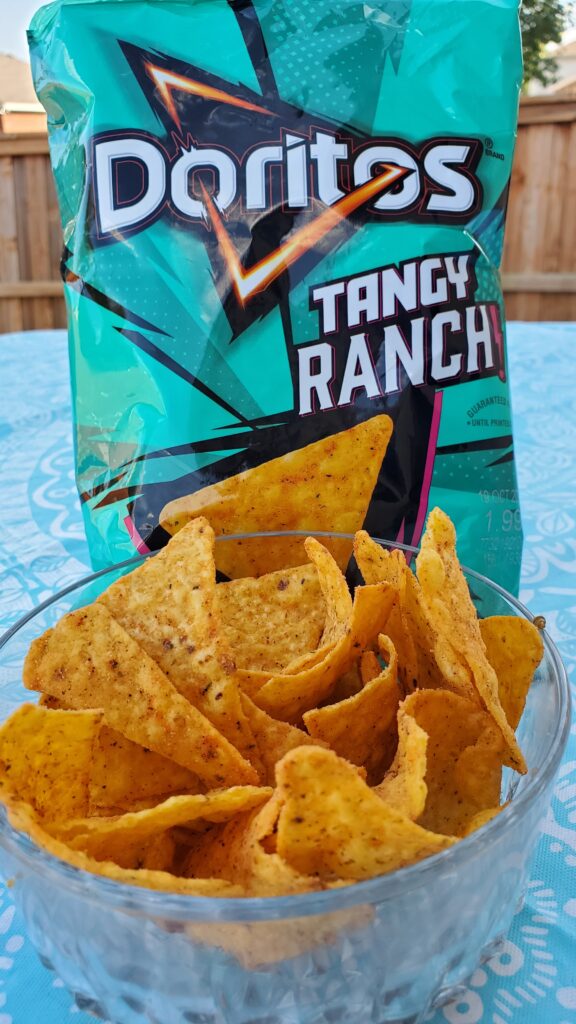 Doritos Tangy Ranch
Just don't. I'm confused by the title of these as to what flavor I actually expected. I've been on the lookout for the return of the classic Sour Cream and Onion Doritos and these are a bit in that direction but definitely not them. Is this a newer take on the Cool(er) Ranch Doritos? Not exactly either. At first, I thought that the "tangy" would have some barbeque sauce flavor. That was wrong too. My best conclusion is that these are Cool Ranch with an extra run through for a crap ton of garlic and the obvious pepper that you can see on them. The effect should be better than it ends up being. Don't encourage them to make more of these until we can truly get back the Sour Cream and Onion Doritos (one of a very very few sour cream applications that I will accept).

"Now I've been happy lately
Thinking about the good things to come
And I believe it could be
Something good has begun." – Cat Stevens
Stay Hard.
sb