Pop Culture Ephemera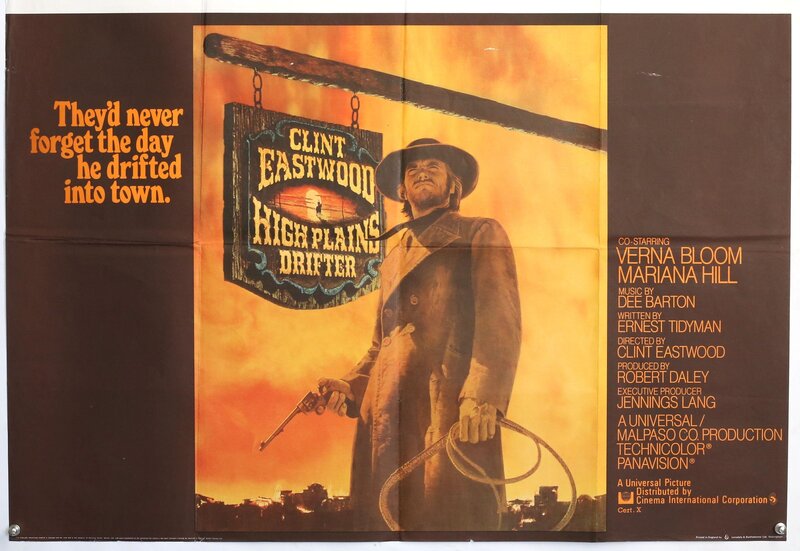 High Plains Drifter (1973) (Directed by Clint Eastwood): "It's what people know about themselves inside that makes 'em afraid." – The Stranger. Clint Eastwood was in 14 films between A Fistful of Dollars (1964) and High Plains Drifter. I can see elements of almost ever single one of those films here in Clint's second directorial effort. Critics will criticize him for that but I find it's exactly what makes me love the film. It's a distant cousin of the Leone Spaghetti Westerns. Ernest Tidyman (Shaft, The French Connection) has a good ear for the type of dialog that plays to Eastwood's strengths. Combining the stylish art of Leone with the straightforward literal style of Don Siegel works to present this ghost story. The Stranger arrives in Lago for what feels like a remake of the Leone films right down to the coffin-making undertaker. It quickly evolves into a ghost/revenge story with lots of killings. There's plenty of allegory for those who want to see it but there's also just a comfort for Clint back on the horse with a gun in his hand. He'll keep returning to the Western over his career and it always feels like he's at his most creative.
Yellowjackets – "Pilot" (S.1 E.1) (SHOWTIME) (2021): "Keep the tiger in its cage" – Natalie. This first episode has lots of exposition ground to cover without giving away too much for the remainder of the season. We start with a woman running in the snow who falls into a trap and dies. The rest of the episode flips back and forth between 1996 and 2021. The dual timelines, the plane crash, and what appears to be cannibalism gives off some serious Lost vibes with a heavy dose of Lord of the Flies. I've heard great things about the series but have avoided anything with plot details. The present timeline cast is Melanie Lynskey, Juliette Lewis, and Christina Ricci. The younger cast is required to do most of the serious acting in this episode and they do a good job of not being being too modern or too "TV show" teenagers. The soundtrack is a good sampling of songs from that era but might lean too hard on songs from the early '90s that doesn't ring true for high school students of 1996 but I'd be curious to hear from one of those. It definitely grabbed my attention. The creators have my confidence that I'm in good hands here and I'm excited to watch more.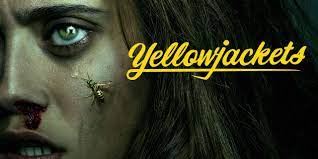 Paloma Faith – "Never Tear Us Apart" (2012) (from Fall To Grace): "Don't have to tell you / I love your precious heart." – Farriss/Hutchence. This INXS song has been covered more times that I can probably count. Is this the best? I could make that argument. It appeared incongruently on Yellowjackets as the girls prepared for the plane trip in 1996. Neither a 1996 nor 2021 song, it still fit the moment. This is only the second best use of the song. The final scene in Umbrella Academy (S.1 E.2) is the best. Both shows have in common a good ear for when and where to put songs that become memorable. The song's lyrics about that rare instant connection with someone that lasts forever have served as relationship shortcuts with the original INXS version showing up in such varied sources as Donnie Darko and Euphoria.
Avatar (2009) (Directed by James Cameron): "Everything is backwards now, like out there is the true world, and in here is the dream." – Jake. I like to wait until a movie has made at least $2 billion to give it a good once over. I didn't get out to see this in 2009 and somehow 13 years passed without me feeling that I was missing anything important. I like James Cameron films. But I'm not sure what I just watched. Lord of the Rings was a live-action series with some obviously animated scenes. This was an animated film with some live-action scenes inserted. Is it beautiful? Yes. Is it impressive? Maybe less so after I've watched half of the Avengers decimated in the blink of an eye. This felt like a tribute to what Cameron loves about Spielberg films. There are more than a few scenes that are lifted from Jurassic Park. Don't take from this that I didn't enjoy watching the film. But I'm not describing the plot here because it's really secondary to the creation of the film. There's an anti-war and a pro-Green message but they are both wrapped in imagery of colonialism that might undercut those messages in the long run. I'm happy to have the language of having watched the film but it's also an illustration of how you have to keep elevating your talent because what was groundbreaking in 2009 has lost full impact in 2023.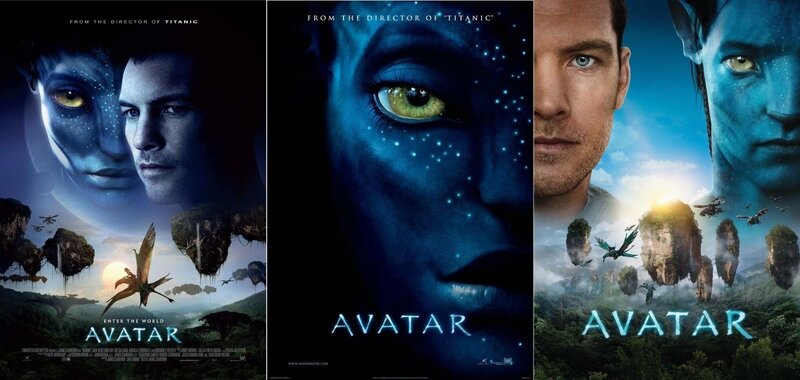 Avatar: The Way of Water (2023) (Directed by James Cameron): "I need you with me. And I need you to be strong. Right now. Strong heart." – Jake. This film passed $2 billion a week ago, so I headed out to theaters this week. Returning to Pandora, director Cameron has had enough of the forest and takes the film to the ocean where he's most comfortable. The film takes on elements of Moby Dick (not a film he has tackled yet), Aliens, and Titanic because there must have been some models and computer footage leftover. The lesson of the film is that after all that peace and love of the first film, sometimes you have to pick up a gun and shoot the bad guys. The world was built in the first film and luckily, we don't have to go through that again. Mostly. We spend some quality time getting to know the "not Maori" folks and their oceanside culture. The film is padded with at least an hour too much of battle time but it's ultimately the feeling of passing the franchise to the next generation. I don't doubt that Jake will still have a place in the sequels to come but we've moved on by the time the final water credits roll. Much like the first film, the visuals are held in such high regard that Cameron could have used a second set of eyes on the dialog. This film ranks better than the first for me mostly because I saw it in theaters and could appreciate that the director really loves what he's doing.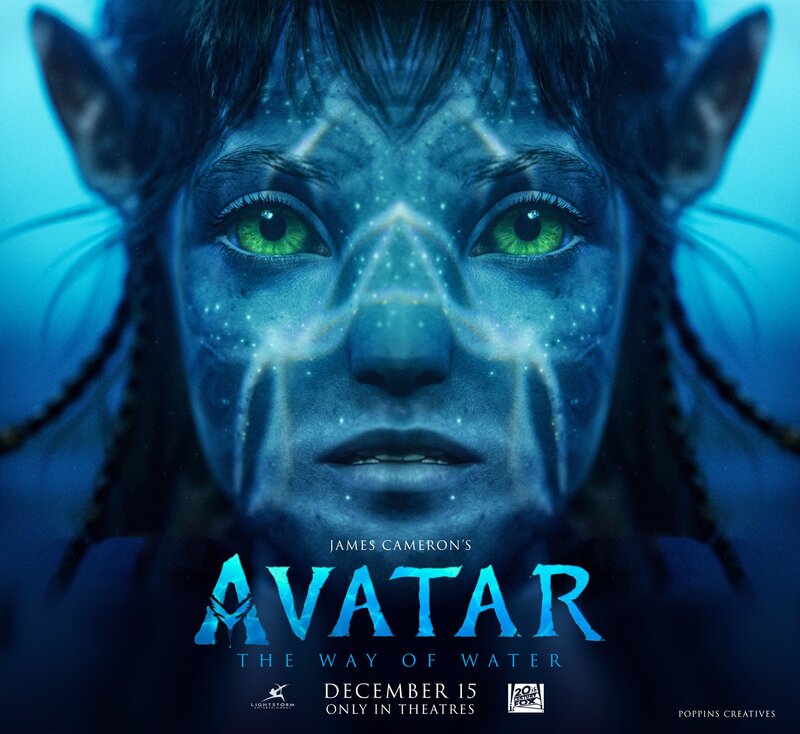 Best of the Rest
"What's important doesn't change." The first time I heard the Paloma Faith cover of the INXS song was in this John Lewis ad from 2012. I've always admired their ads, especially at Christmas. This captures the concept of two people from two different worlds finding their connection. The 1:30 love story captures my heart.
I'm going to go on record ahead of time as saying that "Breaking Good" will be my favorite ad of the day. It would be easy to rip Vince for directing Walt, Jesse, and Tuco in an add for salty snacks. But it totally works because he respects the filmmaking aspect of the work.
This Budweiser ad might be the least impressive in decades. More Clydesdales. More dogs. It's an ad for the Six Degrees of Separation and you can't even get Kevin Bacon's face at the end? Shameful.
Sunday Morning Tuneage Flashback
On the Sunday Morning Tuneage of 9/2/2007, this was my first free weekend since July from work. But it was now time for both boys to have Saturday football and Sunday baseball games. Owen Wilson had attempted suicide and it's funny how that has disappeared off pop culture radar. My #77 favorite film was Glengarry Glen Ross (1992). The Mamet script is amazing. The Pacino and Lemmon acting is a lesson for all performers. That's a fair ranking for the film. I was excited that Mythbusters was addressing Mentos and Diet Coke. I was just getting into Anthony Bourdain: No Reservations which was in Hong Kong this week. There was a show getting a catch up marathon of its first season that was on my radar.

The Universe (HIST) "The Secrets of the Sun" (S.1 E.1) (2007): Talk about a "You didn't watch this?" series. I read books, watch documentaries, and have watched similar shows but other than some brief encounters, I have missed this series in total. Eighty-eight episodes of my favorite scientific topic. I feared disappointment but watching this episode on the Sun, I wasn't disappointed. The level of science discussion is more than I would expect from a History Channel show. Good computer modeling and talking heads like Neil DeGrasse Tyson add to the production. I might be busy for the next 88 hours.
1973 in Review
January 25. Marvel and DC have an unofficial crossover as writers interact with Marvel or DC characters at the Rutland Halloween Parade. The story plays out in Amazing Adventures #16 (Marvel), Justice League of America #106 (DC), and Thor #207.
February 14. David Bowie collapsed at Madison Square Garden from exhaustion. It was during his encore of "Five Years" and he fell in mid lyric. Shocking way to end a show but it wouldn't end the tour.
February 4. Hagar the Horrible by Dick Browne debuts in newspapers.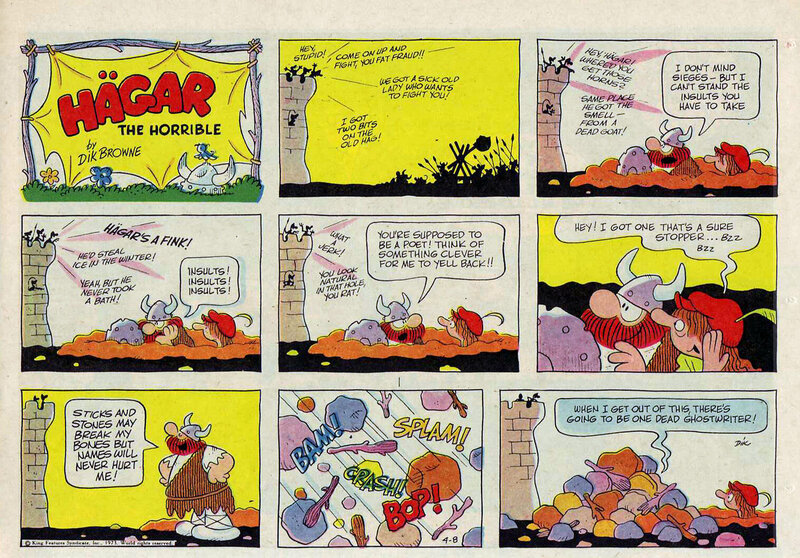 What the Hell Did I Put in My Mouth?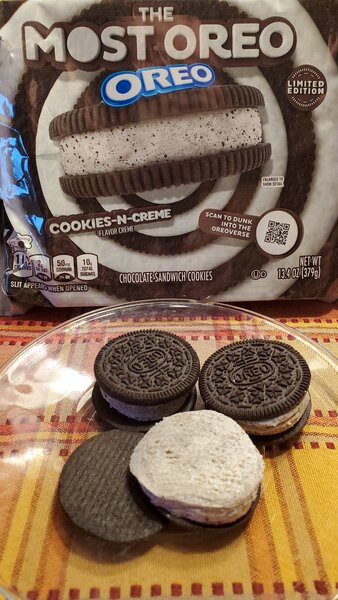 Oreo: The Most Oreo Oreo
They're good. Chopped-up Oreo inside the creme inside an oversized Oreo. There isn't enough extra Oreo in the creme to make a huge difference to the flavor. These are like two Double Stuf cookies shoved together. Until we have the biscuits replaced with creme to make it creme inside of creme with a crushed-up cookie inside, it will be hard to get to the Mostest Oreo. But it won't stop them from trying.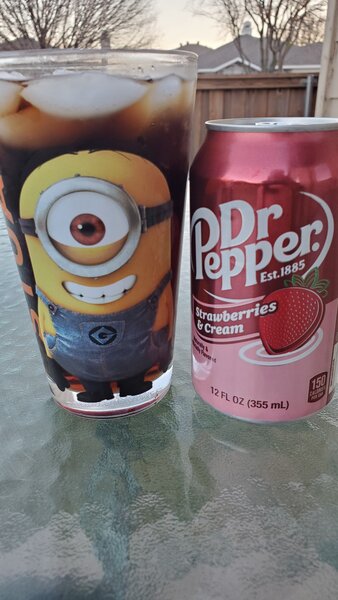 Dr. Pepper: Strawberries & Cream
The 2020 release of Dr. Pepper Cream Soda wasn't a huge success but it was decent. The best Dr. Pepper release of the past decade was Dark Berry. The scent of this soda has a pleasant strawberry flavor but not sickly sweet. It's the same with the taste. It's only a hint of strawberry flavor but still overwhelmingly a Dr. Pepper. I won't go out of my way to track this down after I finish what I purchased. Not bad and not good but at least the Dark Berry changed the basic flavor and made a difference.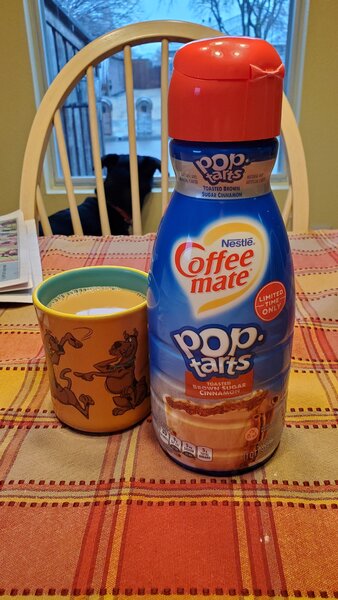 CoffeeMate: Pop-Tarts – Toasted Brown Sugar Cinnamon
In the creamer world, I have always viewed International Delight as the Coke and CoffeeMate as the Pepsi. And I'm a Coke guy. The creamer world has definitely increased their flavor output over the past couple years. I notice a new group of flavors every season. This caught my eye because of the potential for multiple Pop-Tart flavors in the future. It isn't as sweet as I might have initially expected. I caught more of a brown sugar (almost veering into caramel) flavor and little cinnamon. I have messed around a bit and found that a touch of vanilla added to it brings out the "toasted" flavor much better and left me much more satisfied.
"We could live for a thousand years
But if I hurt you
I'd make wine from your tears" – Farriss/Hutchence
Stay Hard.
sb