Previously on FTCH, we had monsters in our cereal, on our cookies, and in the blood that dripped from our house. Vacation is treating me well and hopefully this is an even lighter, more relaxed version of your favorite weekly habit. There's some time travel, some desperation, pumpkin pie, pumpkin spice, and we take you to the grape beyond. And remember, if you call FTCH, please have your credit card ready.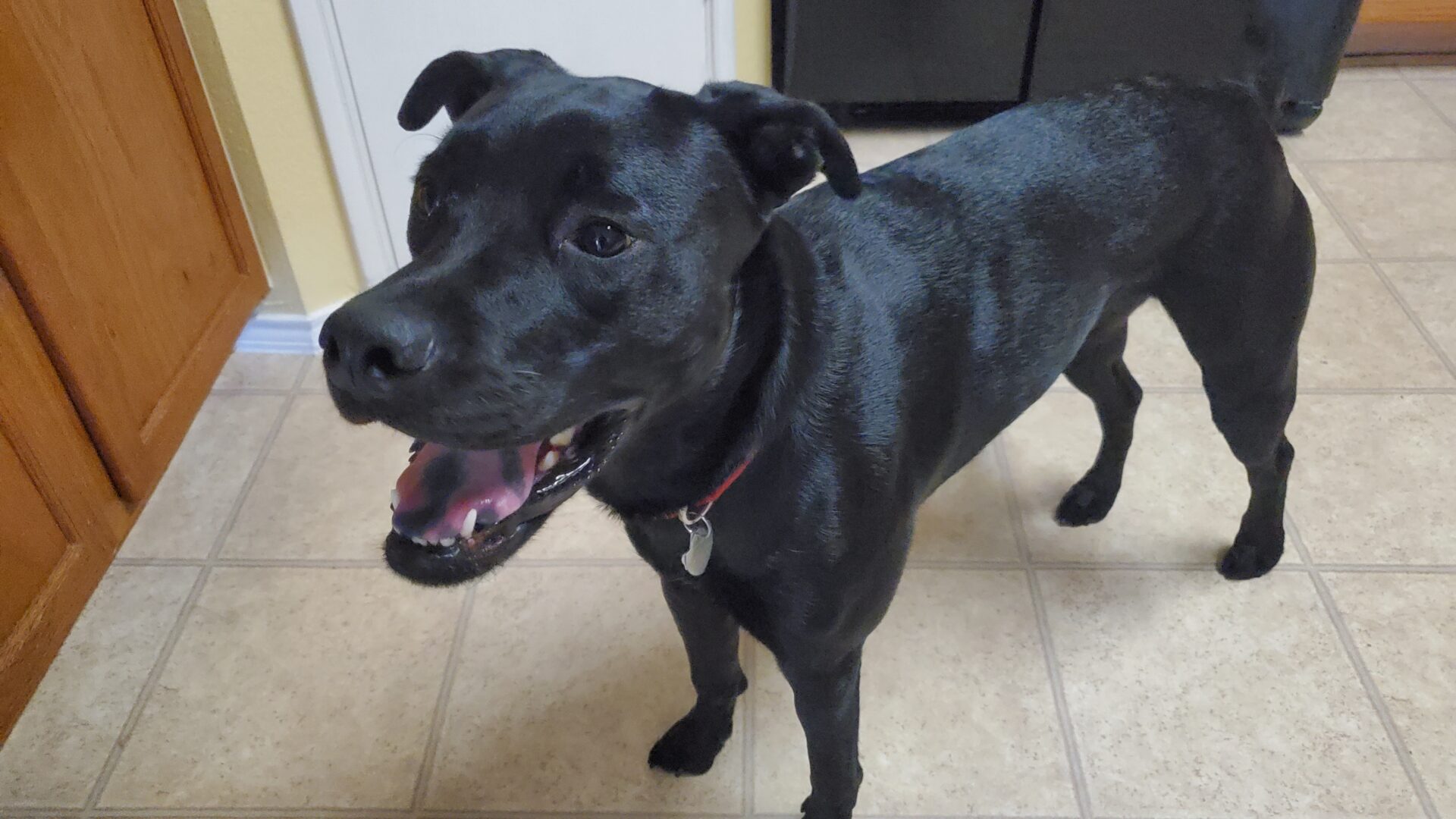 Are my Pop-Tarts toasted yet?
Pop Culture Ephemera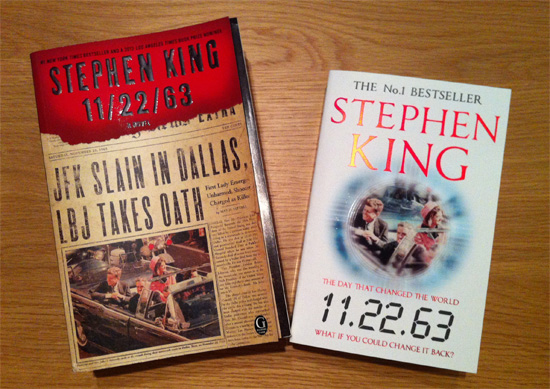 Stephen King – 11/22/63 (2011) (Scribner): "We never know which lives we influence, or when, or why." This 849-page behemoth is going to be hard to summarize in a short paragraph. The obvious short description is that it's a time travel novel where Jake Epping leaves a diner closet in 2011 and ends up back in 1958. The story revolves around Jake's efforts to stop the assassination of JFK on 11/22/63. Like his other long novels, The Stand, IT and Under the Dome, these stories have twists, turns, and side adventures. Jake is one of the most likable main characters in a King story that I've read this year. The research that went into the 1958-1963 era in America really pays off with a believable portrayal of every day life. The past few novels in my Stephen King Project have been long ones and I'm looking forward to some books that don't take two months to read that are coming up. That doesn't mean that this one suffers from much of a lag in pace. King really has a great feel for how to split up the Jake Epping life in the past with the Lee Harvey Oswald assassination. The twist always being to remember that the past is a character too that doesn't want to be changed. "The past is obdurate." I will find time soon to watch the mini-series but I fear failure. Standard adaptations don't understand pacing and I can't believe that a show called "11/22/63" would wait until Season Two to even get to Dallas. You don't have to be a fan of Historical Fiction or Time Travel to enjoy this book. If the Kennedy assassination aspect of this interests you, check out the episode "Profile in Silver" of The Twilight Zone from 1986.
Y: The Last Man – "Weird Al Is Dead" (S.1 E.6) (2021): "Rest in peace, Weird Al." This series has passed the halfway point of the first season and only in the past couple episodes do I feel that the arc is coming into focus. As much as I enjoyed the philosophical elements of the first couple episodes, they really lacked a focus and purpose. This episode slows down just enough for us to feel the frustration and anger of the remaining women. It also draws some lines among the different factions. In that way it reminds me of The Walking Dead the way each group is convinced of their own inherent goodness. This is definitely the best episode of the series so far. The "Karma Police" cover was a perfect choice for that early scene. I think the Yorick and 355 flirtation is just that and I don't see any long term relationship coming of it the way the narrative has been set up (putting aside any inside info from the comic book). The Amazon symbolism that Roxanne mentions fits her character and is one of the few tie-ins to the comic book. The action might feel left out of this episode but it's a needed respite as we head into the last four episodes of the season.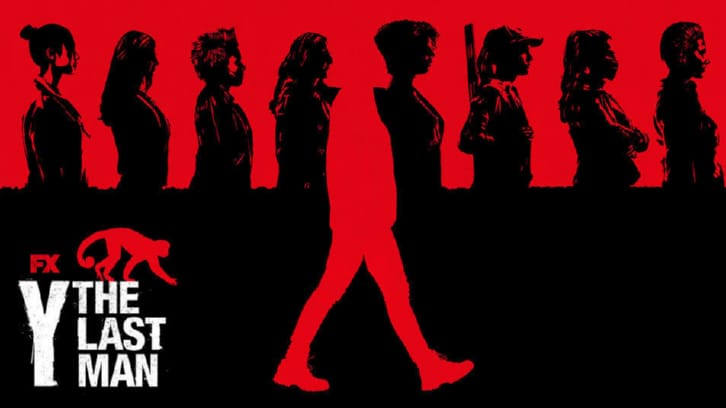 Paul McCartney – "Waterfalls" (1980) (from McCartney II) I've been obsessed with this ballad from Paul's first solo album after Wings since I saw it featured on the McCartney 3, 2, 1 documentary. This single is sandwiched by two other great songs, "Coming Up" and "Temporary Secretary", that add up to make this album one of my overall favorites of Paul's solo offerings. This song is just Paul and his piano and synthesized strings. The sound is totally early Eighties but it works on this song. The lyrics are pure Paul and balance with love of love and his playful lyric side. I don't need the overproduced sound on every song. I like how this is much more stripped down. As he sings, "Someone's glossy motor car / Might take you for a ride." Don't run after motor cars.
Only Murders in the Building – "Fan Fiction" (S.1 E.8) (2021): Last week's "The Boy From 6B" revealed most of the holes in our mystery and the deaf character, Theo, created some of the best storytelling of the series to date. This is easily going to make my Top Ten Shows of the year. "Fan Fiction" brings together all of the investigators and three superfans of the podcast. With two episodes remaining after this, the characters are all being guided into a room together. Charles, Mabel, and Oliver created the "Only Murders" podcast because they were huge fans of murder podcasts and now it's coming full circle by getting the help of fans of their podcast. This episode does what most good mysteries do as the climax approaches – they create doubt about every potential perpetrator. A few observations – I have always liked Selena Gomez but I underestimated her ability to keep up with the other two leads and she completely does, the "fans" make a great Greek Chorus, and Jan is perfectly played down the middle line of kooky/crazy. "Can you believe this is how crimes are solved now?"
Let's Scare Jessica To Death (1971): This is a little gem of a film that doesn't get enough love at Halloween time. Jessica and her husband and a friend move into a farmhouse in a small town after Jessica has spent some time in a mental institute. The film uses visual and audio effects to make us (like Jessica) wonder if we can trust what we see and hear. It's listed usually under Vampire Movies but that's so tangential to the strengths of this film, I feel like it's a disservice to it. This is Psychological Drama/Horror at its heart. The cast is relatively unknown and that helps the spooky mood. The other strength is the electronic score by Orville Stoeber that would make John Carpenter proud. It's a fun film that deserves the high praise that it gets from Stephen King. " I sit here and I can't believe that it happened. And yet I have to believe it." – Jessica.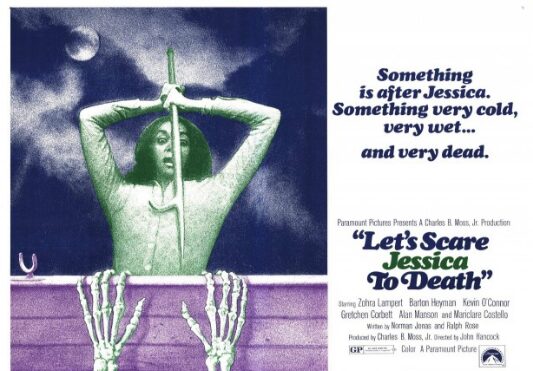 Best of the Rest
Some stories don't read well on paper until you actually run the playlet in your head as to how it actually went in-person. Beyhan Mutlu was drinking with friends is a great start to any story. Then the detail that he "wandered into a forest" really starts to set the scene. Wife and friends alert the authorities who send out a search party. Now I'm thinking since the setting is Turkey, this is straight out of Frankenstein and the Burgermeister has sent out a group with torches. Mr. Mutlu "stumbles" across the group (a nice detail) and joins them. Then comes the best part. When they called out his name, he replied "I am here." Probably drunkenly from the back of the group. And the playlet ends with annoyed villagers turning around to stare at him as he hiccups and waves. End scene.
Previously the only hammerhead I had to worry about was the shark and avoiding sharks is relatively easy when I'm a few hundred miles from their nearest waters. Now you have hammerhead flatworms that can grow to 15 inches! The headline says they've been spotted in Tennessee but the body of the article talks about them in North Texas. So it might be a sign to move on out of here. Killing them sounds more complicated than killing a werewolf. Douse the damn thing in vinegar, seal it in a bag with salt, and put it in the freezer. And then call an exorcist, I'm guessing. Don't cut them up because you'll only create more. I'm not even going to go into a worm that can give you rat lungworm parasites if you handle it. Shiver.
If all goes as planned, NASA hopes to slow down the velocity of an asteroid by a few seconds. In a plan straight out of the movies, the mission called DART (Double Asteroid Redirection Test) is going to crash into the asteroid at a speed of 15,000 mph in late September 2022 to see if we can slow down the asteroid, Didymos. If this works, we will be crashing William Shatner into one in 2023 to see what happens. I would like to have heard the budget presentation on this one and seen the PowerPoint slides with titles like "BOOM" and "This is the coolest part . . ."
Sunday Morning Tuneage Flashback
On the Sunday Morning Tuneage of 5/21/2006, I was writing about lots of finales. Taylor Hicks was about to win American Idol, Lost was finishing up their season as was 24, Alias and CSI: Miami. I ranked my Top 5 Spielberg Films and I'm not going to do that list again because I reassessed them a couple years ago and they really haven't changed since 2006. 1. Jaws 2. Raiders 3. Close Encounters 4. Color Purple 5. 1941. Yes, I'd sub in ET or Jurassic Park but it's not a bad start. I was downplaying a poorly reviewed Stephen King's Desperation (ABC) that was airing up against the American Idol final performances. I remember watching it later without much opinion but last year I read the book finally and it's a good time to compare it again.

The pedigree is here for success. Mick Garris is directing, King did his own adaptation, and it stars quality actors who have worked well with King material like Steven Weber and Tom Skerritt. Ron Perlman gets everything going nicely as Sherriff Collie Entragian. The adaptation doesn't deviate much from the book except to condense some of the explanation of David's "powers". And there's the loss of some of the tension of driving through the empty town. The core story and characters remain intact. The adaptation aired in a single three-hour block instead of the mini-series format that had been established with other King-Garris projects. I think dividing this over two episodes and adding an hour of content would take this from being a forgotten film to something held in the same esteem as their work together on The Stand or The Shining. I would definitely revise my 2006 prejudgment up to a "decent effort" status.
Flash From The Past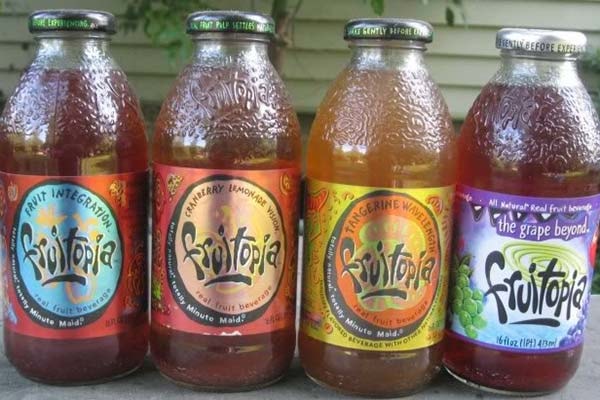 What the Hell Did I Put In My Mouth?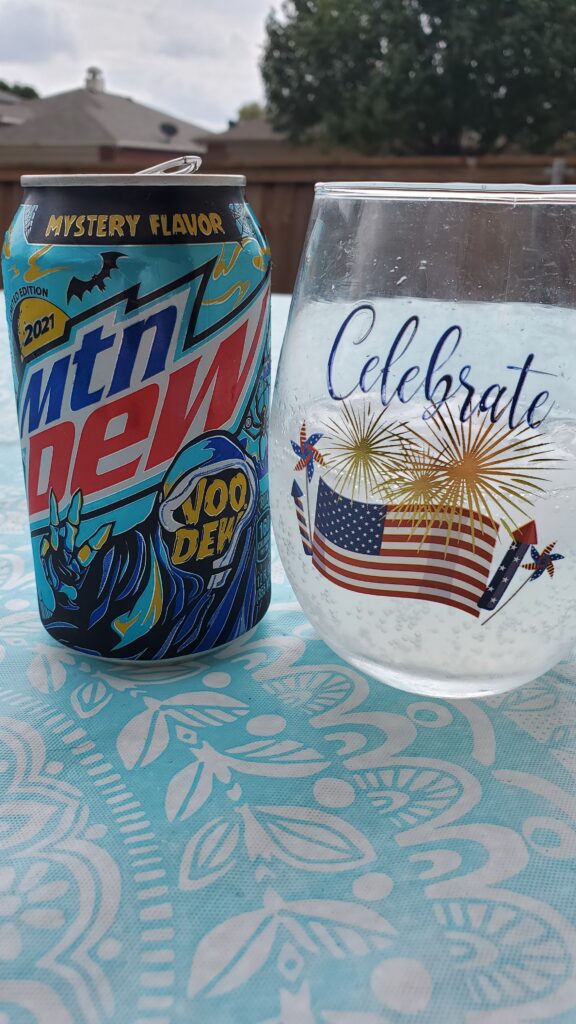 Mountain Dew: VooDew 2021
The third year of Mystery Flavor VooDew has arrived. Of all the seasonal and limited releases of Mountain Dew, these are my least favorite. They are something to file under "interesting" but not ones that interest me in the long run. Previous years have been Candy Corn and a vaguely Skittles taste. This year's can is pretty cool with the Grim Reaper can with VooDew where his face should be. The lack of color doesn't give any clue to the flavor. I'm going to come down on this year's flavor as being in the Starburst family. I'm feeling a strawberry aftertaste but the color of the can, if that's any kind of clue, might lead towards a blue raspberry type of reveal. It's a really sweet taste no matter what, so I'd recommend you share this with a friend or two over ice.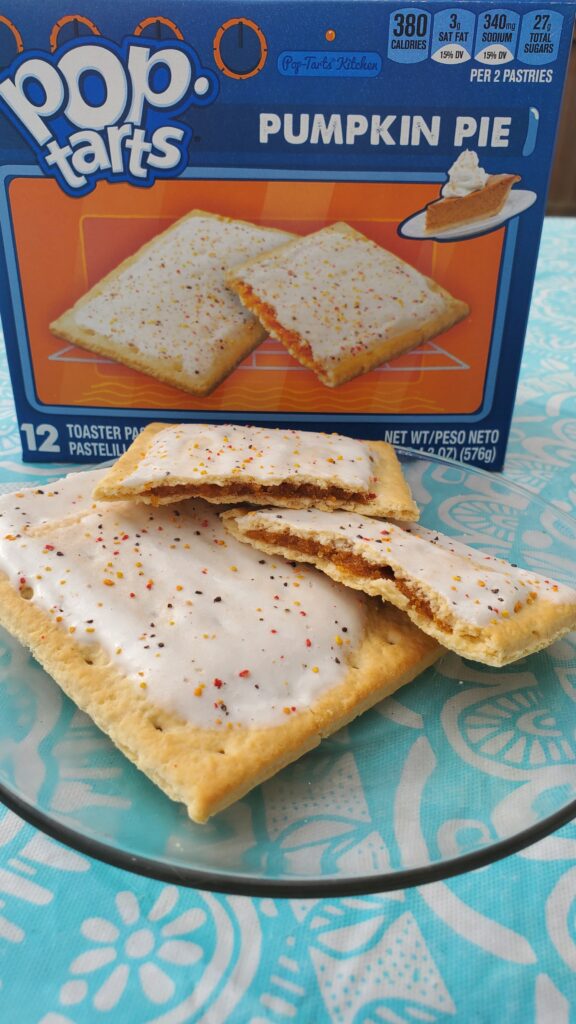 Pop-Tarts: Pumpkin Pie
Not a new flavor. I know I have seen these seasonally for the past five to six years and probably longer. I have been reluctant to try some of the off brand flavors until recently. It's too bad because these are really good. It's a perfect combination for a toasted-in-the-toaster Pop-Tart. The warm filling and the icing serving as a whipped topping all come together to replicate a serving of pumpkin pie. It checks all the boxes of a good pumpkin pie with ginger and nutmeg coming through. I'm glad they are only seasonal but much like the pie, it definitely gives a comfort feeling.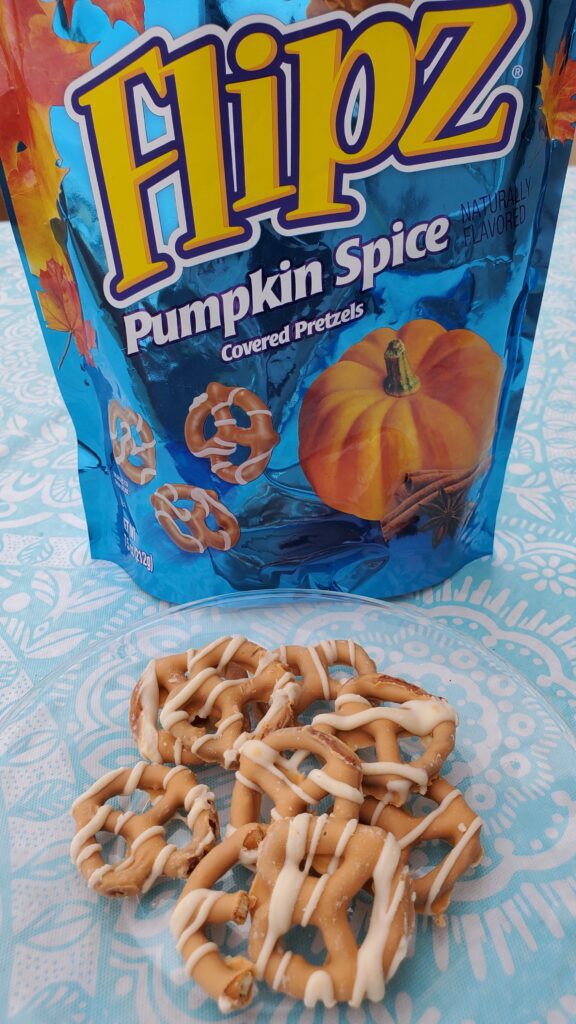 Flipz Pumpkin Spice
The package doesn't lie. These are pumpkin-spice-covered pretzels. I feared there being more of a yogurt taste to the covering but it's a subtle milk chocolate with pumpkin spice. If you like pumpkin spice, you'll enjoy and if you don't…well, you figure it out. There's a hint of vanilla in the flavor and the pumpkin spice is well balanced. It's just not a flavor that I can imagine eating more than a small plateful at any given time.

"Yeah, I need love
Every minute of the day
And it wouldn't be the same
If you ever should decide to go away" – Paul McCartney
Stay Hard.
sb