Pop Culture Ephemera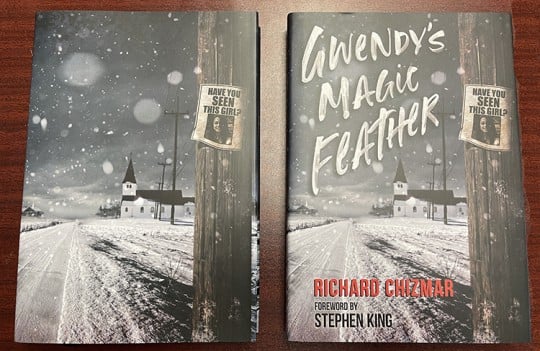 Richard Chizmar – Gwendy's Magic Feather (2019) (Cemetery Dance): "Is she thinking these thoughts or listening to them? It's suddenly hard to tell." – Gwendy. Years have passed since Gwendy Peterson first encountered Richard Farris in Gwendy's Button Box (2017). Gwendy isn't a teenager any longer. She is a U.S. Representative in Washington D.C. when the Button Box shows up again. The story quickly takes her back to Castle Rock for the Christmas holidays of 1999. She finds herself working with the sheriff to help find some missing girls who are being kidnapped. The story isn't much more than a novella and recalls some comfort of the King stories of the town. There's a call back to Cujo and Needful Things and the plot seems ripped from an alternate episode of The Dead Zone. It's not a great story but it feels like a bridge to what looks to be a much longer third book in the series where Chizmar will be joined again by King.
Pushing Daisies – "The Fun In Funeral" (S.1 E.3) (ABC) (2007): "We make choices, and we live with consequences. If someone gets hurt along the way, we ask for forgiveness, it's the best anyone can do." – Ned. That quote sums up the episode but also what I feel is the theme of the series as it is set up so far. This episode helps clean up the open-ended funeral home death from the "Pie-lette" pilot episode. Olive (Kristin Chenoweth) makes some discoveries about Chuck's (Anna Friel) secret that will likely power the drama the rest of the season. I love the structure of solving murders with the drama of Ned's (Lee Pace) powers and the Pie Hole as the help and hindrance to the story. This has the potential to be one of the most unique "procedural" shows of all-time. I'm hooked.
Willie Nelson (w/Lee Ann Womack) – "Mendocino County Line" (2002) (from The Great Divide): "I don't talk to you much these days / I just thank the lord pictures don't fade." There's no doubt that in over 50 years of music that Willie Nelson has proven he can sing a ballad that echoes in your heart. By 2002, Willie was on his 50th album, this one was of duets. Written by Matt Serletic and Bernie Taupin, the song about the fading of a relationship and the memories that remain is like a gut punch when you combine the two Texan voices. I love how this song is 21 years old now but could also be 51 years old from the lyrics, instrumentation, and production.
Topaz (1969) (Directed by Alfred Hitchcock): "You are putting two and two together and getting eight." – Andre. This might be the Hitch film that I've seen the least of any of the talkies. A revisit to Torn Curtain (1966) recently reminded me that it just wasn't a good use of stars Paul Newman and Julie Andrews. The three-year break allowed for the Master to pivot again. This time out was his first film pretty much since he started that didn't have a big movie star. No Cary Grant, Jimmy Stewart, or Grace Kelly here. Instead, it's a film based upon a popular espionage novel, about current events (his first to really be set in a time period since Foreign Correspondent (1940)), and set mostly in Cuba and France. What he has made is his version of a foreign film of his day. The actors like Frederick Stafford, Phillippe Noiret, and Michel Piccoli would be familiar to fans of French films of the decade. The film does play out slowly and it isn't perfect at most turns. Looking back, it's still very interesting and he is still above almost every director in the way he makes a film. Watch the amazing use of colors and symbolism of love affairs as the betrayals of spies to their countries. The story in a nutshell is a complex network of a French spy ring involving themselves between the Russians and Americans over missiles in Cuba. Watch it again with a fresh eye.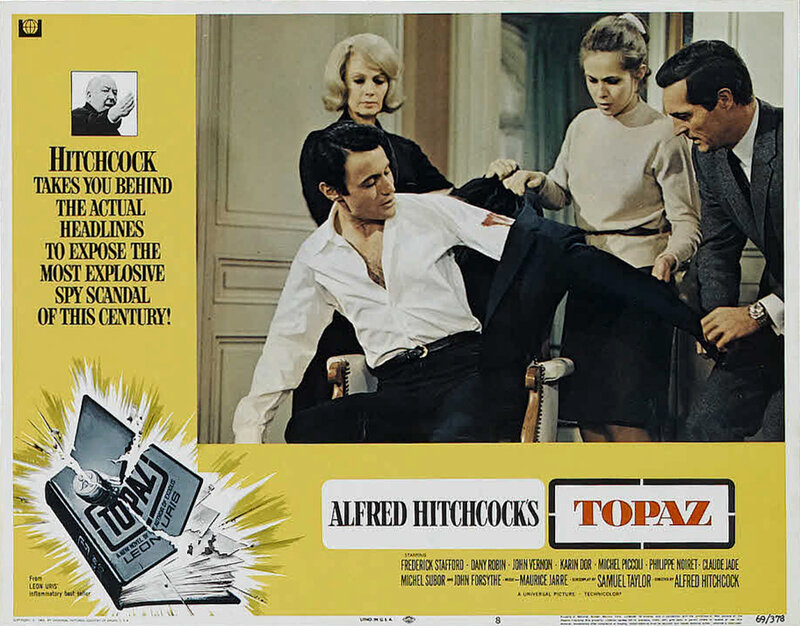 Bodies, Bodies, Bodies (2022) (Directed by Halina Reijn): "Don't call her a psychopath. That's so ableist." – Alice. It has taken me a few days after viewing this film to appreciate the Gen Z mashup of an Agatha Christie closed-room mystery filtered through 45 years of slasher films, Euphoria, and Knives Out. When we first meet Sophia (Amandla Sternberg) and Bee (Maria Bakalova), they are having a passionate make-out but once they start talking, it's not clear if they are likable characters. When they arrive at an upper class house for a Hurricane Party, we realize that there aren't any likable characters, including an excellent performance by Rachel Sennott as Alice, Pete Davidson, Chase Sui Wonders, and Myha'la Herrold as Gen Z partygoers. There's the odd but appreciated appearance of Lee Pace (Pushing Daisies) as out of place Millennial "vet". Visually, it's a great production. The storm builds and intensifies as a mirror to the action of the slasher film. The power outage caused by the hurricane offers a chance to ratchet up the spookiness with only lightning and the light of headlights and phones to give us partial vision to a huge house that we don't know much geography about. You will not like these characters. You aren't supposed to feel sympathy as their lives fall apart. They betray each other in the physical games of the party and emotionally with the same ease. It's a clever twist film that might even be as good the second time around.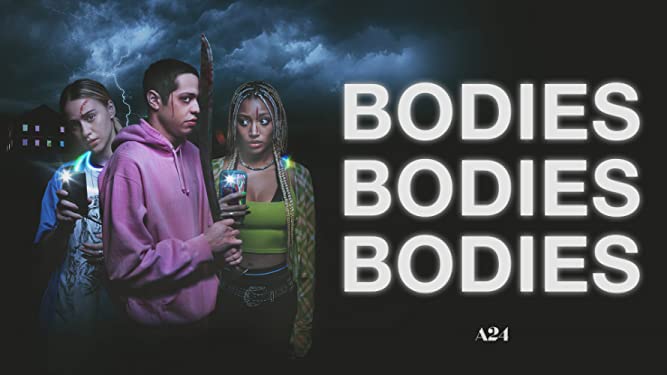 Best of the Rest
If I ever find myself in South Africa, I feel like I need to allow at least one meal at Chicken Licken. Those sliders look really good. This is a single joke ad and the payoff isn't surprising but I chuckle at the reactions of the actors.
I enjoy playing around with some of the popular AI Bots. As a comparison, I'll include some of their observations from time to time. Here is the AI's thoughts on Bodies, Bodies, Bodies:

Peter Debruge of Variety praised the film, writing, "Bodies Bodies Bodies is a deliriously entertaining slasher comedy that skewers the entitled rich with the same gleeful abandon as Get Out or Promising Young Woman." David Ehrlich of IndieWire gave the film an A-, writing, "Bodies Bodies Bodies is a slasher movie for the TikTok generation, a knowing and wickedly funny deconstruction of the genre that's also a blast to watch." A.O. Scott of The New York Times gave the film a positive review, writing, "The movie is a knowing, winking exercise in genre deconstruction, but it's also a lot of fun."
It was the "Raindancer" and not the "Pequod" but what are the odds of being sunk by a whale in the same seas as the setting of Moby Dick? After my reading of the novel and dedicating most of a whole blog entry to it, I've attracted all of the whale stories that the Internet can send me. The ship went down (just as they had finish preparing a vegetarian pizza) after being split in half by a whale near where the Essex was sunk in 1820 (the inspiration for Melville's novel). That sinking resulted in a three-month ordeal of starvation, cannibalism, and death. This one resulted in the loss of a vegetarian pizza and ten hours floating in the ocean until they were rescued.
Sunday Morning Tuneage Flashback
On the Sunday Morning Tuneage of 10/28/2007, I worked the UNT Homecoming game the day before and had our last baseball doubleheader of the fall for Christian. My #83 Favorite Movie of All-Time was Beauty & the Beast (Le Belle Et Le Bete) (1946). Directed by Jean Cocteau, this remains one of the most beautiful fantasy films of all-time. I'd say that's a fair rating for the film but I wouldn't be sad if someone had it as high as #50. I was excited about a new show coming up on Showtime called Weeds, I was still going all on about Friday Night Lights, and there were plenty of Halloween-themed shows to keep me happy that week. There was a documentary that I really needed to see but didn't at the time.

American Masters: Good Ol' Charles Schulz (S.21 E.8) (2007) (PBS): "He put those hard to deal with feelings on the page. And we saw them every day." Lynn Johnston I've watched some shorter biographies of Sparky from the 1970s. But they often were Peanuts-focused with Schulz as the man in the background. The biography is built around the question if Schulz is Citizen Kane and if he had a Rosebud of his own. They aren't breaking any ground by saying he was depressed and lonely most of the time and that his Rosebud was the loss of his mother. It's a slave to the metaphor at times but it covers the man more than other documentaries have up to this point. How did I skip this 16 years ago?
1973 in Review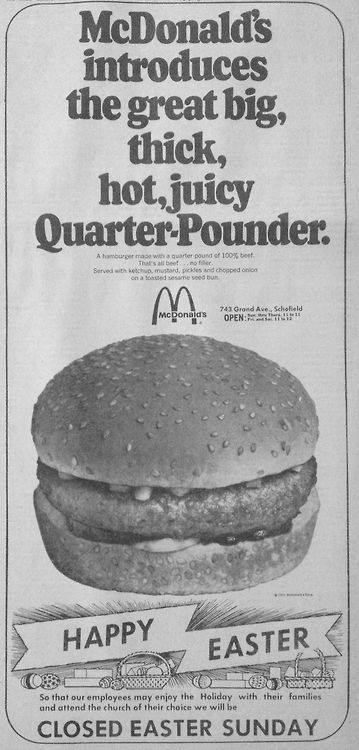 April – the Quarter Pounder had been at two restaurants since 1971, it was added to the McDonald's menu in April 1973. But they were closed on Easter Sunday.
April 6 – Ron Bloomberg of the New York Yankees became the first player to play as a Designated Hitter and the game wouldn't be the same ever again.
March 31 – Johnny Cash narrates the story of Christ and a tour of the Holy Land in a movie release.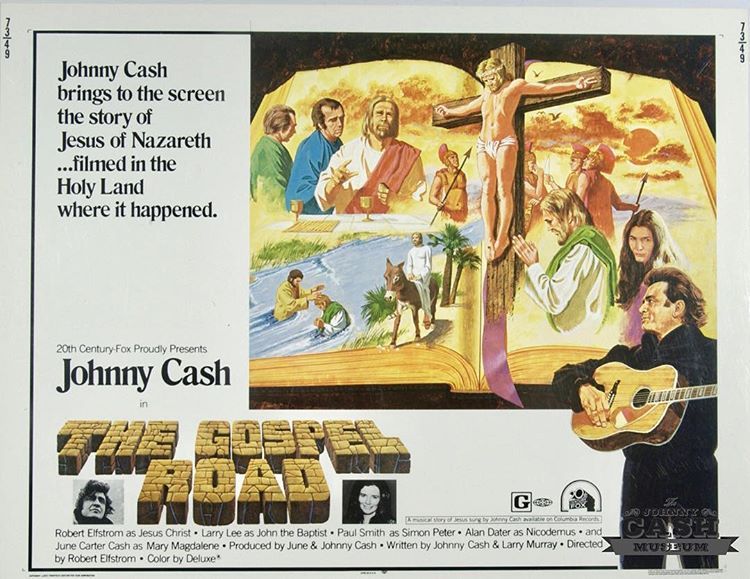 What the Hell Did I Put in My Mouth?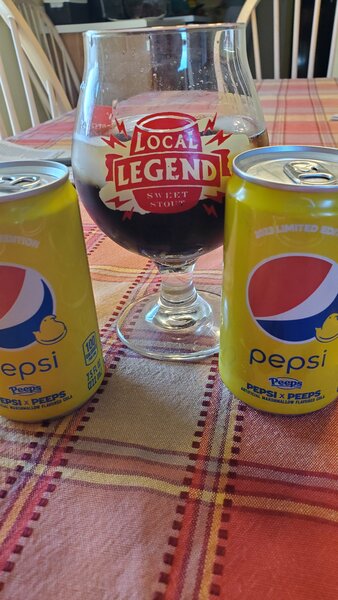 Pepsi: Peeps
Coke recently released a flavor called Marshmello that was a strawberry watermelon flavor. Pepsi picked up the baton for the disappointed soda fans and re-released their seldom seen 2021 collab with Peeps. An actual marshmallow-flavored soda is finally available. I'm not a Pepsi fan in the least. I wasn't sad about this soda. It's a Pepsi with a slight aftertaste of marshmallow that might be really good with a scoop of French Vanilla ice cream. Don't spread any rumors now that I actually like a Pepsi, I have a reputation to uphold.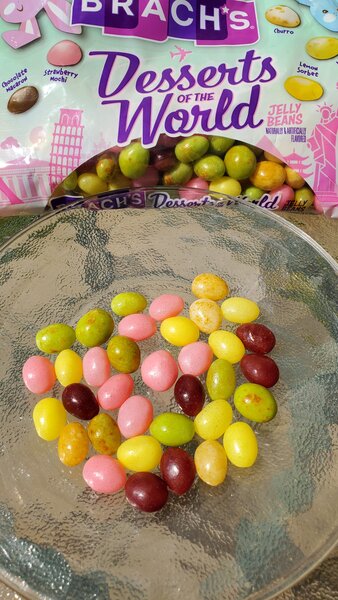 Brach's Desserts of the World Jelly Beans
I can finally tell Brach's that I have forgiven them for the Taco Truck Jelly Beans fiasco of 2022. This release doesn't contain any beans that will turn your stomach. Chocolate Macaron, Apple Pie, Churro, Strawberry Mochi, and Lemon Sorbet are included in this World Desserts mix. My favorite is easily the Strawberry Mochi and the only one that's a little off is the Chocolate Macaron. These won't change your jellybean world but they are a redemption from the missteps of 2022.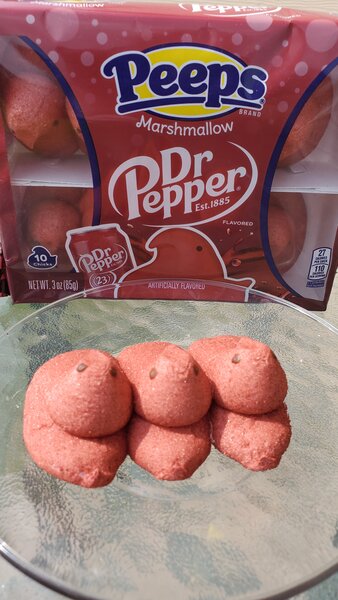 Peeps: Dr. Pepper
The biggest disappointment is that the marketing people didn't relent to calling these Dr. Peepers. I'm not a Peeps guy typically, so I'm not sure what has been happening in the Peeps World. These Dr. Pepper-ish marshmallows are just not good. They don't have enough of whatever chemicals they put on the mallow that are supposed to taste like a Dr. Pepper. The flavor just doesn't have a flavor to me. Can't recommend.
"I have these pictures and I keep these photographs
To remind me of a time
These pictures and these photographs
Let me know I'm doin' fine
I used to make you happy once upon a time" – Willie Nelson
Stay Hard.