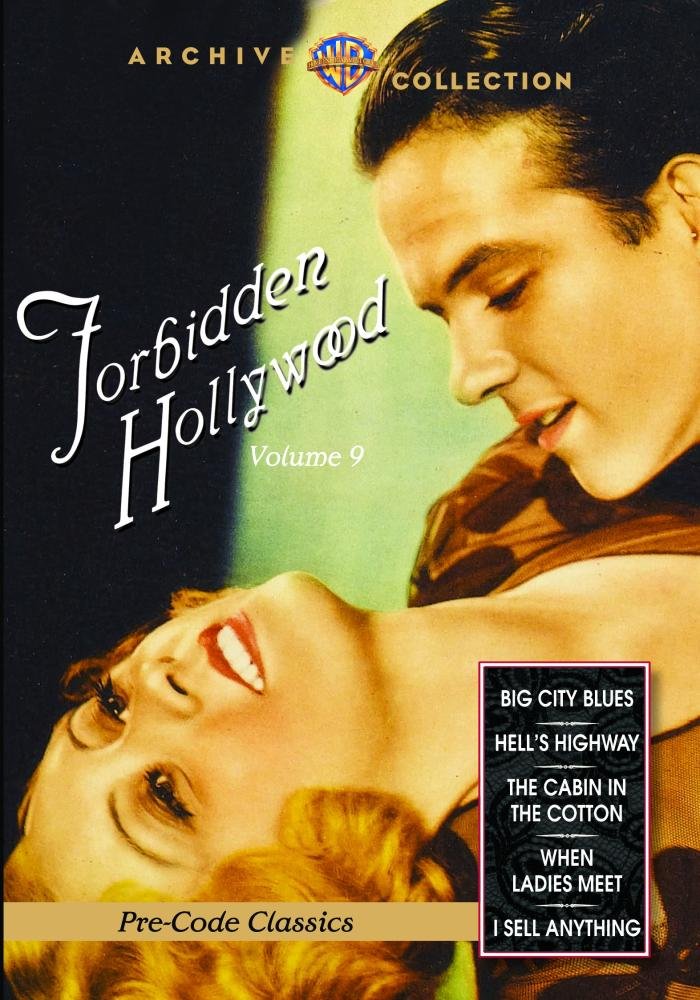 While the bulk of the Warner Archive Collection's output varies on the whole, there are numerous riches lurking within the corners of the Warner/MGM vaults that hail from a time before classic Hollywood censorship took hold. As such, every time another Forbidden Hollywood set rears its head from the dusty confines of our filmic past (read my assessment of the previous set here), I can't help but wonder what sort of treasures lie in store for classic movie enthusiasts. For their late 2015 release of Forbidden Hollywood, Volume 9, the folks at the WAC decided to not only treat us with another quartet of oft-risqué selections released before July 1, 1934 (a day of infamy), but have tossed in a bonus fifth title produced shortly after the Hays Office Code went into effect.
But first things first: pre-Codies, kiddies. We begin with the 1932 Warner Bros. drama, Big City Blues. Here, the unforgettable Joan Blondell stars alongside forgotten performer Eric Linden. As the second-billed protagonist of the feature, Linden is a simple ruralite from Indiana, who is determined to enjoy his recent inheritance to the fullest when he travels to New York City. Blinded by the bright shining light of big dreams leading his way, Linden is oblivious to the ride his shifty, fast-talking big city cousin (Walter Catlett, who comes off as a sleazy Harold Lloyd) places him on as soon as he arrives in town ‒ the one advantage of which is that he meets and instantly falls hard for a beautiful young chorus girl bearing the slightly dubious name of Vida Fleet (and played by our leading lady, Miss Blondell).
A late-night party hosted by his cousin in his posh hotel suite, however, results in another lady of the stage being murdered by one of several guests. While the two men who fought with bottles in their hands as the lights went out are at the top of Eric and the audience's list of culprits, the police begin a city-wide manhunt for the young lad whose name is on the hotel ledger, thus beginning Mr. Linden's plight into one long urban night. Humphrey Bogart and Lyle Talbot are the uncredited (and then unknown) men at the fatal party; Jobyna Howland is the kindly older lonely lush who helps out our terrified hero; and a grand assortment of supporting (billed) actors includes Ned Sparks, Grant Mitchell, and Guy Kibbee (as a drunken hotel detective). Uncredited cameos from Clarence Muse, J. Carrol Naish, and the voice of Dick Powell are also made.
Interestingly, Big City Blues and the next two features in this set, Hell's Highway and The Cabin in the Cotton (which were also released in 1932), were consecutive entries on performer Clarence Muse's résumé. For the second film in this set, Hell's Highway, Muse ‒ who is cited as "the first African-American actor to 'star' in a film" (and who outright stole the otherwise boring show from Bela Lugosi in Invisible Ghost) ‒ can be seen as one of several forgotten men in a chain gang of prisoners constructing a new stretch of horseless carriage thoroughfare dubbed Liberty Road. And while that all seems simple enough, there is a reason it's called Hell's Highway ‒ which we soon witness once cruel warden C. Henry Gordon chains an overworked convict in a sweatbox by his neck and allows him to perish.
This, of course, angers our film's hero, former silent movie western icon Richard Dix, and he plots to escape. He almost makes it, too, until his foolish kid brother (future TV western bitplayer Tom Brown) gets tossed into the fray ‒ leading Dix to reconsider his course of action. Beautiful Rochelle Hudson is the gal-pal of Dickie's little brother (and who gets third-billing because you can't have a prison film without at least one woman, right?); Oscar Apfel, Clarence Muse, and Fuzzy Knight are several of the incarcerated, mistreated men; Charles Middleton (yes, Ming the Merciless himself!) has a marvelous role as a bigamist whose big ears and eagle eyes make his religious preaching and star readings all the more believable; and Warner Richmond is the guard who discovers ‒ the hard way ‒ just how accurate Middleton's "predictions" are.
While casting black actor Clarence Muse as a convict named Rascal in Hell's Highway may seem a tad insensitive to some today, his casting in the following feature, The Cabin in the Cotton ‒ where he receives bottom billing as "A Blind Negro" ‒ may have you reaching for your remote. That said, to miss this adaptation of Harry Harrison Kroll's novel by future Casablanca director Michael Curtiz would be a mistake. For here, you may bear witness to young Bette Davis in super fine form as the over-privileged daughter of plantation owner Berton Churchill, and who delivers one of the best lines ever in cinema history, Pre-Code or otherwise: "I'd like to kiss you, but I just washed my hair" to drooling ex-Oscar nominee Richard Barthelmess (whose overall transition into the talkies didn't go terribly well).
Here, the aforementioned Mr. Barthelmess is cast as the son of a poor cotton-picking family whose above-average IQ and passion for learning (as well as dreams of a better life) lands him as the prized bookkeeper of his family's sworn enemy. And though the subject matter of The Cabin in the Cotton can be as depressing as all get-up, any film that features (a virginal and still fairly unknown) Bette Davis using the word "peckerwood" should be required viewing. Dorothy Jordan is Barthelmess' childhood girlfriend; the safe bet for his inexperienced character, as opposed to the vampiric Davis, who really likes to take out the trash. Hardie Albright, David Landau (as Barthelmess' doomed father), and Dorothy Peterson co-star. A special shout-out goes to minor actress Florine McKinney as Barthelmess' seldom-seen but incredibly hot sister.
Moving on to Disc Four in the Warner Archive's Forbidden Hollywood, Volume 9, we find ourselves praising the talents and appeal of yet another Goddess of the Silver Screen, Ms. Myrna Loy. For it is she who headlines the 1933 filmed version of Rachel Crothers' play, When Ladies Meet, despite her having the most screen time but being billed third. Alas, Loy was only a year away from her breakout success as Nora Charles in The Thin Man, and actress Ann Harding was a more popular name at the time. Here, the former plays a romance novelist (wait, is this some sort of weird prequel to Man-Proof?) who is enjoying an illicit relationship with the latter's publisher husband, played by The Wizard of Oz himself, Frank Morgan (the more-popular brother of Hitler's Madman co-star Ralph Morgan).
While Loy's mostly hush-hush romance suits her ‒ and it most certainly seems to suit the man who would later don an emerald-green suit ‒ it does not suit her most adamant single suitor, Robert Montgomery. In fact, so obsessed with releasing Loy from the entrapment of her doomed-to-failure bliss is Robert, he coyly takes Morgan's wife ‒ Ann Harding ‒ out for an innocent game of golf, followed by a long shortcut across the land that the remote country estate where the secret coupling of publisher and author are staying for the weekend. Alice Brady packing a set of fripples like you would not believe, is the ditzy hostess; Luis Alberni is the pissy French chef; and Sterling Holloway is the caddy with hay fever. The (better-known) 1941 version of the story, which stars Joan Crawford, was released to DVD in 2009.
Also housed on Disc Four, wrapping up Forbidden Hollywood, Volume 9, is our bonus feature: I Sell Anything. Released several months after the Hays Office took over, the 1934 feature stars venerable "Hollywood's Irishman in Residence," Pat O'Brien, as a very fast-talking jerk of a shyster salesman who is so despicable, he would make for prime presidential candidate material in today's world. Running an auction shop in the Big Apple's less illustrious district of Second Avenue, O'Brien repeatedly swindles gullible men and women alike out of their precious money with cheap trinkets thanks to his own God-given gift of convincing verbal doubletalk and a small army of well-trained stooges (Roscoe Karns, Russell Hopton, Harry Tyler, et al) on-hand to inflate prices.
But that all changes when two different women walk into Pat's life: one ‒ played by Ann Dvorak ‒ is destitute, desperate enough to try to chisel a chiseler. The other, as portrayed by Claire Dodd, is a member of society's upper crust ‒ and who earns O'Brien's chagrin after he sells her a seemingly worthless piece of costume jewelry that the newspapers later report was a Cellini belt buckle valued at $5,000! From there, the dubious Dodd begins to lure O'Brien out of his element into the wealthy world of Fifth Avenue. But just who is scheming who here? The Beast with Five Fingers director Robert Florey helms this forgotten film about fools and their money, which also features Hobart Cavanaugh, Leonard Carey, Ferdinand Gottschalk, Gino Corrado, Clay Clement, and Herman Bing (and his $1.25 fortune).
Each feature is presented over the course of this four-disc set in its original 1.37:1 aspect ratio, and rarely do the video and audio elements stray from being anything but wonderful. The Cabin in the Cotton enjoyed a (probably limited) run on videocassette in the '90s when the rights belonged to MGM/UA, and is presented here remastered. The remaining four films make their official home video debuts in this release, and the original theatrical trailers for three of the five titles are included as additional bonus items (remember, that fifth flick is not technically part of the set). All in all, this is another great collection of neglected motion pictures from that time when Hollywood's fallen heroes and femme fatales weren't afraid to let the innuendo fly. Recommended.