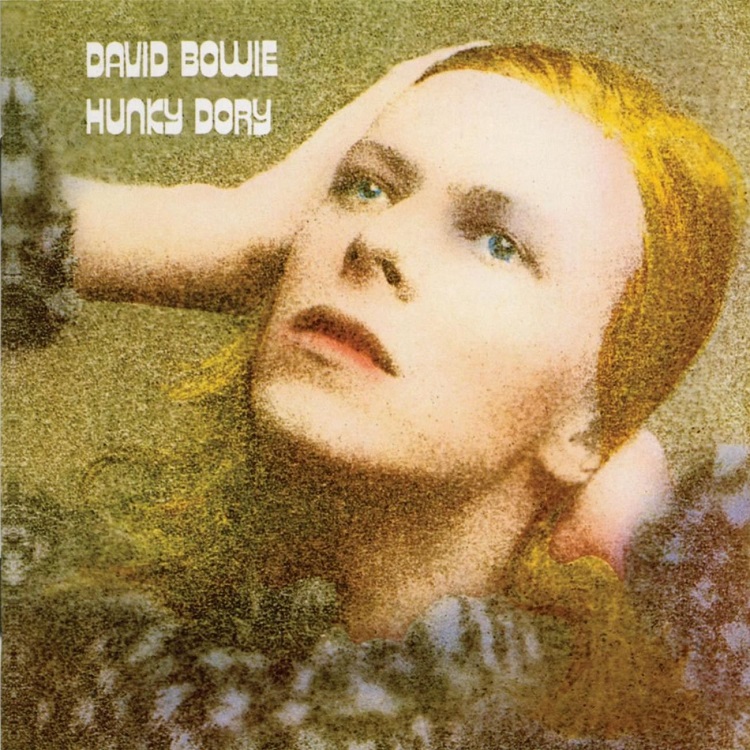 Against a blindingly white background, a man stands alone. Clad in a sky-blue suit and sporting technicolor makeup, the figure appears as if he has stepped out of a watercolor painting. Occasionally swinging a leg back and forth, he stares into the camera, lip synching the words to a sparsely arranged song. In extreme closeups, the singer evokes the lyrics' complex imagery through facial expressions.
Is this short clip a viral video from 2016? No, it is David Bowie's video for "Life on Mars?" released in 1973. Over four decades later, the song and clip seem timeless yet strikingly modern. Bowie's recent death demands increased examination of his work, particularly how his musical and visual art seemed decades ahead of their time.
"Life on Mars?" almost fell into obscurity, first appearing on the 1971 album Hunky Dory. When the album sold only moderately, the song failed to reach a wide audience until two years later. By this point, Bowie had achieved success with his Ziggy Stardust persona, thus "Life on Mars?" was released as a single. The second time proved the charm, as it peaked at number three on the UK charts. One of his most acclaimed tracks, "Life on Mars?" began life in 1968, when Bowie composed English lyrics to the French song "Comme, D'Habitude." Retitling it "Even A Fool Learns to Love," he never recorded his rewritten version. Shortly thereafter, songwriter Paul Anka heard the song, bought the rights, and rewrote it as the Frank Sinatra smash "My Way." According to the BBC Radio 2 article on the song, Bowie wrote what became "Life on Mars?" as a parody of a Sinatra track, the Hunky Dory liner notes only stating that it was "inspired by Frankie."
Echoing the mysterious lyrics, Bowie explained how he wrote the tune in a typically cryptic way in 2008. "This song was so easy," he told the Daily Mail."Workspace was a big empty room with a chaise longue; a bargain-price art nouveau screen ('William Morris,' so I told anyone who asked); a huge overflowing freestanding ashtray and a grand piano. Little else.I started working it out on the piano and had the whole lyric and melody finished by late afternoon. Nice." Rick Wakeman, best known as the keyboardist for Yes and offshoot band Anderson Bruford Wakeman Howe, laid down the piano part. Guitarist and Spiders from Mars member Mick Ronson provided what Bowie called "one of his first and best string parts," and "Life on Mars?" was complete.
Even today, the opaque lyrics mystify, yet Bowie's deadpan delivery suggests that he is introducing a new era and worldview. "It's on America's tortured brow / That Mickey Mouse has grown up a cow," he declares, instantly tearing down a beloved American icon. He also paints pictures of a woman who seeks liberation from the "silver screen," but finds the flickering images evoking the opposite reaction: "the film is a saddening bore / For she's lived it ten times or more," he sings. The glittering Hollywood image has been destroyed. Next, the chorus describes cartoonlike characters—cavemen and cowboys—but there's something different about this picture. The lawman is "beating up the wrong guy," thus not a heroic figure per the typical western cliché. "It's the freakiest show," Bowie states, his voice soaring to the song's climax. "Wonder if he'll ever know / He's in the best selling show / Is there life on Mars?" The words may obfuscate the true meaning of the lyrics—the BBC called the song "a cross between a Broadway musical and a Salvador Dali painting"—but they also signify the arrival of an artist that would challenge conventional songwriting and blur the boundaries between rock and art.
The accompanying video also heralds the arrival of an innovator, Bowie's alien character adding an additionally complex layer to the lyrics. British photographer Mick Rock filmed Bowie backstage at Earls Court Exhibition Centre, shortly before his concert on May 12, 1973. Sporting brilliant kabuki-influenced makeup, Bowie wore a brightly colored suit designed by Freddi Buretti. A close friend of Bowie and then-wife Angie, Buretti designed many of the early Ziggy Stardust costumes, and clearly understood the image the singer wanted to project: an otherworldly being, an outsider that could hold a mirror to listeners (reminiscent of the jesters and "fools" in Shakespeare). According to Trond Klevgaard, the suit allows Bowie to assume the "dandy" persona, or one who wears clothes representing flamboyant and exaggerated versions of the aristocracy. "Traditionally a 'masculine' item, these suits could be seen as subverting menswear and masculinity by their flamboyant use of colour and patterned fabrics," Klevgaard writes, topped by Bowie's flaming red hairstyle.
Practically fading into the white background, Bowie stands in a casual pose, allowing the camera to linger over his features (including his famously mismatched eyes). The focus is on color, obscuring the gender of the character. Bowie often played with gender stereotypes in his work, and the "Life on Mars?" video is no exception. At times he points aggressively at the camera; other times he slowly blinks his eyes flirtatiously. The background renders his skin almost translucent, again emphasizing the alien qualities of the character. The being dresses in a parody of an upper-class member, gestures in cliched versions of a typical male and female, and sports an extreme version of feminine makeup. Thus when the character makes seemingly shocking, confrontational statements like "Mickey Mouse has grown up a cow," his look softens the blow. Because Bowie is clearly an outsider in this video, lingering outside sexual dichotomies, he can uniquely observe human behavior and tell the truth. All of these elements are present in the "Life on Mars?" music video, and 43 years later its vivid colors and visual simplicity still impact the viewer, rendering the video timeless.
"Life on Mars?" uses a combination of ancient theatrical makeup and minimalism that render the clip a work of modern art as well as a promotional film. Throughout his career, Bowie stayed ahead of the curve, predicting trends that artists such as Trent Reznor (Nine Inch Nails), Madonna, Lady Gaga, and Janelle Monae would appropriate decades later. Bowie defied convention musically and visually, intertwining rock and film in a way no other artist will equal.
"Life on Mars?":