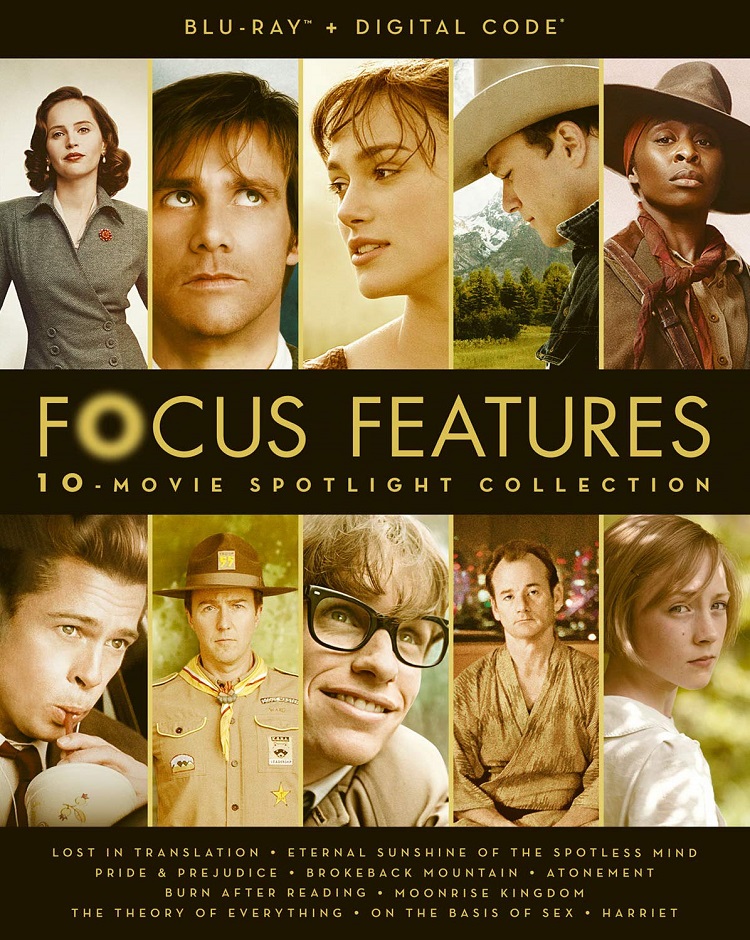 Last week I reviewed a 10-film collection from Blumhouse Productions, a relatively young studio that specializes in low budget films. This week I'm reviewing a 10-film collection from another relatively young studio that also specializes in relatively low-budget films. But where Blumhouse tends to make genre films with mostly unknown actors and directors, Focus Features leans more towards prestige pictures with well-known filmmakers. Blumhouse's reason for existence seems to be making as much money as possible with as little risk as they can afford, quality and artistic merit be damned. While Focus Features aims for awards season with high-quality Oscar bait. It isn't that Blumhouse never makes a good film for as I noted in my review several of those movies were quite enjoyable. Nor is it that Focus never makes a bad film, for as you will see several films included in this collection are clunkers. But I do enjoy the contrast between these two studios that can be found within these two collections.
Neither collection seems to have been put together with more forethought. I can't find any rhyme or reason as to why these particular 10 films have been collected. There doesn't seem to be any through-line. The films have been previously released on Blu-ray and the disks seem to all have been simply ported over for this collection.
Like the Blumhouse collection, this Focus Features set does contain two films by the same director. With Blumhouse, it was M. Night Shyalaman trying to stay relevant and here it is Joe Wright bringing us two historical dramas, Atonement and Pride & Prejudice. Both are exquisitely shot and full of interesting directorial showmanship such as several gloriously long and meticulously coordinated tracking shots. Both star the new queen of period dramas, Keira Knightley.
Atonement tells the story of Robbie Turner (James McAvoy who was also featured in one of the Blumhouse films), the son of the housekeeper to a rich, English family, and how being falsely accused of a terrible crime shapes his life. It is also about how what we see is not always what happened and how stories manipulate us into believing that which is not always true. It is a rapturous, beautifully made film.
It is difficult not to compare every adaptation of Jane Austen's novel Pride and Prejudice with the 1995 miniseries starring Jennifer Ehle and Colin Firth. The latter is so imbued with the character of Mr. Darcy that you will find his likeness plastered all over at The Jane Austin Centre in her hometown of Bath, England. Joe Wright's adaptation is a better film in nearly every way, yet I suspect if I turn to the story again, I will find myself reaching for the miniseries. Like Atonement, Wright's version is stunningly shot. It is a feast for the eyes, turning the English countryside into something ethereal and unreal. Knightley is wonderful in it as is most of the cast, except for Matthew Macfadyen who has the undesirable part of filling in Colin Firth's shoes. For most of the film, he is dull, crude, and unacceptable. That's part of the book as Mr. Darcy is supposed to be unlikable for most of the story, but Firth has such an unstoppable charm that even when he's being mean you can't help but like him. Macfayden has no such power. So that by the end of the story when we realize he's really a wonderful man, it seemed completely unrealistic. Without that hidden Firth charm, the change felt more like bad writing than a secret you know all along.
Those two films were the first and second features from Joe Wright, but this collection isn't just about showcasing up-and-comers. It also features two films from well-known and beloved directors with unique senses of style – Moonrise Kingdom from Wes Anderson and Burn After Reading from the Coen Brothers. I'd argue that both films are neither the best films from the directors nor their worst. Call these mid-level films from directors I adore.
Burn After Reading is the sort of satire of spy thrillers that only the Coens could make. It is full of off-kilter comedy, brief punctuations of violence, impeccable direction, and a marvelous cast. It is about two not-so-smart goofballs (Brad Pitt and Frances McDormand) who stumble upon what they think is top-secret information and try to sell it to the highest bidder. It doesn't go well for anyone involved. It is very enjoyable, and I've found it gets better with repeat viewings but it lacks that special something that comes with the best the Coens has to offer.
Likewise, Moonrise Kingdom contains all the twee quirkiness that we've come to expect from a Wes Anderson film, but it never quite hits the poignancy of his best films. It is a coming-of-age tale set at a summer camp in 1965. It features an all-star cast including Bruce Willis, Edward Norton, Frances McDormand amongst others. It is quite lovely, sweet, and funny, and like Burn After Reading, it continues to grow on me, but doesn't make it near my favorite Wes Anderson films.
As a way to prove my point about Focus Features aiming for awards, this set includes three films from a genre the Academy loves and I rather abhor, the biopic. These films take the life of someone extraordinary, boil it down to about two hours screen time, completely eliminate or severely lighten any negative aspects of their life, and fit everything neatly into a paint by numbers template. Neither of the three films here – Harriet about famed abolitionist Harriet Tubman, On the Basis of Sex about the late Supreme Court Justice Ruth Bader Ginsberg, or The Theory of Everything about physicist Stephen Hawking venture far from that template. They are all well made and very well acted, but none of them really enlighten us beyond encyclopedia entries on their lives.
Two films that follow no template whatsoever are also included in this set. Lost in Translation is Sophia Coppola's beautiful ode to loneliness and the power of connecting with another human being. It is gorgeous and sad, funny and transcendent. It perfectly understands how strange life is living in a country not your own. How other cultures can make you feel completely alone even when surrounded by millions of other people. And how finding someone to connect with is salvation, no matter how brief. It includes one of Bill Murray's finest performances.
Eternal Sunshine of the Spotless Mind is from the very strange mind of Michel Gondry. It stars Jim Carrey (also in one of his finest performances) as a man who has hired a company to erase all memories of his ex-girlfriend Clementine (Kate Winslet in full-on Manic Pixie mode) but then immediately regrets that decision. The film takes place mostly inside his memories as he desperately tries to get her back. It is utterly bizarre, charming, and melancholy.
And lastly, this set includes Brokeback Mountain, Ang Lee's emotional drama about two cowboys who fall in love whilst herding sheep on the mountains of Montana in the summer of 1963. But due to the social climate of the times (homosexuality was still illegal) and their own backgrounds, they have to leave their love on the mountain so to speak. The film chronicles their lives over the next twenty years and their periodic trysts. Considered a pioneering film for queer cinema, the film earned numerous awards upon release, and naturally lots of controversies. It is beautifully filmed and the lead roles by Heath Ledger and Jake Gyllenhaal are exquisite.
Earlier I noted that Focus Features makes the sort of films that aim for awards. It is a plan that works as the 10 films in this collection were nominated for at least 27 Academy Awards and won at least four of them. Sometimes, the films seem custom made to win over awards voters with by-the-book storylines, but often, the films are quite original and interesting and superbly made.
As with the Blumhouse Box of Horrors, whether or not you want to spend the $70 or so for this boxed set will depend on how much you like each of the films and whether you don't mind them all being placed in a rather cheap plastic box. I'd argue if you don't already own these films and don't mind the packaging, this is well worth your money. The few films that aren't all that good are more than made up for by those that are really quite wonderful.