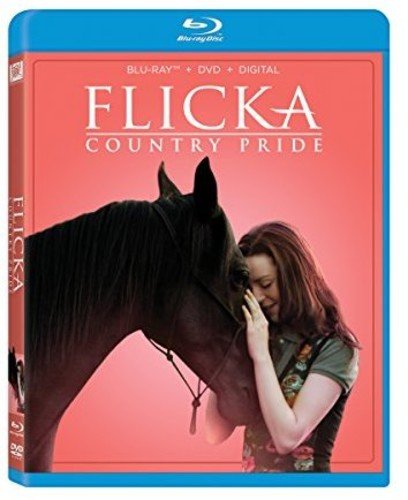 It's rare you see a movie these days that bears an honest-to-goodness G rating. I figured the MPAA just up and quit assigning them altogether. Of course, when you get right down to the heart of the matter, the possibility of a G-rated movie even being any good is about as likely as meeting an interesting Walmart greeter. Speaking of Walmart, their latest direct-to-video exclusive, a G-rated something that is labeled as Flicka: Country Pride in the advertising, but which bears the actual onscreen title of Flicka 3 — something that immediately begs the question "Wait, there was a Flicka 2?"
Yes, apparently, there was, in 2010. There was even a first Flicka in 2006 (itself a remake of the 1943 classic My Friend Flicka with a very young Roddy McDowall) with country music singer Tim McGraw. For the second outing — wherein none of the original remake cast returned for a second helping of coins — a different western songsmith/performer was brought in for "star" power: Clint Black. And now, here we are in 2012 with this third outing, with Mr. Black once again trying to sell to goods to Walmart families near and far.
Talk about beating a dead horse, eh?
Looking more like a combination of Don Johnson and Tex Ritter than ever before, Clint delivers as sincere of a performance as a non-actor can (that's a nice way of saying he sucks, folks) in this tepid, low-budget follow-up shot in Canada (doubling for Wyoming). The story — which finds Flicka 2 handler Toby (Black) and his magical titular horse arriving to work at a stable owned by a widowed mother (Lisa Hartman) and her teenage daughter, Kelly (Kacey Rohl, The Killing). The girls are in dire straits — grieving over the loss of their patriarch, and struggling with ever-increasing costs, et cetera, et cetera. Fortunately, the arrival of Toby and Flicka is a serendipitous one — and his sage wisdom and good heart might be just the thing they need to survive.
There's nothing really here in terms of story, kids. Or acting. Or production. Or music. Or anything else for that matter. While I commend the filmmakers for trying to make something that is wholesome enough for families to watch (I do have to object to the references to kids marrying their best friends straight out of high school, though: this isn't '50s America, folks), it's a shame they didn't bother putting any real effort into their project. As such, Flicka 3 (or Flicka: Country Pride, or whatever the hell you want to call it) is a bust.
And, honestly now, what'd you expect?
This Walmart exclusive released by Fox Home Entertainment boasts a decent enough video presentation with an adequate DTS-HD Master Audio 5.1 soundtrack. There's also a French Dolby Digital 5.1 mix, and subtitles are in English (SDH), Spanish, and French. Two featurettes on the making-of the film accompany, as does a country music video (ugh). There are also plenty of trailers for other family-friendly films at the beginning of the disc, including the god-awful Tooth Fairy 2.
At least Flicka: Country Pride wasn't that horrible. But it's still pretty bad.