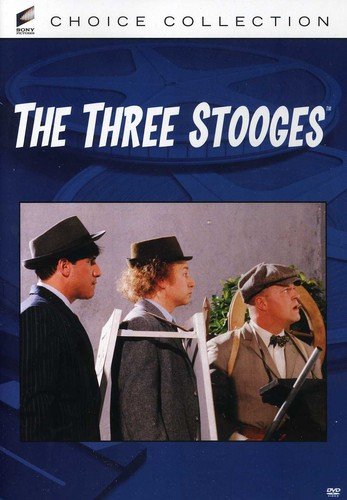 Though he is not at all seen as being the quintessential spokesperson for people of Jewish heritage today, there was a time when the once-powerful Mel Gibson thought very highly of the legendary comedy team of the Three Stooges (of whom the original members were Jewish) — enough so that he felt the urge to produce an emotional, made-for-TV biopic about them. In 2000, The Three Stooges was beamed to television sets across the nation, garnering mostly lukewarm reviews from the few folks who actually bothered watching the primetime feature that evening — only to fade (somewhat quickly) into obscurity shortly thereafter.
Of course, whenever Hollywood decides to bring us an account of someone's life and career, you can always be sure of one thing: dramatization. If you're looking for straight-up facts about Moe Howard, Shemp Howard, Larry Fine (the original ensemble), and Curly Howard, this is not a film for you. Read Moe's autobiography (Moe Howard and the Three Stooges) or any of the other great — factual — pieces of literature out there instead. However, if you've recently been exposed to the horrors of a certain motion picture by the Farrelly brothers, then you might just find The Three Stooges to be one of the greatest movies ever made by comparison.
Mind you, it's not the greatest movie ever made. Even by television standards, this one's pretty low on the radar. Yet, all anachronisms and deliberately inaccurate falsities aside, The Three Stooges actually emerges as being slightly better than you might expect it to be — providing you're not well-read on the comedians, that is, in which case you might be left gritting your teeth. But, for the sake of a drama, it works. All you have to do is get past the bad casting, poor writing, complete lack of any makeup for its "aged" characters, and that general feeling of "Hey, this is a TV Movie!" that this one exhibits on a regular basis. But more on those issues later.
Shot in Australia, The Three Stooges stars Paul Ben-Victor (In Plain Sight) as Moe, Evan Handler (Californication) as Larry, John Kassir (who mostly does voiceover work) as Shemp, and Michael Chiklis (The Shield) as Curly. Opening in the late '50s, Moe has been reduced from a once famous comic to a down-on-his-luck errand boy working at Columbia Studios. An executive (Joel Edgerton) spots him and soon starts pestering him about reuniting the group (though Shemp and Curly have both passed on) for live performances — as the appeal of the Three Stooges is more popular than ever.
From here, Moe reflects on his past forty years in show business, particularly his association with an abusive Ted Healy (Marton Csokas) — who founded the Stooges — and the many ups and downs he went through with his two brothers and their lifelong friend/partner, Larry. We see the boys' rise to stars in their classic Columbia short subjects, the debilitating stroke that resulted in Curly leaving the troupe, and the eventual reformation of the trio with Joe DeRita (Peter Callan) as the third stooge. Rachel Blake, Anna Lise Phillips, and Jeanette Cronin play the original Stooges' spouses in this vehicle directed by TV-regular James Frawley.
Apart from the fact that the elder Moe and Larry look exactly like the younger versions (the makeup artist was either working on the cheap, or had no clue), The Three Stooges suffers the most from its odd casting. None of the leads bear any sort of real resemblance to the men they're portraying: either their voices are too deep, mannerisms are completely wrong, or they just don't "click" together like they should. When we witness Ben-Victor, Handler, and Kassir or Chiklis recreate classic Stooges routines, the skits range from passable to painful. Nevertheless, the performers put their best foot forward — despite the writing being rather tepid.
What's really strange, though, is the insertion of Stooge gags into the performers' everyday lives comes across as being too forced. It's as if the writers wanted to remind you who the movie was about. Oh, well, it's still a lot better than that Farrelly brothers movie. And, I suppose those of you who have been keeping an eye out for this moving but nonetheless mostly-fictitious biography have the Farrellys to thank for the inclusion of The Three Stooges to the lineup of Sony's "Choice Collection" of Manufactured-on-Demand DVD-Rs. The 1.78:1 widescreen picture is a decent one (a bit soft at times, perhaps), and there are no menus, subtitles, or special features to be found here.
Don't let the lack of any bonus items discourage you, though: we should be grateful we're even getting this on DVD at all. Although it's no masterpiece by any means, it's definitely worth a look for fans and curiosity seekers alike.